We're excited to share our year-long Q&A series featuring exemplary quilt and fabric shops all around the country that sell Shannon Fabrics products. To nominate a shop in your area, please let us know in the comment section below. #shoplocal

What started as an unexpected chance meeting with one of her "minky fabric" idols, Laurie Dance quickly realized her dream of leaving her full-time job and growing her side business of designing and making blankets and quilts with Cuddle® minky fabric!

Now, with both a storefront called "The Minky Quilt Shop" based in Ashton, Idaho, and an online business called "Cuddle Soft Kits", Laurie has quickly become one of Shannon Fabrics' fastest growing clients. Her enthusiasm for Cuddle® minky plush fabric is contagious, and paired with her artistic eye and skills as a quilter, she's spreading the Cuddle® bug not just in the greater Ashton area, but nationwide.

Without further ado, we're proud to present our second Shop Spotlight of the year - Cuddle Soft Kits & The Minky Quilt Shop!

To learn more about and see the latest from Cuddle Soft Kits & The Minky Quilt Shop, check out their website, stop by their shop at 523 Main # 4 Ashton, ID 83420, give them a call at 208-821-7424 or email owner Laurie Dance at laurie@cuddlesoftkits.com.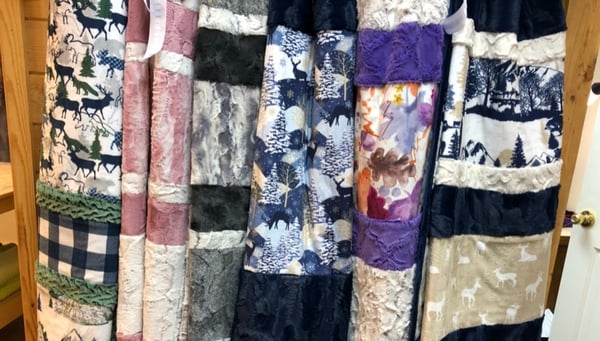 Shop Spotlight: Cuddle Soft Kits & The Minky Quilt Shop
SF: What's the history of Cuddle Soft Quilt Kits & The Minky Quilt Shop? When did you open your store?

CSK: It began when I was working as an insurance clerk in Rexburg, Idaho. I would make minky blankets for my family and friends and bring them in for show and tell. One day, a lady was seated getting her glasses adjusted and I thought to myself, "that is the minky queen of strip quilting" — this was Pat Wodskow, in the flesh! She saw the blanket and asked to see it, and then told me she had an online business and needed to sell it. When Pat offered to sell her business to me, dreams started coming true. Dreams I thought were out of my reach.

It took about a month for me to decide. When I left for work one day I told my husband that I wasn't going to buy it. When I came home that night, I told him I bought it! I purchased the business on Sept. 29, 2019 and the hand-off began. I remember going to Pat's house and she had all her fabric on plastic in her garage floor and I thought to myself, "what have I done?".
I don't really have a place for all this fabric, so it went into a storage unit. I hadn't quit work at this point, so I would work a 10 hour day and go home and have an online order for a finished quilt. I would run down to the storage unit, get the fabric, come home and start the quilt and stay up till midnight or 1 am in the morning. I'd then get up at 6 am and do another 10 hour day. After a month of that, I gave my notice to quit.

A business owner who was renting on Main Street in Ashton, Idaho for the last 10 years gave his notice to vacate. I was so, so excited about a store front and some place to really put my fabric. I moved in the end of January, and I called Shannon Fabrics and told them I was going to represent them so they sent me a representative — Bob Gardner.
I barely had the store put together, just a big cutting table and a gluing table. He brought suitcases full of samples and as he laid them out I would say, "I love that, oh, and I love that, oh I have to have that", and on and on.
I opened "The Minky Quilt Shop" on Feb. 14, 2020 at 523 Main Street, Ashton, Idaho as well as Cuddle Soft Kits for the online business. Now I'm able to take phone calls with people wanting a certain fabric and we text pictures and FaceTime. I put together kits and I help design what they want and what they like. I sell the fabric and/or make the blanket.
I love seeing people be so happy with what they have chosen!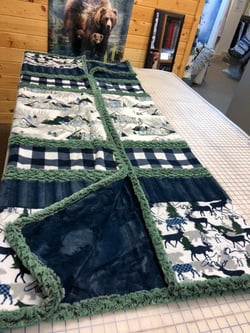 SF: How has Cuddle Soft Quilt Kits evolved over the years?

CSK: After I bought the online business I opened a shop in my little town of Ashton, ID. Worried about its success but thanks to word of mouth and foot traffic, my store is doing better than I hoped.
SF: Tell us one thing people might not know about your shop.

CSK: It used to be the old movie theater in Ashton.

SF: What's your shop's motto or tagline?

CSK: Remember to make someone happy, make them a minky quilt!

SF: Describe your shop's aesthetic in five words or less.
CSK: Quaint and boutique

SF: What's unique about your shop?
CSK: It is filled to the brim with fabric.

SF: What is your best selling Shannon Fabrics product?
CSK: Cuddle® minky fabric, of course!

SF: Do you sell online? If so, how long have you been selling online and what have you learned?
CSK: Yes, I sell online at cuddlesoftkits.com and have been selling for a year now. The online portion of my business helps me to share my kits across the country.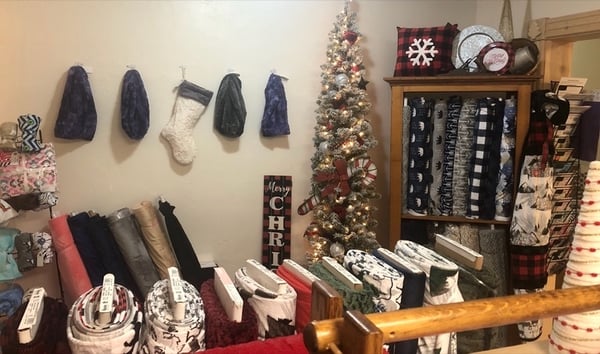 SF: What projects are on the "must make" list right now in your shop?
CSK: Infinity scarves, red plaid pillows and red plaid Christmas stockings.

SF: What do you love most about creating (or seeing customers create) DIY projects with the fabrics you sell?
CSK: I love helping them choose the right color combination that matches their quilts.

SF: What current quilting, sewing or crafting trends inspires you? Where do you get your inspiration?
CSK: Shannon Fabrics tutorials are so fun! I get some inspiration from different craft stores and use it with minky.

SF: What's next for your shop?
CSK: Classes!

SF: Is there anything else you would like us to know or share about Cuddle Soft Quilt Kits & The Minky Quilt Shop?
CSK: At this time we are always open on Thursdays and Fridays 10- 6 pm and by appointments Monday through Wednesday and Saturdays. Stop by and say "hello"!

If you have any questions about Cuddle® minky plush fabrics or any of our Cuddle® Kits, feel free to contact our friendly, no-pressure customer service team at 866-624-5252.

Ready to start creating with Cuddle® minky fabric? Use our store locator to find a selection of Cuddle® minky fabric online or near you.