If you're even slightly involved in the sewing and quilting scene, you've likely heard of a cute little bear stuffed animal that's been the talk of not just trade shows and industry circles, but local sewing guilds and fabric shops, too.
Affectionately named the Kimberbear, this stuffy is greater than the sum of its parts. It's an initiative designed to put cozy, stuffed bears into the arms of children who need a little extra comfort and love in their lives.
What is the Kimberbear?
The Kimberbear project came about from an industry-wide collaboration between three of our trusted partners. Simply put, it's a free, downloadable pattern for both sewing and machine embroidery designed and developed by Kimberbell Designs. The pattern includes recommendations for the right Clover tools, Kimberbell products, Shannon Fabrics fabrics and Fairfield fill (more on this below) to make sewing these charitable bears as easy as possible.
While we're all for creating one for yourself or your loved ones, the Kimberbear is all about the sewing community joining forces and giving back. We invite you to join us to make these super-cute stuffed bears to donate to children's hospitals, police departments, fire stations, child and family support centers, safe houses, homeless shelters and more. If you're a shop owner, consider inviting customers to your shop classroom for a fulfilling day of stitching for a great cause.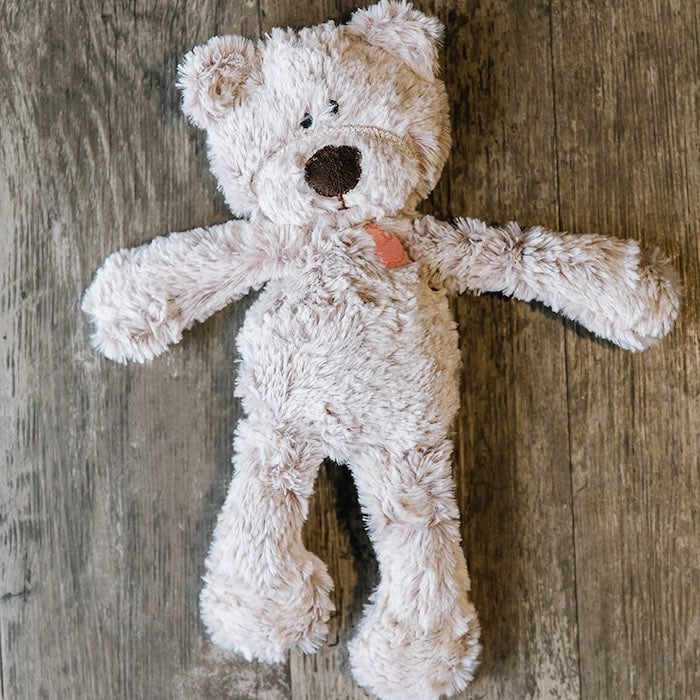 How To Sew a Kimberbear
So when should you start sewing your own Kimberbears to give away? As the famous Chinese proverb goes, "The best time to plant a tree was 20 years ago. The second best time is now." Gather your friends and make a fun afternoon of sewing Kimberbears of all different colors to give away to a charity or organization near and dear to your heart.
If you're the goal-setting type, consider preparing Kimberbears for National Children's Day on June 13, or National Teddy Bear Day on September 9. Of course you don't need a holiday to get started — these can be sewn and donated at your convenience.
Sewing a Kimberbear is about as simple and straightforward as it gets. First, click here to download the Kimberbear pattern for either sewing or machine embroidery. Each pattern is full color, and includes not just recommended supplies and notions, but also step-by-step instructions and illustrations.
If you're stuck, we've put together a three-video Sew Together Tuesday mini-series (see below) with our National Educator Teresa Coates as she shares her tips and tricks for creating a Kimberbear!

Part 1: How to Sew a Kimberbear
Part 2: How to Sew a Kimberbear
Part 3: How to Sew a Kimberbear
Recommended Notions and Materials
Shannon Fabrics fabrics:
A little bit of fabric does a long way — one yard of Luxe Cuddle® minky fabric makes four Kimberbears!
Kimberbell® products:
Recommended Clover tools:
Wonder Clips®
Point 2 Point Turner
Clip 'n Glide Bodkin
Fabric Marking Pen
Recommended Fairfield products:
Poly-Fil® 100% Polyester Fiber
Other:
Embroidery Floss (dark brown or black)
Water-Soluble Topping
Fabric Glue Stick
We look forward to seeing the Kimberbears you create! Please use the hashtag #kimberbearstory when sharing your bears on social media, and tag us at @shannonfabrics on Instagram to be featured in our story.
No matter if it's donating a dollar or an hour of your time, we invite you to join us as we work towards our mission of Making the World A Softer Place™ together. For more information on how to get involved with future initiatives with Making The World A Softer Place™ (EIN 81-4293222), follow us on Facebook or visit our website.
Shop owners, contact us at sales@shannonfabrics.com or 866-624-5252 to order fabrics to create Kimberbears in your store. Sewists, you can find Shannon Fabrics at independent quilt shops and fabric stores, or view our Store Locator to find online shops and shops near you.
For more sewing tips, projects and all-around goodness, check out our blog and connect with us on Facebook, Instagram, Pinterest, Twitter, and YouTube.