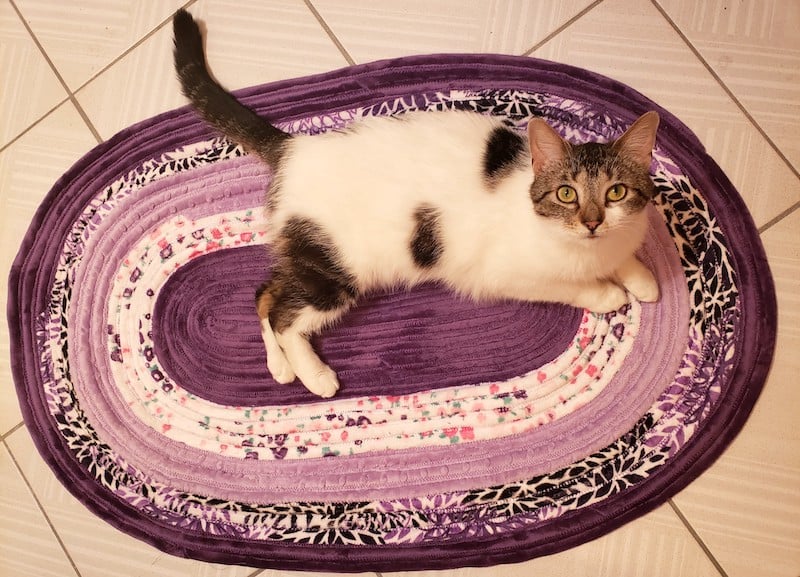 The Jelly Roll Rug pattern by RJ Designs has long been an insider favorite for many sewists and quilters. It's a popular pattern that's available at quilt shops across the country and has been sewn with a variety of fabrics.
Essentially, the Jelly Roll Rug pattern is a pattern that was designed to help a sewist create a rug that mimics antique rugs. While it can be scaled up or down depending on your needs, the medium-sized oval rug (most common) measures in at approximately 30" by 44" when finished.
This popular pattern has been updated to include not just the original Jelly Roll Rug pattern, but also instructions on how to create oval placemats and rugs of different sizes.
Of course, in classic Shannon Fabrics style, we took the Jelly Roll Rug pattern and added our own fun spin on it.
Here we've outlined the supplies you need to create a Jelly Roll Rug made with Cuddle® minky fabric, as well as some tips from our very own Brand Ambassador, Linda White.
Supplies for making a Jelly Roll Rug:
Four 10-inch Strips of Cuddle®
1 ¼" Strips of Batting
90/14 Stretch Needle
Tips for making a Jelly Roll Rug:
Use Cuddle® 3 or Digital Cuddle® for your strips; they have a shorter pile and will be easier to sew for this project
Use a longer stitch for your construction — a 3.5mm+ stitch for straight seams and a 5mm stitch for your zig zag.
Use a walking foot for all seams. It will make it easier to feed the fabric through your machine!
Use a large sewing extension table to give as much flat space as possible when sewing your Cuddle® rug. Because Cuddle® is a knit, it can be distorted more easily than cotton fabrics.
For more sewing tips like the one above, check out our blog and connect with us on Facebook, Instagram, Pinterest, Twitter, and YouTube. You can find Shannon Fabrics at independent quilt shops and fabric stores, or view our Store Locator to find online shops and shops near you.