What goes together better than Cuddle® and kids? Not much, but throw in Sew Together Tuesday, and you've got a can't-beat combination!
This week our National Educator Teresa Coates will be tackling one of our biggest projects to-date in a special three-day Sew Together Tuesday tutorial — how to sew our "My Lambie" children's playmat.
See Related: How to Sew an Adorable Penguin Play Mat (My Pal "Pat the Penguin" Cuddle® Kit)
This popular kit finishes approximately 27" by 35" and includes all the Cuddle® fabrics you'll need for the entire project, and it also includes the playmat pattern with instructions to make sewing a breeze.
So set a reminder on your calendar, and join Teresa for this can't-miss three-day tutorial!
Suggested Notions and Fabrics for Making the "My Lambie" Cuddle® Playmat
These products can be substituted for whatever you have on hand, but here is what Teresa recommends for her "My Lambie" playmat sewing tutorial.
Fabrics:
Notions:
40" x 60" piece of batting — Quilters Dream
Polyester fiberfil — Fairfield
90/14 Stretch needle — SCHMETZ
Basting spray — ODIF 505
Craft knife — OLFA
Double-sided fusible web — Pellon
Felt tip marker or ballpoint pen
Hand sewing needle
Long, flower head pins — Clover
Micro-serrated scissors — Kai, Famore or Karen Kay Buckley
Polyester thread — Mettler
Rotary cutter and mat — OLFA
Walking foot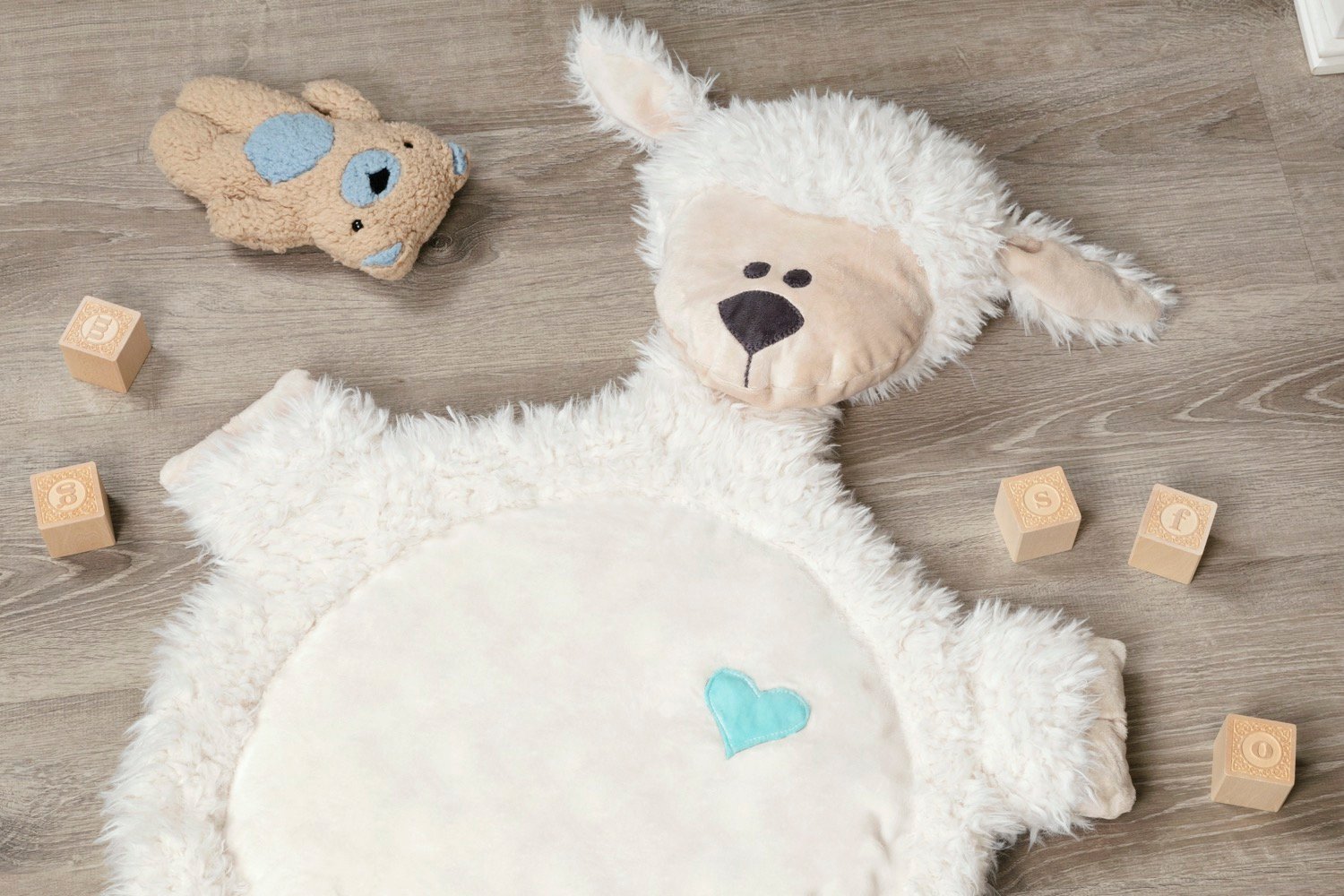 Tips for Sewing the "My Lambie" Children's Playmat
Trace around each paper pattern piece with a ball point or felt tip pen on the wrong side of the fabric. Transfer markings to wrong side of fabric as you trace.
Trace all pattern pieces before cutting.
Cut the Llama Cuddle® from back with short scissors, running blade just under the knit backing. Cut backing only, avoiding the long fibers. After cutting around piece, gently pull apart, separating fibers.
Use your walking foot or the even feed feature on your sewing machine.
Use a 90/14 or 100/16 Stretch sewing needle.
Use a pressing cloth or scrap of muslin to protect Cuddle® when pressing.
Double-check to make sure you've caught the entire edge of the Upper Head.
As you sew on the ears, you may want to use the hand- crank to sew through all the layers. Go slowly and work the fabrics through using a stiletto, if needed.
Wonder Clips work great to hold the thick layers together and in place.
Sew very slowly, using a stiletto as needed to help feed the fabric through the machine and keeping the fibers tucked inside.
Video: How to Make the "My Lambie" Children's Playmat
Mark your calendar — as part of Sew Together Tuesday, Teresa will be going LIVE on the Shannon Fabrics Facebook page at 10 am PT on June 7, June 8 and June 9 to share her tips on how to sew sew our "My Lambie" children's playmat with Cuddle® minky fabric.
If you have any questions about Cuddle® minky plush fabrics or any of our Cuddle® Kits, feel free to contact our friendly, no-pressure customer service team at 866-624-5252.

Ready to start creating with Cuddle® minky fabric? Use our store locator to find a selection of Cuddle® minky fabric online or near you.