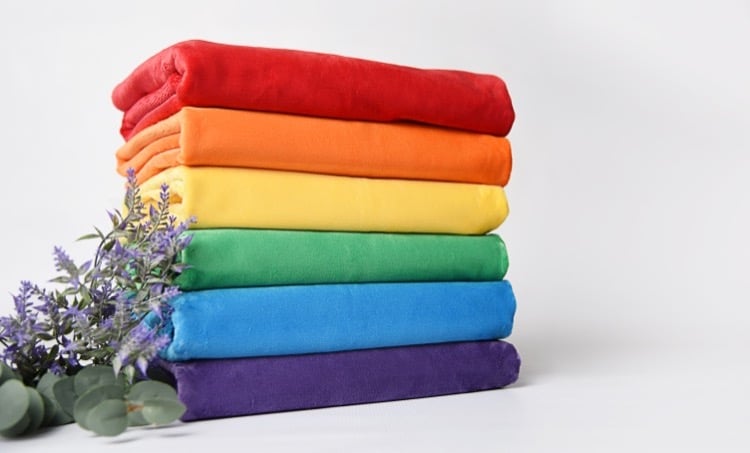 If you've ever thought about sewing with minky plush fabric, you probably researched minky fabric online or in your local quilting groups and found some dialog on problems or issues with sewing with plush fabric or minky fabric.
In this article, we discuss five of the top minky plush fabric problems and concerns, and how you can easily solve them. With full disclosure, minky has its pros and cons, so we'll share ways that it is best used and how to avoid issues when working with it. Oftentimes simply knowing the right technique can make all the difference.
Here at Shannon Fabrics, we love minky fabrics and how versatile they are. We offer more than 100 Cuddle® minky colors, patterns and textures, as well as digital printed minky and Luxe Cuddle® minky fabric (sometimes referred to as fur).
We've made it our mission to create several collections of minky plush fabric that are not only super soft and durable, but offer a strong value to our customers, too.
We admit, there's a bit of a learning curve when it comes to working with minky fabric. Because of our long history developing high-quality minky fabric, as well as collaborating with and listening to feedback from our vendors, partners and customers, we have a thorough understanding of the good and the bad when it comes to sewing with minky fabric.
The Most Common Minky Plush Fabric Problems and Concerns (and Solutions, Too!)
Is it hard to sew with minky fabric because it stretches? (solution: pins)
Can minky fabric go in the washer or dryer (does it shrink)? (solution: low heat)
Can minky fabric be used on a quilt? (solution: yes, especially as quilt backing)
Does minky fabric fray or shed, is it messy? (solution: tumble dry with a damp washcloth)
Is minky fabric baby-friendly? (solution: yes, once washed)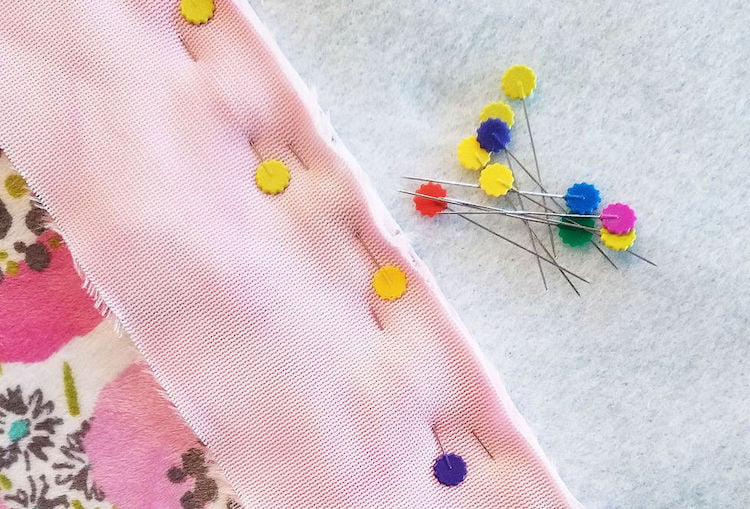 Problem #1: Is it hard to sew with minky plush fabric because it stretches?
Minky fabrics are a knit, so they do stretch, but without that quality it wouldn't be nearly as supple or soft to the touch. And because it is a knit with a pile and a nap, it requires different notions and techniques from quilting cottons.
While all minky fabric stretches, the stretch differs due to varying levels of quality between different brands.
Our Cuddle® minky fabric has a one-way stretch, meaning it stretches selvage to selvage, width-wise. It doesn't stretch lengthwise.
Our Cuddle® Dimple minky is our only two-way stretch (so we can get those little dots in there), but some other brands only offer minky plush fabric with a two-way stretch (side to side and up and down).
This not only makes it more difficult to sew, but it's also much less durable.
Solutions for minky fabric stretch
We can't change the fact the minky fabric stretches (if it didn't, it wouldn't be so comfy and soft!), but there are a few things you can do to reduce the stretch while you are sewing.
First, use a walking foot.
Minky is a plush fabric and Cuddle® has a nap that ranges from three to 30 mm long, so it's much thicker than quilting cotton.
To help it feed through, it's important to use a walking foot instead of your standard presser foot.
The walking foot will grab the top and the feed dogs will grab the bottom, and this helps it feed evenly through the machine.
If you have an even feed foot, it will work fine for the less thick Cuddle®, but if you are working with Luxe Cuddle®, we recommend putting a walking foot on, too.
Make sure to check your manual for correct placement.
Second, we recommend double pinning.
Most of the time, we pin perpendicular to the raw edge, but in order to hold down more of the minky fabric, it's a good idea to pin parallel to the raw edge.
Pin close together along the entire edge, then go back and pin a second row about ½" away from the first row, running parallel to it.
This holds down even more fabric and won't let it stretch or grow as you sew that seam, keeping your line straight and accurate.
Sew your seam and remove the first row of pins as you go, but leave the second row in place to hold the fabric as you stitch.
While this technique works for a number of projects, it's especially recommended for minky fabric strip quilts.
Third, you need the right notions.
Using the right sewing notions can make a big difference in how easy minky fabric is to sew, too. You'll want to make sure you use a Stretch 90/14 needle to avoid skipped stitches.
A Jersey or Ballpoint needle is a good second choice if your local quilt shop doesn't have stretch needles.
We also love the Clover flower-head pins and ODIF 505 Spray.
EXTRA: Even though it's a knit fabric, you don't need to use a stretch stitch. We've found that by using a polyester thread (such as Mettler Metrosene or Superior Threads So Fine!) and a 3.5 to 4.5 mm stitch length, a straight stitch will work great for sewing with Cuddle® minky fabric.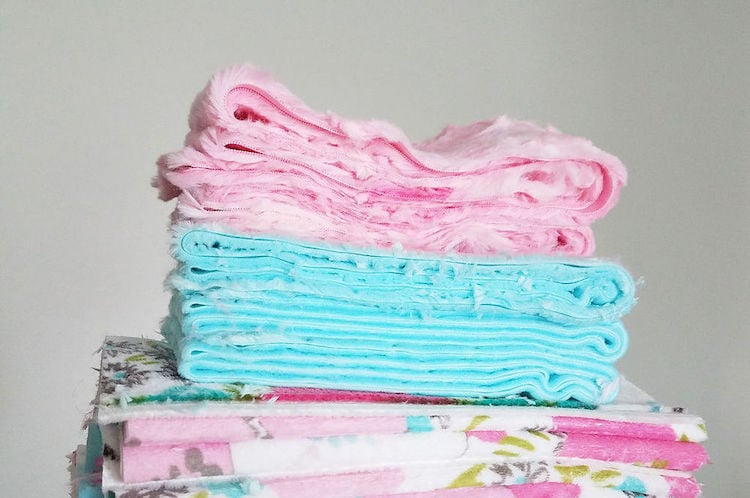 Problem #2: Is minky plush fabric machine-washable? What about the dryer? Does minky fabric shrink?
This is one of the questions we get asked the most: can minky plush fabric be machine washed and dried? The answer is yes!
Since our minky fabric is 100% polyester, it won't shrink or fade when run through the wash. It will be just as vibrant after the 100th wash as it was after the first.
READ MORE: Minky Plush Fabric vs. Fleece Fabric: A Side-By-Side Comparison
Solutions for machine washing and drying minky fabric
Before washing, double check if your garment or blanket is made with something other than minky fabric. For example, if terry cloth or double gauze fabric is sewn into the piece, washing and drying rules might be different.
If it's all minky, it's best to wash on gentle with cool water in the washing machine, then remove and throw it in the dryer on low heat.
Dry on low heat for about 10 minutes, then pull it out to hang dry.
Be careful not to overdry it, as this can diminish the structure of the fabric textures (rose, marble, embossed, etc.).
These textures and designs are heat-set into the minky fabric during manufacturing, so adding too much heat can have a negative effect.
Be aware that some loosening of these textured twists is normal, especially from drying on low heat and everyday use, but it stays super soft through it all!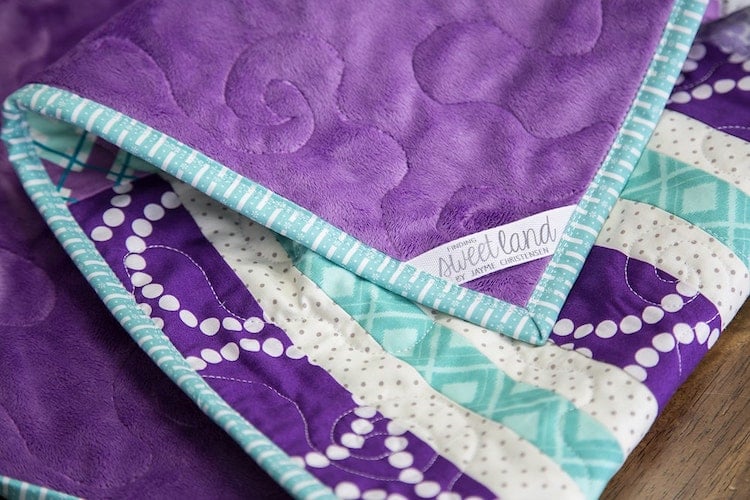 Problem #3: Can minky plush fabric be used on a quilt?
It's not uncommon today to find beautiful patchwork quilts made with a variety of unconventional fabrics.
Using minky plush fabric on the front of a quilt adds an extra challenge, but is doable if you take the stretch and nap into account.
READ MORE: What is Minky Fabric? (Material, Textures, & Projects)
Adding the texture of minky fabric gives your quilt visual and tactile interest, so feel free to give it a try. Use our double-pinning technique (see above) to give it more stability when sewing to other substrates.
If you are struggling with the stretch, you can always use a fusible lightweight interfacing on the back of each piece.
Solutions for using minky fabric in a quilt
Quilts made with minky plush fabric are some of the most luxurious and inviting quilts you can find. Once you get past these small hurdles, this is where the fun begins. Feel free to get as creative as you'd like!
Use minky fabric as the backing fabric on a quilt.
We highly recommend using minky as the backing fabric on a patchwork or cotton patchwork quilt.
Since minky plush fabric is available in a variety of colors, it showcases the quilt designs really well and makes the long-arm quilting pop, giving it almost a velvet look.
Minky fabric also helps keep the quilt soft and comfortable without numerous washings. Unlike quilts with cotton backings, you won't want to put a minky fabric quilt in the closet — the quilt feels broken in and ready to enjoy from day one!
Remember, you'll need to use batting to keep the nap from pulling through to the front while quilting. We recommend Cuddle® 3 Wide minky fabric solids for this; at 90" wide they are suitable for baby quilts, throws and twin-size quilts.
For larger quilts, you can piece together two cuts of fabric, making sure the nap on both runs in the same direction.
Use minky fabric as a quilt applique.
In addition to being used in patchwork or as a backing, minky fabric also works well as a quilt applique. Simply use a double-sided fusible web (such as Appliweb Plus or SoftFuse) and your favorite die cutter or applique pattern.
Don't forget to use a pressing cloth as you iron, with medium-heat. You can also use a basting spray such as ODIF 505, if preferred. Using a blanket or zig zag stitch makes it quick and cute.
Use minky fabric as the quilt binding.
Using minky as binding is another fun (and easy!) way to incorporate minky fabric into a quilt.
Use Luxe Cuddle® minky fabric, cut into a 1 ¾-inch single layer strip (unlike using cotton as traditional double-layer binding), and sew this strip to the back and bring it around to the front and zigzag stitch it in place.
The binding is one of the areas on a quilt that gets the heaviest wear, and since Luxe Cuddle® minky fabric is 100% polyester, it wears really well. Not only that, it adds a softer finish to the edge of your quilt.
READ MORE: 9 Best Sewing Projects and Uses for Minky Plush Fabric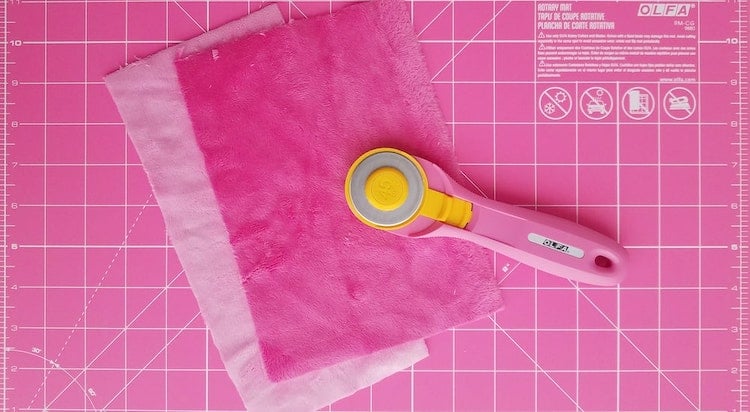 Problem #4: Is minky plush fabric messy? Does it fray or shed?
There's no denying that minky can be messy, but there are a few ways to make the mess much easier to deal with.
When minky plush fabric is cut, the raw edge of the knit will release some of the polyester yarn.
READ MORE: 7 Must-Try Minky Fabric Sewing Tips
We've endearingly coined the mess "Cuddle® dust" to describe these colorful fibers, and we've outlined a couple of ways to keep the mess to a minimum when cutting and sewing with minky fabric below.
Solutions for minky fabric fraying and shedding
There are two ways to help manage fraying and shedding when working with minky fabric. Both are simple solutions, and each only needs to be done once at the beginning of a new project.
Cutting techniques to reduce minky fabric shedding.
The way you cut minky or plush fabric determines how much of a mess you are willing to deal with. There are a few techniques that affect the speed of cutting and the amount of shedding produced.
The fastest way is with a rotary cutter, and this is the tool we recommend for Cuddle® 3 minky. This is the flattest minky (lowest pile) and the shed is minimal.
To have the minimum shed, you can lay the fabric right sides together and cut from the backing.
For minky plush fabric with a higher pile, like our Luxe Cuddle®, we recommend using short-blade scissors or a blade to cut it. You can draw a line on the back of the fabric with a ballpoint pen and use that as your cutting line.
Using the blade or scissors, cut only the backing and you'll have little shed.
Once you are finished cutting, use a small handheld vacuum to clean up your work area, and you can use the washcloth/dryer trick below to get rid of the remaining Cuddle® dust.
Use a dryer to keep the minky fabric mess to a minimum.
It's important to handle minky fabric as little as possible as you make your cuts — the less you move the pieces around, the less you'll spread the fibers across your sewing room.
Cut all the strips/pieces at once, gently pushing them to the side of your cutting board until you are finished. Grab a damp washcloth and wipe down your board then put all your cut minky strips or pieces in a dryer with the washcloth for up to 10 minutes on low heat.
The damp washcloth keeps the fibers from sticking to the inside of the dryer, and all the Cuddle® dust ends up in the lint trap. Now you won't have to worry about making a mess as you sew, or finding minky fibers caught in your sewing machine or bobbin case!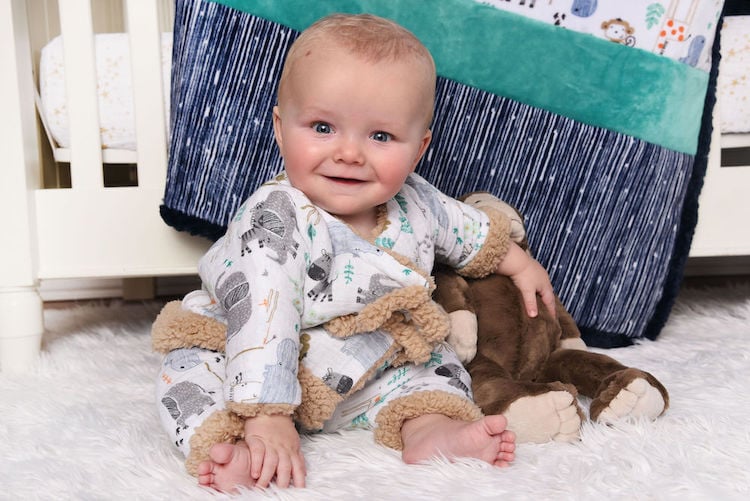 Problem #5: Is minky plush fabric baby-friendly?
This question has a not-so-straightforward answer. Quality control standards change depending on the manufacturer, so while we'd love to say all minky fabric is baby-friendly, we need to throw in a caveat here: Shannon Fabrics minky fabric is baby-friendly.
Chemicals are used during the manufacturing process for all fabric, and while this isn't an issue for many consumers, it's especially important to keep in mind before gifting sewn projects to babies.
Solutions to ensure minky fabric is baby-friendly
We're parents, too, so we know just how important baby-friendly fabrics are to you and your little one — we wouldn't sell something we wouldn't give to our own kids.
Here are a couple of ways to ensure minky fabric is baby-friendly.
Run a minky baby blanket through the wash.
It's a simple solution — just make sure you wash that cute minky baby blanket before gifting it to the little one in your life.
As we mentioned, fabric production uses chemicals, so wash (without liquid fabric softeners) to ensure there's no residue left over.
If you've used basting spray in the quilt, the wash will also rinse out any spray residue.
Once washed, minky fabric is perfect for babies. Not only is it super soft, warm and cozy, but Shannon Fabrics minky fabric is hypoallergenic, too. Remember, only fire-retardant or approved bedding should be used in cribs.
Use only trusted sources of minky fabric for babies.
Keep in mind that when you opt for an untrusted source of minky plush fabric, there's no guarantee the fabric is chemical free or hypoallergenic.
When discount retailers sell cheaper minky fabric options, the quality suffers and sometimes corners are cut when it comes to safety. This can impact not only the durability of the fabric but also whether it's hypoallergenic or not.
Shannon Fabrics only partners with manufacturers who have the highest quality control standards, and our fabrics are inspected regularly. We even take it one step further — our manufacturers are certified and use ethical labor practices, too.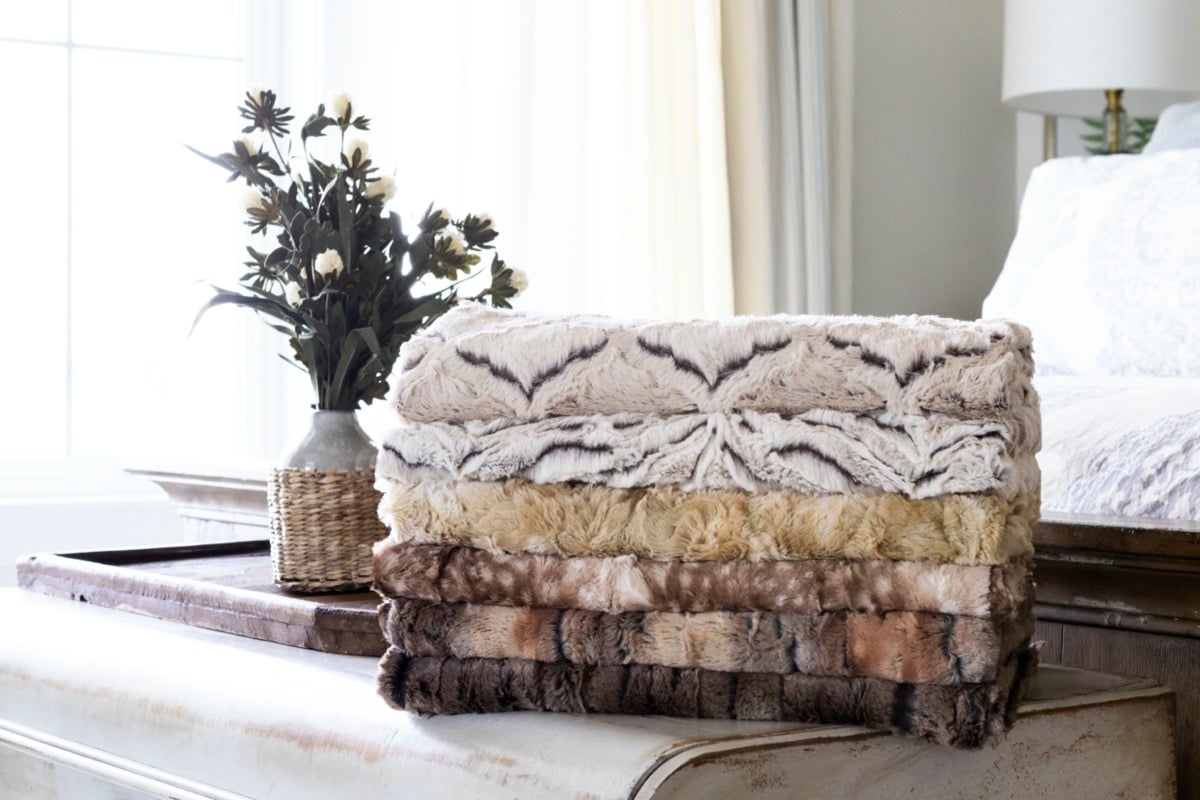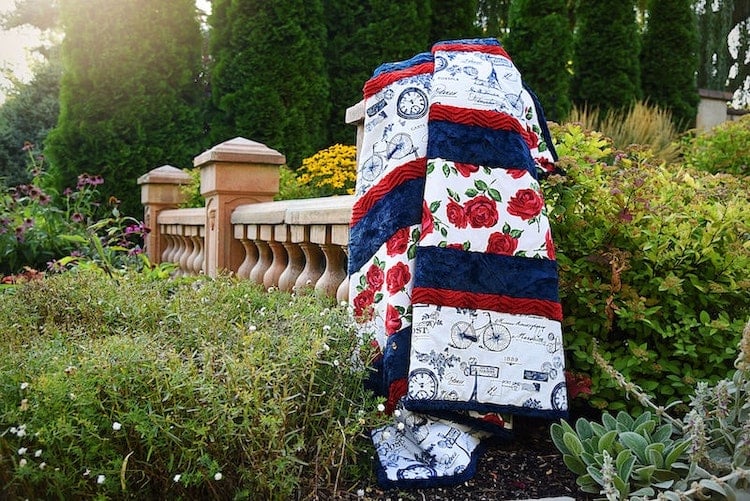 Final Thoughts
We've made it our mission as a company to become the premier wholesale supplier of the highest quality and best selection of plush fabric. With this, though, comes the responsibility of being honest with our customers, and as shown, minky fabric isn't without its issues.
After being in business for more than 25 years (and working with hundreds of quilters and sewists in classes across the United States), it's no surprise we've developed straightforward solutions for these issues.
We continue to look for ways to not only improve our selection, but provide valuable educational resources to make working with minky fabric that much easier.
READ MORE: The 6 Best Minky Plush Fabric Wholesalers (Reviews/Ratings)
Minky fabrics are great for quilts, blankets, stuffed animals, toys and much more! We've seen firsthand how minky fabric can transform a variety of ordinary sewing projects into something beautiful and useful.
To experience the joy of sewing with minky and plush fabric for yourself, use our store locator to find a store near you.
Click here to view our catalog of more than 100 colors of Cuddle® minky fabric, and to find some inspiration for your next project, check out our free tutorials and patterns.