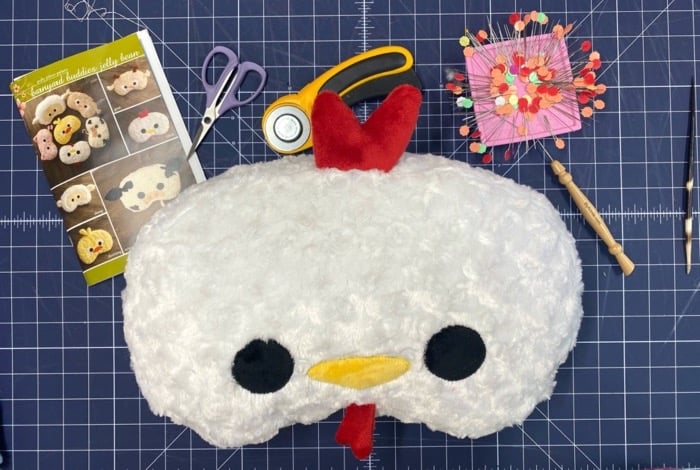 Barnyard Buddies Jelly Bean Faces Pillow pattern (chick)
Hello fellow sewists, I'm Naomi Stewart, a Shannon Fabrics Brand Ambassador. I love Mckay Manor Musers patterns — I met Shelia at a quilt show several years ago and I was impressed with all of her patterns, quilts, softees, slippers, etc. While I have made many of McKay Manor Muser patterns, I particularly love the Jelly Bean (JB) pillow series.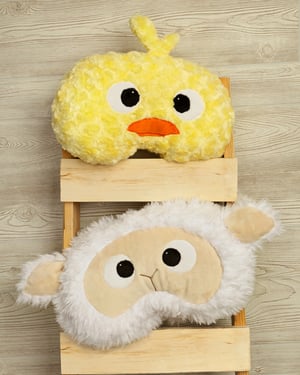 Shannon Fabrics Cuddle® minky plush fabric makes the pillows especially soft and fluffy, and the extra plush (extra nap/extra fluff) Luxe Cuddle® fabric makes them especially cute! My first projects were the raccoon, fox, and panda using Cuddle® 3 fabric, and I then made the yeti using Luxe Cuddle® Llama.
This blog post is all about the Barnyard Buddies Jelly Bean pattern — more specifically the duckling, sheep and chick (video tutorial with National Educator Teresa Coates).
Barnyard Buddies Jelly Bean Faces Pillow Tutorial
READ MORE: How to Sew an Elephant Stuffed Animal (with Pattern & Video Tutorial)
Fabrics, Notions & Supplies
Micro-serrated scissors (Famore or Kai recommended)
Water-soluble topper (optional)
ODIF 505 spray (optional)
Fiber fill (Royal Silk Poly-Fil from Fairfield recommended)
45mm rotary cutter (or ODIF snap-off blade)
SCHMETZ 90/14 Stretch needle
Walking foot

Polyester thread (Mettler or Superior Threads recommended)
Update 4/20/2020: Note some of the fabrics in the duckling and sheep images have been discontinued. Feel free to swap them out with an alternative color in Cuddle® or Luxe Cuddle® — get creative!
Tips For Barnyard Buddies Jelly Bean Faces Pillows
—When cutting straight lines on heavily napped (fluffy) Cuddle®, use a box knife (I know this sounds weird). Draw a line with a Sharpie on the back of the Cuddle®. Using a sharp box knife, cut through only the back of the fabric. If you don't cut the longer hairs, they don't fall out.

—Always toss cut pieces (not the pieces backed with fusible), in the dryer on low or fluff with a damp washcloth for 10 minutes. This should take away most of the "Cuddle® dust." Note that Llama may take 20 minutes. Many of the Cuddle® fabrics are embossed, and heat will remove the lovely embossing (i.e., rose or hide pattern).

READ MORE: 3 Easy Tips for Sewing with Faux Fur for Cosplay

—Be mindful when turning pieces with small openings, such as the feather on the top of the duck. Pull/push the smaller feather through first, then the larger feather. If you try to push the entire piece you wind up with a hard mess! A chopstick works well to smooth out the edges and for stuffing.
—Don't overstuff your parts! I'm talking about ears and tails here — it's much, much easier to attach your ears when you can see the seam.
—Pin well when sewing to minimize slippage. Lengthen the stitch length to 2.8 and sew slowly!
—When attaching animal parts, especially stuffed ears, tails, etc., double check your sewing from all sides carefully. Believe me, it's much easier to make corrections (un-sew) at this stage.
—Appliquéing with Cuddle®: Use a good double-sided fusible and a pressing cloth. I typically use a medium sized zigzag. When finished stitching, always check your stitches and make sure you caught all the edges. It's much easier to re-stitch when the face is still in pieces. My stitch width for appliquéing is 3.7 and my stitch length is 1.0, but adjust to fit your machine and taste. On the sheep face, I used a buttonhole stitch that works well (stitch width 3.5, length 2.5.). For a video on applique, see here: How to Applique with Cuddle and Minky.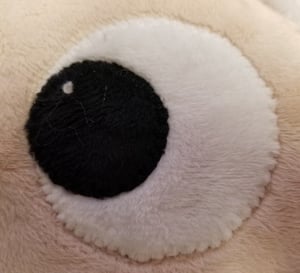 —I make my heart by tracing the shape on the Cuddle® fabric. I back a cotton piece with interfacing and then sew completely around the heart (see below).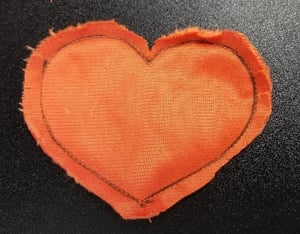 —Clip the cotton fabric and make a small slit in only the cotton fabric and turn (see below).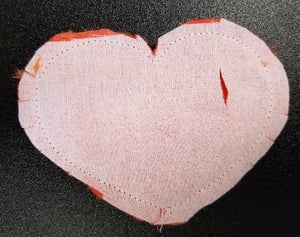 —Smooth the edges out and stitch the small opening closed. Then sew the heart on the back using a straight stitch about 1/8 inch from the edge (leaving an opening at the top). This method works well with hearts, circles and other shapes, when it's important to maintain the shape (see picture below).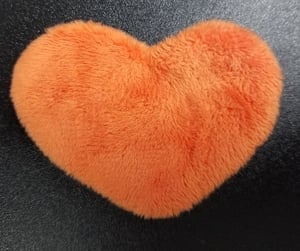 —Before stuffing anything, double and triple check all your seams, especially where you attach ears and tails. If you find a hole, usually you can just resew the area — remember Cuddle® is not only soft but forgiving.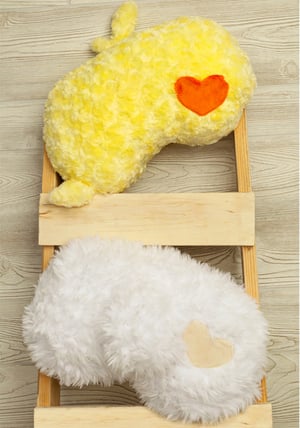 —When making the sheep tail, use a heavy, color coordinated thread. There is nothing worse than when your thread breaks while gathering, so I find the heaviest thread in my sewing kit (color is a close match) and use it.

Wrapping It All Up
I strongly encourage you to make one of these pillows. Convince a friend to make one with you, or contact your local quilt store and maybe they can get a Shannon Fabrics Brand Ambassador to teach a class for you.
Your favorite child, grandchild, sister or friend would love one of these 'stinking cute' pillows. I know I can't quit making them — I'm thinking I need to make the cow next, or maybe the werewolf! Until the next project, remember: creativity is messy and I am very messy!
Find our fabrics and kits at independent quilt shops and fabric stores. Or, view our Store Locator to find online shops and shops near you. Connect with us on social media: Facebook, Instagram, Pinterest, Twitter, and YouTube.