When it comes to Valentine's Day, we believe it's always a pleasure to create projects and gifts for those you love and care for! Especially this year, we wanted to share some adorable Valentine's-themed projects and prints to make this special day sweet and happy.
These projects were created with a wide variety of Shannon Fabrics Cuddle® Solids and Prints, Luxe Cuddle®, and even faux fur.
We used a number of patterns from our friends at Fluggmonger as well as Funky Friends Factory, and most items were stuffed with our favorite polyester stuffing from Fairfield World and created using Metrosene polyester thread from Mettler.
We hope you find some inspiration below to create your own projects, and you can even use some of our new Valentine's Day prints for 2021.
Please enjoy the cuteness, and leave us a comment below with which print or project you like best!
Projects and Ideas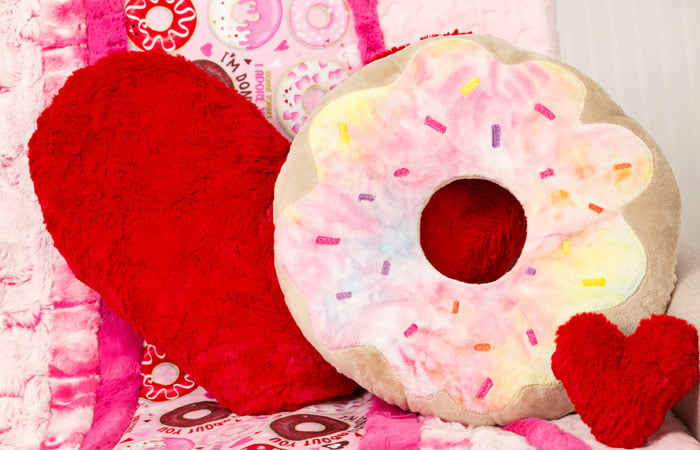 Free doughnut pillow pattern, coming soon!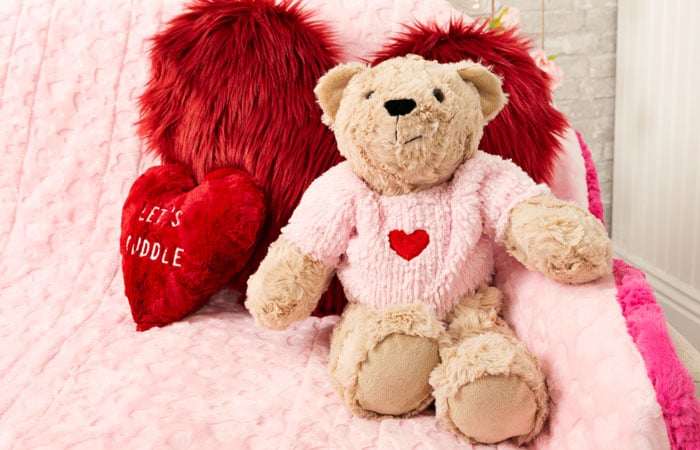 Calico the Signature Bear pattern by Funky Friends Factory.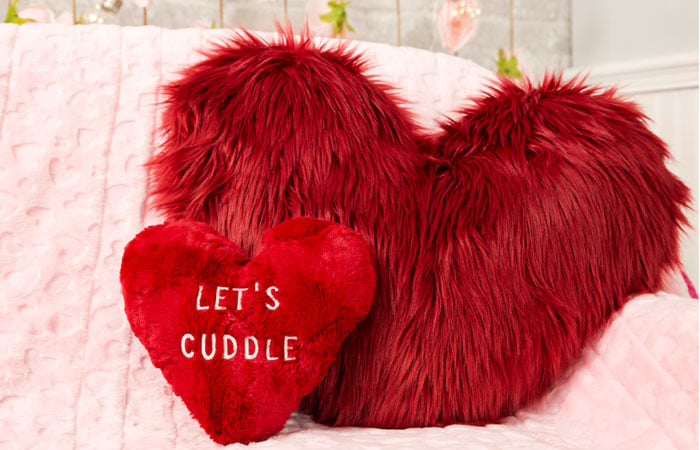 Heart shaped pillow (pattern coming soon)!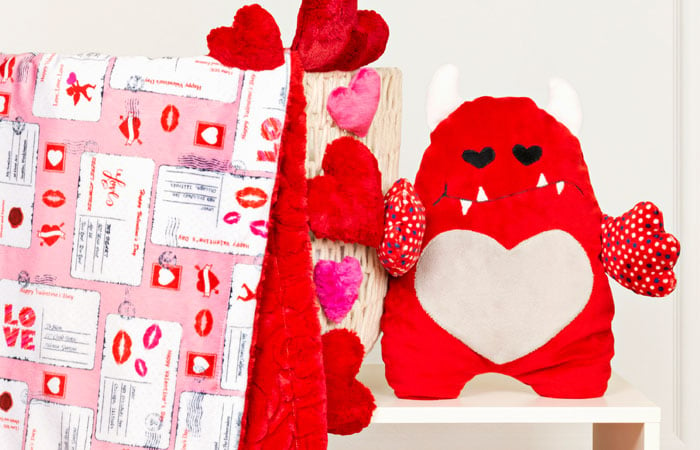 Valentine's Love Monster Toy sewing pattern by Funky Friends Factory. Cuddle® minky throw blanket features Sending Love Digital Cuddle® Blush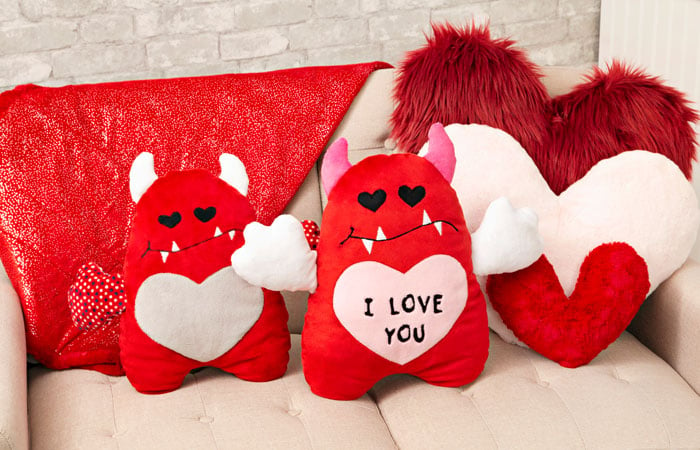 We can't get enough of these adorable silly monsters! Throw blanket made in Sparkle Cuddle® Glitter Scarlet/Silver.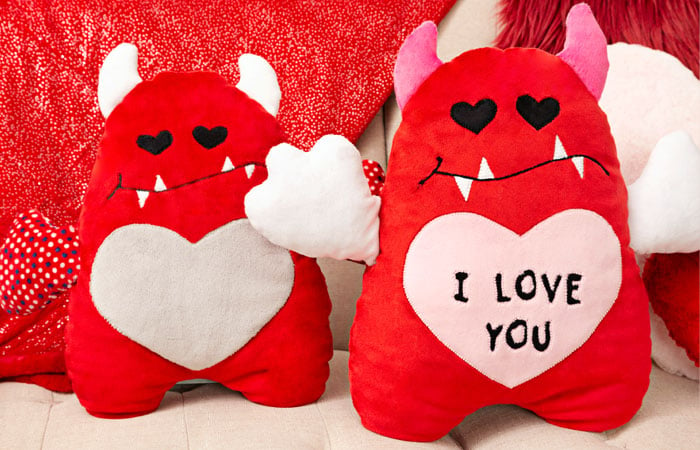 An easy and fun way to say "I Love You!"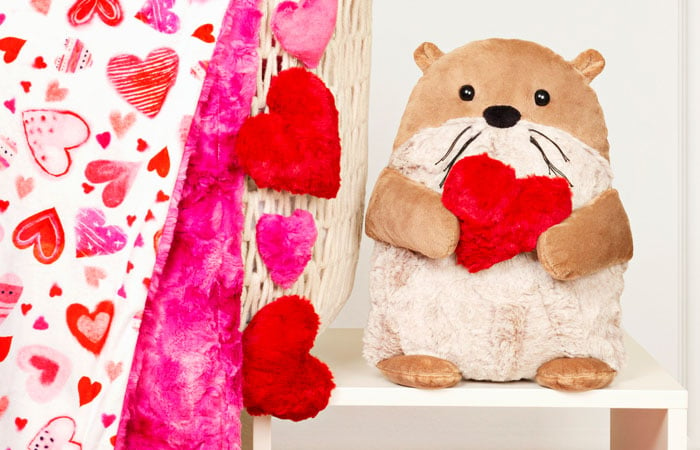 Stuffed Otter sewing pattern by Fluffmonger. Cuddle® minky throw blanket features Always and Forever Digital Cuddle® Scarlet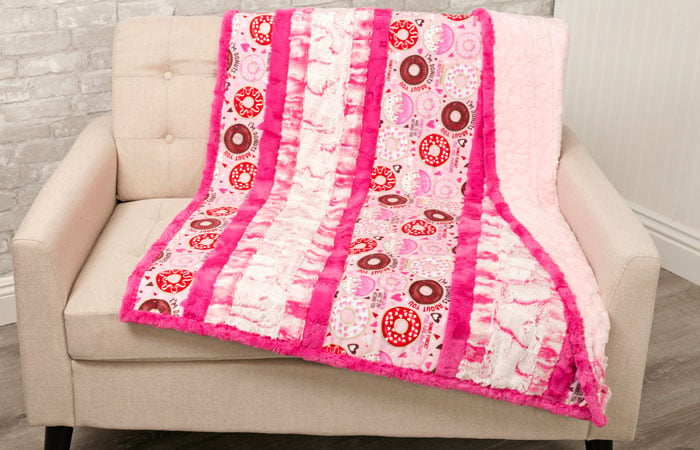 Quilt made using our free Fab 5 strip quilt pattern. Features our Love Donuts Digital Cuddle® Pink print.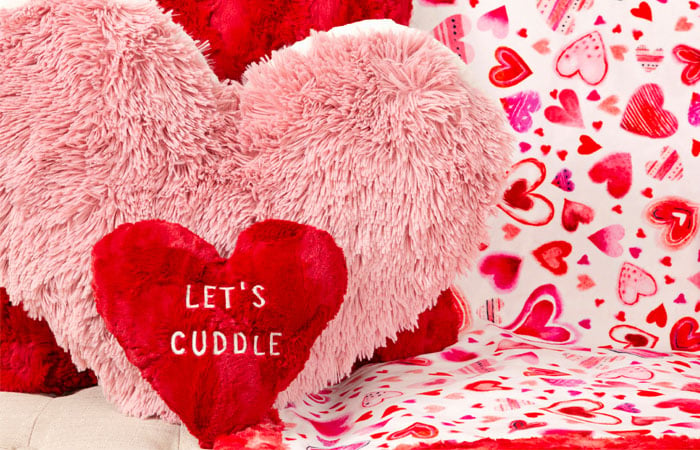 Make as many heart pillows as you desire!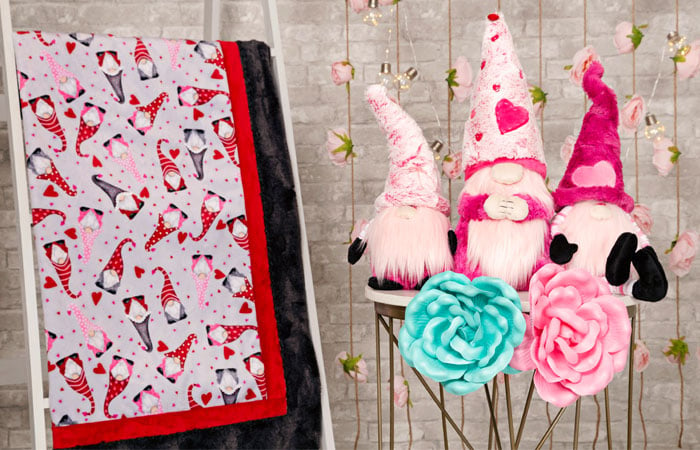 We just can't get enough gnomes! This adorable set was made using a mix of Cuddle®, Luxe Cuddle® and Faux fur; pattern from Happy Heart Patterns.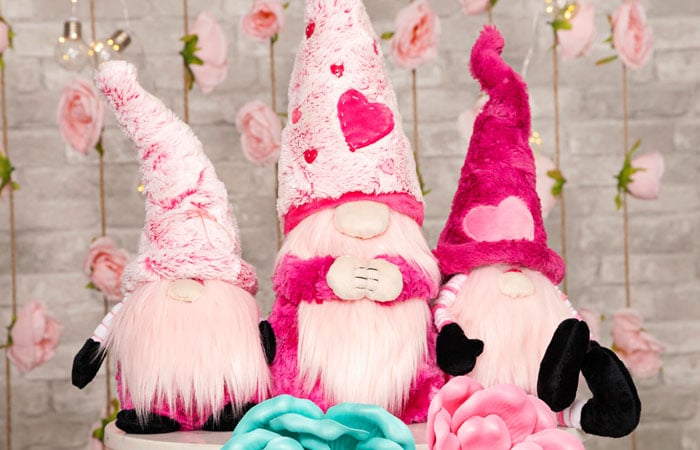 The gnomes close up. So cute!

Mini Magoos stuffed animal pattern by Melly & Me. We think it's a perfect fit to coordinate with our sock monkey themed blanket.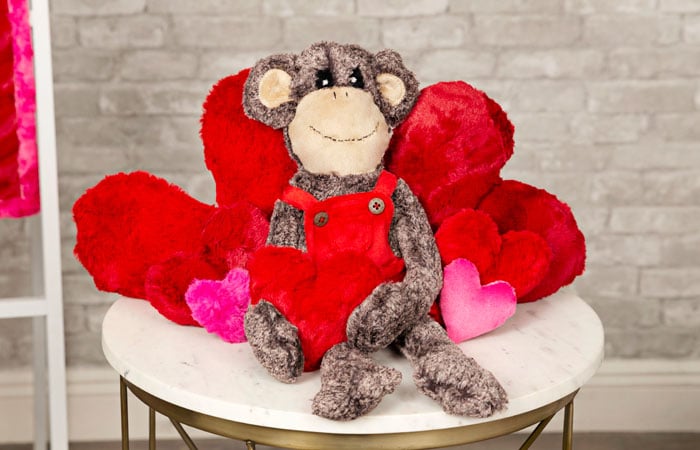 Mini Magoos stuffed animal pattern by Melly & Me. How cute are his little overalls?!
New Valentine's Day Prints for 2021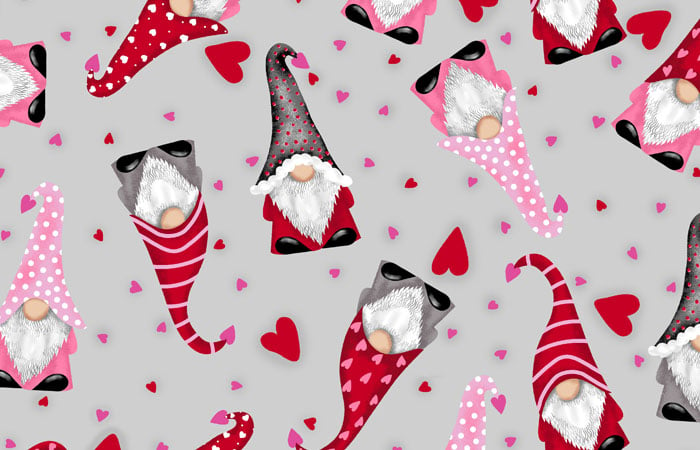 Gnomes have become super popular lately, and not just around the holiday season! They're iconic, and encapsulate all things quirky, warm and festive. We've created a digital print that features these bearded friends wearing a variety of Valentine's Day-themed hats and sweaters that are covered in stripes, polka dots and hearts. We think this fun minky fabric would be great sewn into a throw blanket or quilt and gifted to a loved one to cozy up under this February (and the rest of the year, too)!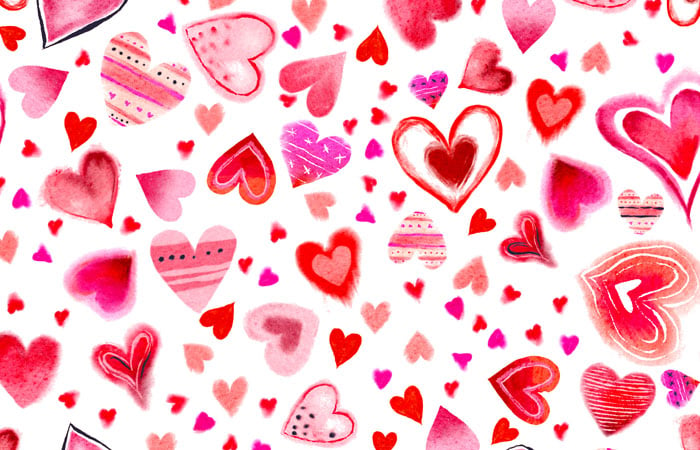 Affectionately named "always and forever", this digitally printed minky plush fabric is covered in a variety of hearts of all shapes, sizes and patterns. While it's a great print for Valentine's Day and the month of February, we think there's never a bad time to spread a little warmth and love no matter the season. Dominated by red, white and pink hues, this print would look great in anything from a wearable scarf to a throw blanket — and everything in between!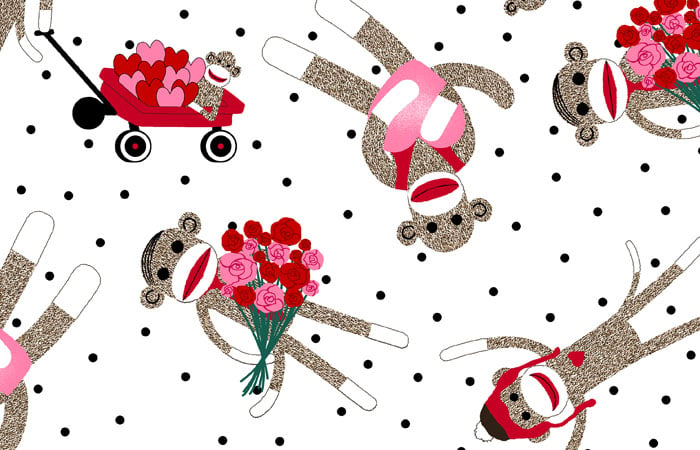 Romance comes in many forms, and we know sometimes it's refreshing to keep things lighthearted and fun on Valentine's Day! Nothing will tell your "love monkey" you're thinking of them more than gifting them this digitally-printed minky fabric that's covered in, you guessed it, the cutest bunch of sock monkeys around. They're delivering roses and wagons full of hearts, all overlaid on a clean background with small polka dots. We think it'd be great for quilts or throw blankets, but you couldn't go wrong with an infinity scarf or other fun accessories, either!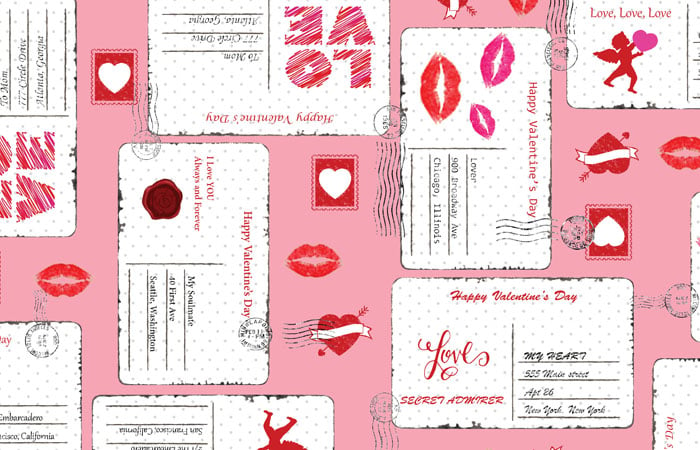 Sure you can send a postcard to profess your love this Valentine's Day, but why not take it one step further and send a postcard-themed throw blanket or quilt instead? This digitally-printed minky plush fabric is covered in postcards with sweet love messages that your "soulmate" or "lover" will surely appreciate. As if that's not enough to show you care, the lipstick smudges, hearts and cupids throughout the print will leave no doubt in their mind that they have a "secret (or not-so-secret) admirer".
We hope you're inspired and that this makes your day a bit sweeter!
If you have any questions about Cuddle® minky plush fabrics or any of our Cuddle® Kits, feel free to contact our friendly, no-pressure customer service team at 866-624-5252.

Ready to start creating with Cuddle® minky fabric? Use our store locator to find a selection of Cuddle® minky fabric online or near you.