We know kids love fun backpacks and cozy sleeping bags, so this week we combined them both in this two-in-one project!
Affectionately called a "nappy bag", this week's Sew Together Tuesday tutorial is essentially a sleeping sack and pillow with carrying straps. It was designed by Shannon Fabrics Brand Ambassador (and grandmother-extraordinaire) Pat Wodksow, and she says the carrying straps make it "easy to take to a sleepover at grandma's house".
Pat used a clever design feature — the bag easily folds into thirds and then folds into a pocket in the pillow to make a backpack/pillow. Better yet, the bag is both super soft and machine washable.
See Related: How to Sew a Cuddle® Minky Fabric Pillowcase (Pillowcase Pattern & Video Tutorial)
These are great for sleepovers, naptime, playtime, camping, taking to daycare, watching a movie or just playing on the floor.
The "Nappy Bag" can be created with any of our Luxe Cuddle® or Cuddle® minky plush fabrics, and you can find her pattern with helpful hints and directions here.
Happy sewing!
Editor's Note:
Fairfield World is giving away two 16" pillows during the LIVE Sew Together Tuesday videos on Tuesday April 20 and Wednesday April 21 on the Shannon Fabrics Facebook page. Additionally, Fairfield World has offered Sew Together Tuesday fans a discount code for 20% off any purchase from Fairfieldworld.com, good through June 1, 2021. Use code: "Poly-fil Sleep Sack" when checking out.
Cuddle Soft Kits is offering a Free Nappy Bag pattern, with purchase of a Nappy Bag kit. Offer valid until May 31, 2021.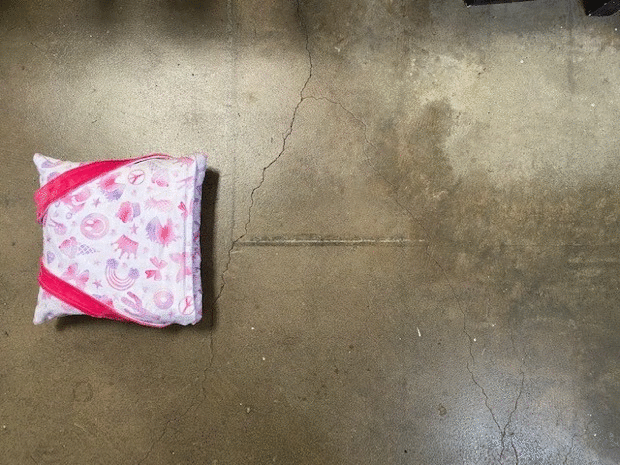 Fabrics and notions you'll need to make a Cuddle® nappy bag (sleep sack)
These fabrics and notions can be substituted for whatever you have on hand, but here is what Teresa recommends for her Cuddle® minky fabric nappy bag tutorial:
Fabrics:
2 yds. Girls Rule Digital Cuddle® Hot Pink
1 1/2 yds. Solid Cuddle® 3 Hot Pink (Teresa made her sample in Solid Cuddle® 3 Fuchsia)
1/2 yd cotton muslin for pillow form
Notions/supplies:
16" pillow form or fiberfill stuffing - (pillow form and POLY-FIL - Fairfield World)
18" all-purpose zipper
45mm rotary cutter - OLFA or blade (SAC-1 - OLFA)
90/14 stretch machine needle - SCHMETZ
Fabric clips - (Wonder Clips - Clover)
Felt tip marker
Flower head pins - Clover
Hand sewing needle
Knit stay tape - Dritz (optional)
Micro serrated scissors - Famore
Nappy Bag sewing pattern

- CuddleSoft Quilts

Polyester thread - (Metrosene - Mettler)
Self-healing cutting mat - OLFA
Stiletto and pressing tool - ByAnnie
Walking Foot
Wonder Tape (1/4") - Dritz (optional)
Tips for making a Cuddle® minky fabric nappy bag (sleep sack)
Take your time and pin well.
Sew slowly when attaching the pillow; there are a lot of layers to keep aligned!
Mix and match your fabrics as much as you want. Use a Luxe Cuddle® for the pillow front for extra softness.
Video tutorial: How to make a Cuddle® minky fabric nappy bag (sleep sack)
Mark your calendar — as part of Sew Together Tuesday, Teresa will be going LIVE on the Shannon Fabrics Facebook page and YouTube channel at 10 am PDT on April 20 and 21 to share her tips on how to make a nappy bag out of Cuddle® minky fabric.
Can't make it? Check back here at 12 pm pacific after her live videos conclude for the embedded on-demand videos.
Part 1:
Part 2:
If you have any questions about Cuddle® minky plush fabrics or any of our Cuddle® Kits, feel free to contact our friendly, no-pressure customer service team at 866-624-5252.
Ready to start creating with Cuddle® minky fabric? Use our store locator to find a selection of Cuddle® minky fabric online or near you.