We're excited to share our Q&A series featuring exemplary quilt and fabric shops all around the country that sell Shannon Fabrics products. To nominate a shop in your area, please let us know in the comment section below. #shoplocal
Don't let the elk mount or the buffalo mount scare you — Interior Connection and Quilt Cabin is a beloved full-service fabric and sewing retailer known for everything from their notions and machines, to educational presentations and classes! They've expanded over the years, and now impressively have over 6,000 bolts of fabric to explore — as they cleverly put it, "one for every person in town"!
Our National Educator Teresa Coates (and Hawke, of course) will be stopping by for the ninth episode of Season 10 of Sew Together Tuesday to broadcast LIVE from the Interior Connection and Quilt Cabin shop floor (she'll be teaching a couple workshops, too)! Click here for more details and information about our Sew Together Tuesday series.
To learn more about and see the latest from Interior Connection and Quilt Cabin, visit their Facebook page, stop by their shop in Colby, KS, give them a call at 785-462-3375 or email owner Junelle Hills at junelle@aol.com.
Shop Spotlight: Interior Connection and Quilt Cabin
SF: What is the history of your shop?
IC&QC: In 1988 I opened The Interior Connection, a custom window treatment store. The local fabric store (Joyce's Fabrics) sold draperies at the time, but they were eager to relinquish that part of the business, offering many of their supplies and resources to me. In 1989 I took my first quilt class, making a Trip Around the World Quilt. In 1990 I opened a second store 60 miles away.
That about did me in, so I closed the second store and happily operated out of a small space on the west edge of town for 14 years. In January 2002, the fabric store owner asked me if I'd like to purchase the business, that included drapery, quilting and apparel fabric. In February the deal was signed and the Interior Connection and Quilt Cabin venture was underway!
We moved both business under one roof and had the cutest little curtain and quilt store. We outgrew the new space and moved again in six months to our current location, right north of I-70. It was a new set of responsibilities, more staff, retail, a newsletter, sewing machine sales, teaching classes, giving presentations and taking classes.
Currently we have about 6,000 bolts of fabric including Cuddle®, flannel, cotton, batiks and 108" wide back. Our store is known for the full line of notions and novelties, and Janome Sewing Machines. We serve a large area, welcome buses, groups and EVERYONE who wants to stop!
SF: How has your shop evolved over the years?
IC&QC: When we first opened, we just sold fabric. Now we have classes, monthly programs, and precuts! The price of fabric has gone up 25 percent since we opened in 2002, but we try to absorb as much of it as possible by buying in bulk.
SF: Tell us one thing people might not know about your shop.
IC&QC: We quite possibly are the one of the few quilt shops with a 6 by 6 elk mount and a huge buffalo mount proudly displayed! (shot by the owner herself)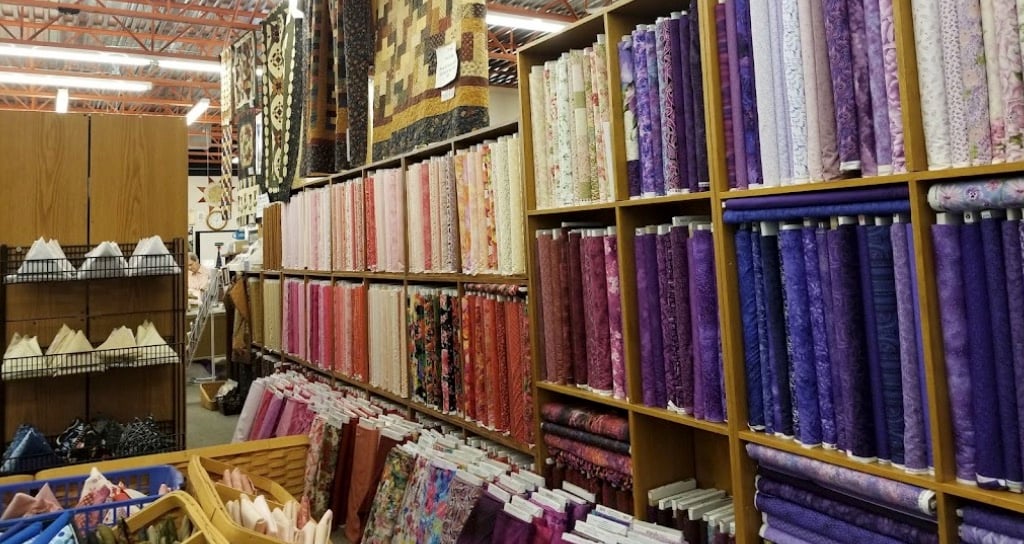 SF: What's your shop's motto or tagline?
IC&QC: We've got ya covered! (We sell custom window treatments, quilts/fabric and storage sheds)
SF: Describe your shop's aesthetic in five words or less.
IC&QC: Customer service with a SMILE.
SF: What's unique about your shop?
IC&QC: We are one of the largest quilt shops in the area with a large selection of fabric and notions. We say we have 6,000 bolts, one for every person in town!
SF: What is your best-selling Shannon Fabrics product?
IC&QC: We LOVE Luxe Cuddle®!
SF: Do you sell online?
IC&QC: We do not have a website, but we do have a Facebook page, Quilt Cabin. On occasion we will post new fabrics, notions, classes or sales.
SF: What top projects are on the "must make" list right now in your shop?
IC&QC: STACK N WHACK is an oldie, but goody. We just completed three classes in the last month. Collage classes have been popular as well. The three-yard quilts are the "go to" when we need a fast, easy project!
SF: What do you love most about creating (or seeing customers create) DIY projects with the fabrics you sell?
IC&QC: Our staff loves to help customers make their ideas into reality. We take pride in watching them cultivate an idea, while we assist them bring it to fruition!
SF: What current quilting, sewing or crafting trends inspires you?
IC&QC: Naturally the internet is inspiring to us. Living in remote, rural America, our customers watch blogs, videos, classes online and social media, for ideas. Also, our fabric reps are a wealth of knowledge and up on the most current trends. Our classroom instructors are open to try anything a group of seamstresses want to try!
SF: What's next for your shop?
IC&QC: We're excited to host Teresa Coates who will do a Facebook Live on October 25, 2022, plus three in-store workshops!
SF: Is there anything else you would like us to know or share about you or your business?
IC&QC: We invite you to stop and shop!
If you have any questions about Cuddle® minky plush fabrics or any of our Cuddle® Kits, feel free to contact our friendly, no-pressure customer service team at 866-624-5252.
Ready to start creating with Cuddle® minky fabric? Use our store locator to find a selection of Cuddle® minky fabric online or near you.