We're excited to share our Q&A series featuring exemplary quilt and fabric shops all around the country that sell Shannon Fabrics products. To nominate a shop in your area, please let us know in the comment section below. #shoplocal
We think this week's shop just might have the best name of all time! Affectionately called Quilting Mayhem, this 17,000-square-foot shop brings a breath of fresh air to the Pacific Northwest with their modern prints and bright fabrics. They're not just the region's go-to destination for quilting fabrics and notions — they're also a full-service shop that's become known for their educational classes and broad depth of knowledge.
Our National Educator Teresa Coates (and Hawke, of course) will be stopping by for the eleventh episode of Season 10 of Sew Together Tuesday to broadcast LIVE from the Quilting Mayhem shop floor (she'll be teaching a couple workshops, too)! Click here for more details and information about our Sew Together Tuesday series.
To learn more about and see the latest from Quilting Mayhem, visit their website, stop by their shop in Snohomish, WA, give them a call at 425-789-6442 or email owner Mindy Lennon at mindy@quiltingmayhem.com.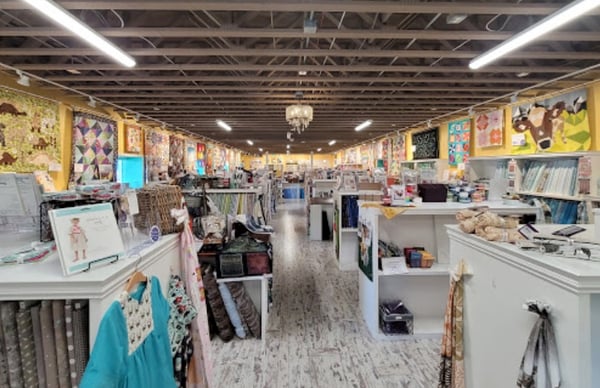 Shop Spotlight: Quilting Mayhem
SF: What is the history of your shop?
QM: I have been quilting since the 90s — my mother taught me after my first child was born. I was hooked and had always dreamed of owning my own store. It wasn't until 2015 when I was able to afford it, though. I had worked at other quilt shops in the past so I knew what it would take. I felt a lot of the shops in the surrounding area were more traditional and we needed a more modern store in the area, so I focused on bright fabrics and more modern prints. It just grew from there.
SF: How has your shop evolved over the years?
QM: We have grown from 3,000 square feet to 17,000 square feet in seven years. Our focus has always been on education and trying to provide full service for our customers. Many shops have closed in our area, so we have tried to make sure we can fill in the gaps the other stores have left behind.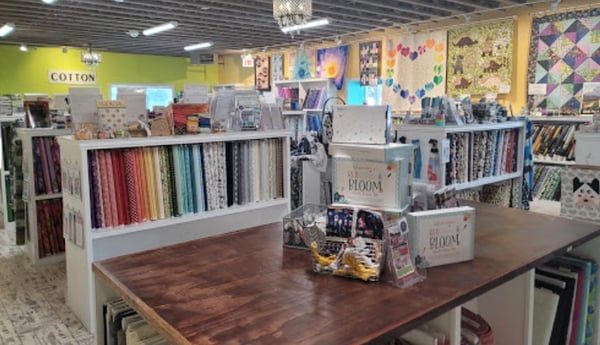 SF: Tell us one thing people might not know about your shop.
QM: We have retreat space!
SF: What's your shop's motto or tagline?
QM: "Embrace the Mayhem"
SF: Describe your shop's aesthetic in five words or less.
QM: Bright, modern, friendly, inspirational
SF: What's unique about your shop?
QM: We have a very diverse staff who are knowledgeable on everything from garments and quilting, to bag making and more.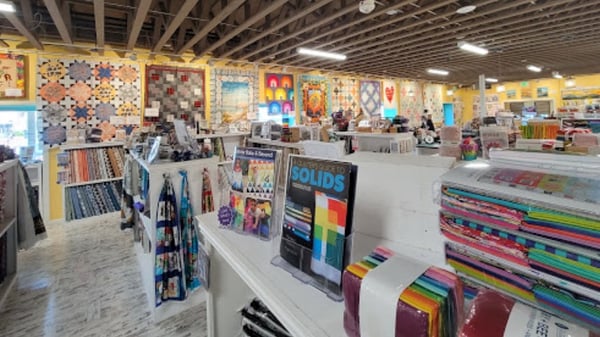 SF: What is your best-selling Shannon Fabrics product?
QM: 2-yard Cuddle® Cuts
SF: Do you sell online?
QM: Yes, ever since we opened we've been selling products online, but it was not a major focus of ours until the pandemic.
SF: What top projects are on the "must make" list right now in your shop?
QM: Quilted Jacket, Alchemy EPP, Summer Sampler
SF: What do you love most about creating (or seeing customers create) DIY projects with the fabrics you sell?
QM: Working with new colors and fabrics — there is always something new to learn or work with.
SF: What current quilting, sewing or crafting trends inspires you?
QM: Social media is where a lot of our inspiration comes from. We can't wait to get back to attending markets and shows where we used to get a lot of our inspiration, and loved being able to talk to designers and educators. There are so many new trends it's so hard to keep up. Right now anything that seems to push the envelope in technique and design is what attracts us.
SF: What's next for your shop?
QM: We want to increasing our brand and become a destination location for the PNW!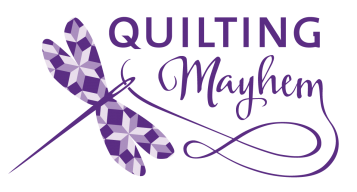 If you have any questions about Cuddle® minky plush fabrics or any of our Cuddle® Kits, feel free to contact our friendly, no-pressure customer service team at 866-624-5252.
Ready to start creating with Cuddle® minky fabric? Use our store locator to find a selection of Cuddle® minky fabric online or near you.