We're excited to share our Q&A series featuring exemplary quilt and fabric shops all around the country that sell Shannon Fabrics products. To nominate a shop in your area, please let us know in the comment section below. #shoplocal
With the local quilt shop closing their doors, Linda Linsenbarth jumped at the opportunity to leave her job as a medical lab administrator and open her own quilt and fabric shop!
Now, after being in business for almost 20 years, Sew What's New & Yarn Too! offers four different brands of sewing machines, both group and one-on-one sewing classes and plenty of expertise to help their customers find the right combination of fabrics to make their project "sing".
This spring, our National Educator Teresa Coates (and Hawke, of course) will be stopping by for an upcoming episode of Season 9 of Sew Together Tuesday to broadcast LIVE from the Sew What's New & Yarn Too! shop floor (she'll be teaching a couple workshops, too)! Click here for more details and information about our Sew Together Tuesday series.
To learn more about and see the latest from Sew What's New & Yarn Too!, visit their website, stop by their shop in Islip, NY, give them a call at 631-277-4215 or email owner Linda Linsenbarth at lindakate@sewwhatsnew.biz.

Shop Spotlight: Sew What's New & Yarn Too!
SF: What is the history of your shop?
SWN: I came home from a cross-country trip with my son in 2002. My husband was holding a bright yellow postcard that said 45 percent off everything at the quilt shop in town. He said "I don't know if I should give this to you." Little did he know.
I stood in line with everyone at the shop and asked who was replacing the owners. The answer was "nobody", and so the idea was planted to have my own quilt shop. I was a medical lab administrator in a NYC hospital, and with all the politics and unions, I thought I could handle the paperwork and planning. My quilting experience was more as a purchaser of quilts than a maker. I had a lot to learn!
I was able to hire the staff of the former shop who helped me gain the retail experience I was lacking. Other things fell into place like magic, such as finding a sewing machine repair person, a location and even a contractor for renovation. The name of the shop was taken from a shop where I took sewing lessons long ago — before the quilting craze of the mid-seventies! When I started, I was focused on quilting fabric and selling sewing machines.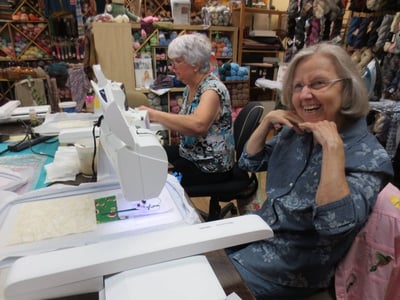 SF: How has your shop evolved over the years? What caused the evolution?
SWN: I opened the doors on April 1, 2003 (I'm filling out this form during our 19th anniversary celebration)! Customers wanted to be assured there would be a place for classes and supplies of better quality than Joann's. We held large classes for Saturday Samplers and machine embroidery as well as children's sewing camps. Our beginning sewing classes were also filled. A lot of fabric was sold because this preceded the online sales boom. Classes for making big quilts started to fade as did the Saturday Sampler.
About five years ago, the yarn shop in town closed, so I added yarn to our inventory. Now I see a lot of baby quilts being made. Quick and easy appeals to our customer. Although I enjoy clothing sewing, we don't have the needed room and most customers don't seem to have the perseverance for the fiddly bits of clothing sewing. They will sew little girl dresses.
I am doing a lot of beginning sewing and individual attention works very well and we can focus on how the student learns. Many beginner sewing class students want to make clothes but are dismayed at the amount of knowledge needed and often expect to sew knits right away.
My manager (Linda Lingner, a Shannon Fabrics Brand Ambassador) is wanting to take more time to learn what the customer wants. Two shops in our area have closed within the last two years so we are going to try some more advanced quilting classes to fill the loss. I feel there is another shift happening for us right now, perhaps because the diminished COVID concerns. I plan to introduce group beginning quilting and sewing classes in the next quarter.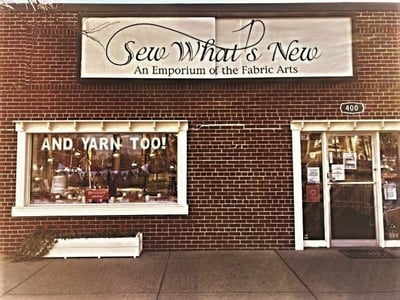 SF: Tell us one thing people might not know about your shop.
SWN: We have a wide variety of styles of fabrics like batiks, childrens, blenders and florals.
SF: What's your shop's motto or tagline?
SWN: We started as "An Emporium of the Fiber Arts", but I prefer to say "We Want To Keep the World Sewing" — which I stole from Viking.
SF: Describe your shop's aesthetic in five words or less.
SWN: Friendly, helpful, knowledgeable, communal.
SF: What's unique about your shop?
SWN: We offer four brands of sewing machines, and a good Cuddle® selection.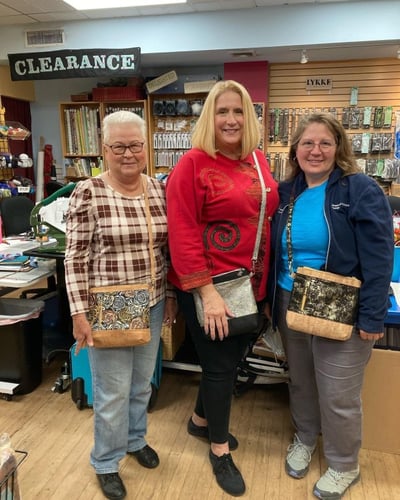 SF: What is your best-selling Shannon Fabrics product?
SWN: 12" strips and infinity scarves kits.
SF: Do you sell online? If so, how long have you been selling online and what have you learned?
SWN: Yes — we just started two years ago. We have learned that pictures are VERY important and inventory must be accurate.
SF: What top projects are on the "must make" list right now in your shop?
SWN: A Tamarack jacket (Free Spirit Challenge), three-yard quilt samples (Fabric Cafe) and keeping ahead of the Block of the Month (Banyan Batiks Illusion).
SF: What do you love most about creating (or seeing customers create) DIY projects with the fabrics you sell?
SWN: Playing with all the different fabrics to get just the right combination that makes it sing is our favorite pastime. After selecting the fabric colors, seeing how they play with a pattern is a fascinating exercise.
SF: What current quilting, sewing or crafting trends inspires you? Where do you get your inspiration?
SWN: The Free Spirit Tamarack jacket challenge answers my interest in clothing and quilting. I depend on magazines, trade shows and fabric companies to inspire me.
SF: What's next for your shop?
SWN: We are applying for a Baby Lock dealership and want to expand the serger portion of our business. Using the serger could inspire more clothes construction. We have started to get comfortable with social media and in particular Facebook Live. I want to learn to use the Facebook Live platform to sell product.
SF: Is there anything else you would like us to know or share about you or your business?
SWN: The question you asked about five words to describe our aesthetic was interesting. I had most of the staff here for our anniversary and the resulting discussion was most lively. Thank you for making us think about who we are.

If you have any questions about Cuddle® minky plush fabrics or any of our Cuddle® Kits, feel free to contact our friendly, no-pressure customer service team at 866-624-5252.
Ready to start creating with Cuddle® minky fabric? Use our store locator to find a selection of Cuddle® minky fabric online or near you.