First things first, what's a quillow?
Well, it's not just a quilt — and it's not just a pillow. A quillow is a magical combination of a Cuddle® "quilt" with a pocket attached. Simply fold the quilt and slide it into the pocket to make a pillow!
See Related: How to Make a Nappy Bag with Cuddle® Minky Fabric (Sleep Sack Sewing Tutorial)
This week our National Educator Teresa Coates heads to the final stop on her Sew Together Tuesday "On the Road" tour, where she'll share how to make a quillow LIVE from CaliQuiltCo in Rancho Cordova, CA. It's a fitting end to an almost year-and-a-half long tour — at the shop where the first episode was shot!
Our free quillow pattern designed by Linda White finishes at 58 inches square and tucks into a 20-inch pillow, and makes the perfect travel companion or throw for the sofa. It's best made with Luxe Cuddle®, so choose four yards of your favorite.
Happy sewing!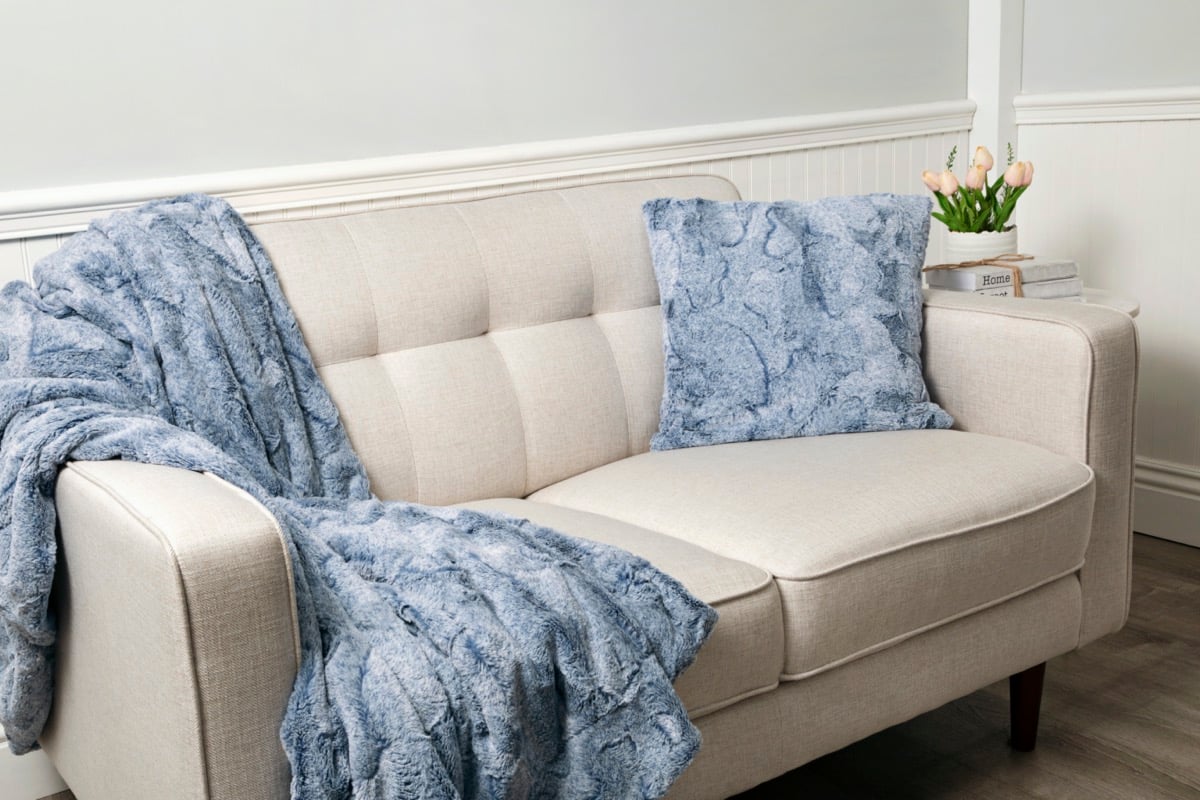 Recommended Fabrics and Notions for Sewing a Cuddle® Quillow
These products and fabrics can be substituted for whatever works best for you, but here is what Teresa recommends for sewing a quillow with Cuddle® minky fabric:
Fabrics:
4 yards Luxe Cuddle® Forest Fox Winter Sky
Notions:
90/14 stretch machine needle [SCHMETZ]
Polyester thread [Mettler Metrosene]
Felt tip marker or ballpoint pen
Rotary cutter and mat [OLFA]
Micro-serrated scissors [Karen Kay Buckley, Famore, KAI]
Long, flower head pins [Clover]
Stiletto [ByAnnie]
Hand sewing needle, optional
Walking foot
Point turner
2 (24") or 1 (36") acrylic ruler(s)
Free Download: How to Sew a Quillow
Click here or the "Download Now!" button below to download and print our free quillow sewing pattern.

Video: How to Sew a Cuddle® Quillow
Mark your calendar — for the last episode of Sew Together Tuesday Season 10, Teresa will be going LIVE on the Shannon Fabrics Facebook page from CaliQuiltCo at 10 am PT on December 13 to share her tips on how to make a quillow with Cuddle® minky plush fabric.
If you have any questions about Cuddle® minky plush fabrics or any of our Cuddle® Kits, feel free to contact our friendly, no-pressure customer service team at 866-624-5252.

Ready to start creating with Cuddle® minky fabric? Use our store locator to find a selection of Cuddle® minky fabric online or near you.