We're excited to share our Q&A series featuring exemplary quilt and fabric shops all around the country that sell Shannon Fabrics products. To nominate a shop in your area, please let us know in the comment section below. #shoplocal
There's something to be said about keeping longstanding traditions alive, while also embracing the new! Always In Stitches, a quilt and fabric shop in Noblesville, IN, does just that, by offering fabrics, notions and supplies for the traditional and modern sewist and quilter at an affordable price point.
That's not all though, they also offer educational classes for quilting and needlecrafting to help their customers learn new skills regardless of their experience level, and their staff of over 25 people includes an on-site technician to help keep their customers' machines running smoothly.
Our National Educator Teresa Coates (and Hawke, of course) will be stopping by for the third episode of Season 10 of Sew Together Tuesday to broadcast LIVE from the Always In Stitches shop floor (she'll be teaching a couple workshops, too)! Click here for more details and information about our Sew Together Tuesday series.
To learn more about and see the latest from Always In Stitches, visit their website, stop by their shop in Noblesville, IN, give them a call at 317-776-4227 or email owner Lyneen Burrow at info@alwaysinstitches1.com.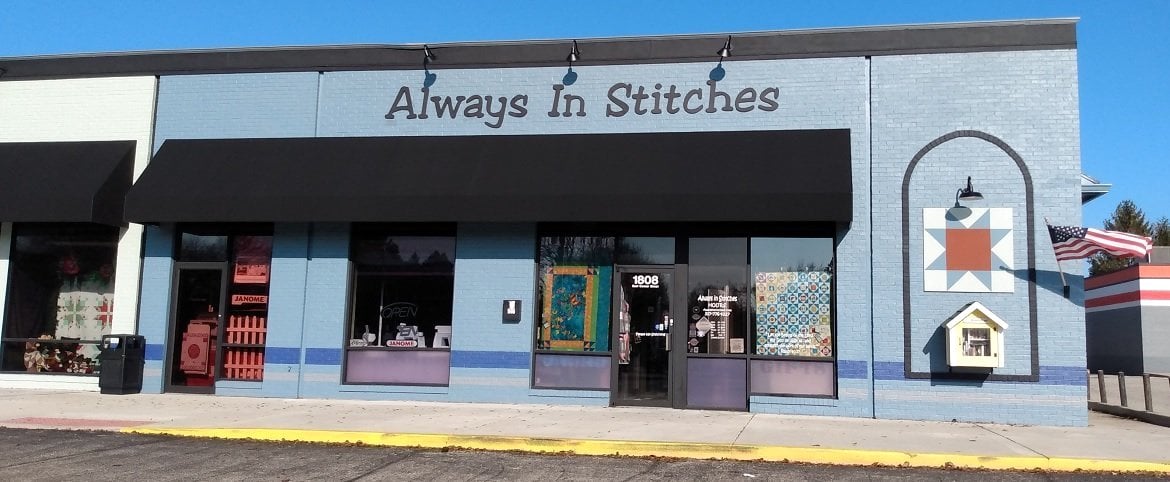 Shop Spotlight: Always In Stitches
SF: What is the history of your shop?
AIS: Owner Lyneen Burrow learned quilting as a child. She had an opportunity to open a quilt shop in 2007 and jumped on it because she wanted to create a space for women to socialize — a place where there is laughter, a hug and a cup of coffee for everyone who walks through our doors. Her goal is to encourage people to start, continue or return to quilting and needle crafting through top-quality products, education and advice while keeping the crafts affordable to all.
The shop has grown since opening, adding services and more fiber arts. We have an on-site repair technician to care for machines; longarm quilting service and training on the longarm so customers can use our longarm to quilt their own quilts. As we have grown, our class offerings have expanded also.
While making sure to keep an emphasis on beginning level classes, many of the classes still hold value for more advanced quilters, knitters and other needlecrafters, as well as the occasional specialty craft. Several ways our customers have been encouraged to make a difference are by donating a specific item for a particular cause. We've collected hat and glove sets, Project Linus blankets, Ryan's Case for Smile pillowcases, heart pillows and chemo caps for the local women's center, and backpacks for the free clinic helping outfit kids for back to school. We have customers who continue to bring knit baby hats for preemies, and scarves for Knit Your Bit, which go to our local VFW.
"Knowing we might help one person have a better day or teach someone how to use a needle to create a family heirloom is what keeps all of us going," Lyneen said. "I just want customers to feel a little better when they leave than when they walked in our doors."
SF: How has your shop evolved over the years? What caused the evolution?
AIS: When the market changes in the type of craft that is popular, some of our departments get bigger and others get smaller until the market changes in the other direction. We try to meet the needs of our customers to the best of our ability.
When a local modern quilting fabric shop closed their doors, we began carrying some of the more modern fabrics in our shop to meet the need of those customers.
SF: Tell us one thing people might not know about your shop.
AIS: We aren't just a quilt shop. We have a large cross-stitch department, a wool department, punch needle department and a yarn department. We offer a variety of classes. We love to celebrate our customers' finishes whether it is a small cross stitch project or the completion of a large quilt.
SF: What's your shop's motto or tagline?
AIS: We are the nice store.
SF: Describe your shop's aesthetic in five words or less.
AIS: Fun, creative, nice, silly and talented.
SF: What's unique about your shop?
AIS: Our 27 employees! They each bring a unique blend of creativity, talent and fun to the shop. We are a family and our customers are also a part of our family.
SF: What is your best-selling Shannon Fabrics product?
AIS: Amazingly enough, the extra-wide Cuddle® fabric for quilt backs!
SF: Do you sell online? If so, how long have you been selling online and what have you learned?
AIS: Yes, we do! When COVID happened, we realized that selling online was a must. We began with several local orders and to date we have shipped items to Australia, Canada and various other overseas countries. This has made us step up our game in being efficient and knowledgeable in our shipping. As a result of this influx of online orders, we have formed an Online Department.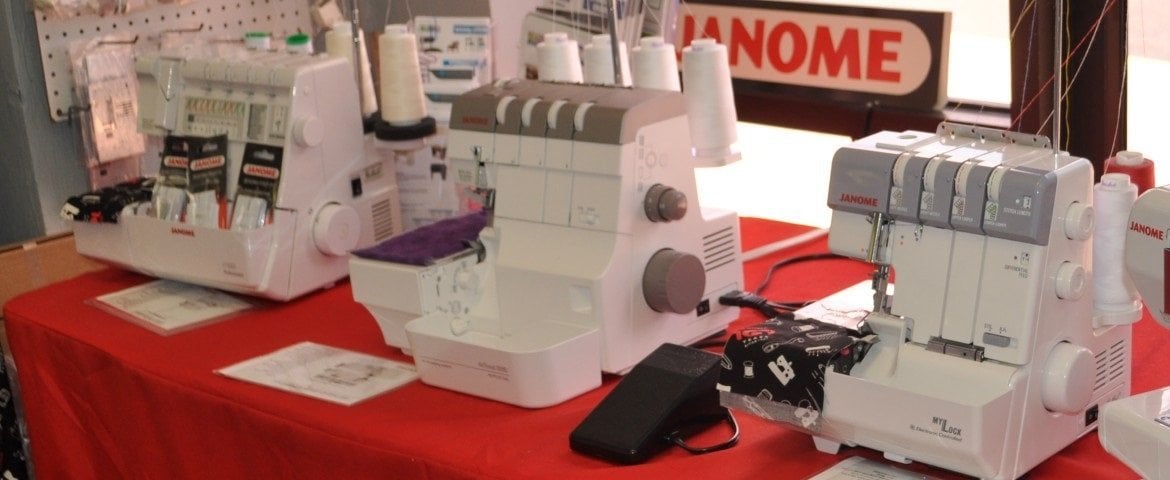 SF: What top projects are on the "must make" list right now in your shop?
AIS: The Shannon Fabrics Gaming Controller Pillow, Santa Pillow, Snowman Pillow and Peppermint Pillow. Anything from our new Malabrigo yarn. Any of the Stitching With the Housewives patterns. There really are too many options to mention!
SF: What do you love most about creating (or seeing customers create) DIY projects with the fabrics you sell?
AIS: The satisfaction that comes with finishing a project and seeing that in their eyes.
SF: What current quilting, sewing or crafting trends inspires you? Where do you get your inspiration?
AIS: Oh gosh, there are so many! When you enjoy quilting, sewing, cross stitch, wool, punch needle and knitting/crocheting, it's so hard to keep up. Trade shows are a definite. Also, Instagram, Facebook and blogs contribute to the enabling!
SF: What's next for your shop?
AIS: We are stepping up our social media presence with Flosstube, Instagram and Facebook videos and our YouTube channel videos. We have formed a social media department and have equipped it with the necessary editing and recording capabilities. We always have exciting classes on the calendar — we are booked up until next year!
SF: Is there anything else you would like us to know or share about you or your business?
AIS: We are a family of creative, wacky and loving individuals who love what we do and love those who create alongside of us.

If you have any questions about Cuddle® minky plush fabrics or any of our Cuddle® Kits, feel free to contact our friendly, no-pressure customer service team at 866-624-5252.
Ready to start creating with Cuddle® minky fabric? Use our store locator to find a selection of Cuddle® minky fabric online or near you.