Kids love slippers, adults love slippers — everyone loves slippers!

This week, for the next episode of Sew Together Tuesday, our National Educator Teresa Coates revisits her slipper tutorial from a few seasons back. She'll share her tips on how to sew a super (and we mean super) comfy pair of slippers out of Cuddle® and Luxe Cuddle® minky plush fabric that can be scaled up or down depending on the size you need.

See Related: How to Sew a Sleep Mask (with Pattern and Video Tutorial)

Don't be intimidated, this is one sewing project even novice sewists can complete in just a few hours, and they're easy to customize to match your (or your little one's) favorite pair of pajamas!
Teresa used the Sleeper Slippers pattern from our friends at McKay Manor Musers for the adult pair and the Tiny Toes Kids Slipper Pattern for the kids' version, and she altered the designs slightly to work more seamlessly with minky fabric.

Here we've outlined Teresa's suggested notions and fabrics, her tips for sewing a pair of minky fabric slippers, and of course, the video tutorials.

Here we go!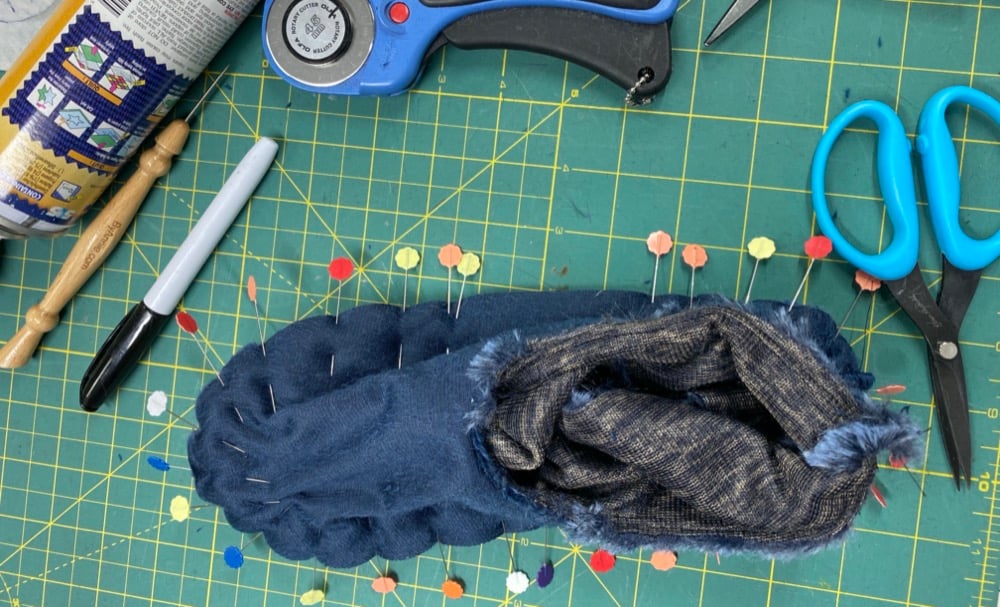 Suggested Notions and Fabrics to Sew a Pair of Slippers
These products can be substituted for whatever you have on hand, but here is what Teresa recommends for her minky fabric slippers sewing tutorial.

Fabrics:
½ yd outer fabric (Luxe Cuddle® suggested)
½ yd. inner fabric (Cuddle® 3 suggested)
½ yd. Slipper Gripper for sole (optional)
½ yd. cotton batting or ByAnnie's Soft And Stable® (optional)
Notions:
90/14 stretch machine needle —SCHMETZ
Hand sewing needle (for children's sizes)
Long, flower head pins — Clover
Micro-serrated scissors — Karen Kay Buckley, Famore or Kai
Polyester thread — Metrosene by Mettler
Stiletto and Pressing Tool — ByAnnie
Tracing paper/interfacing (optional)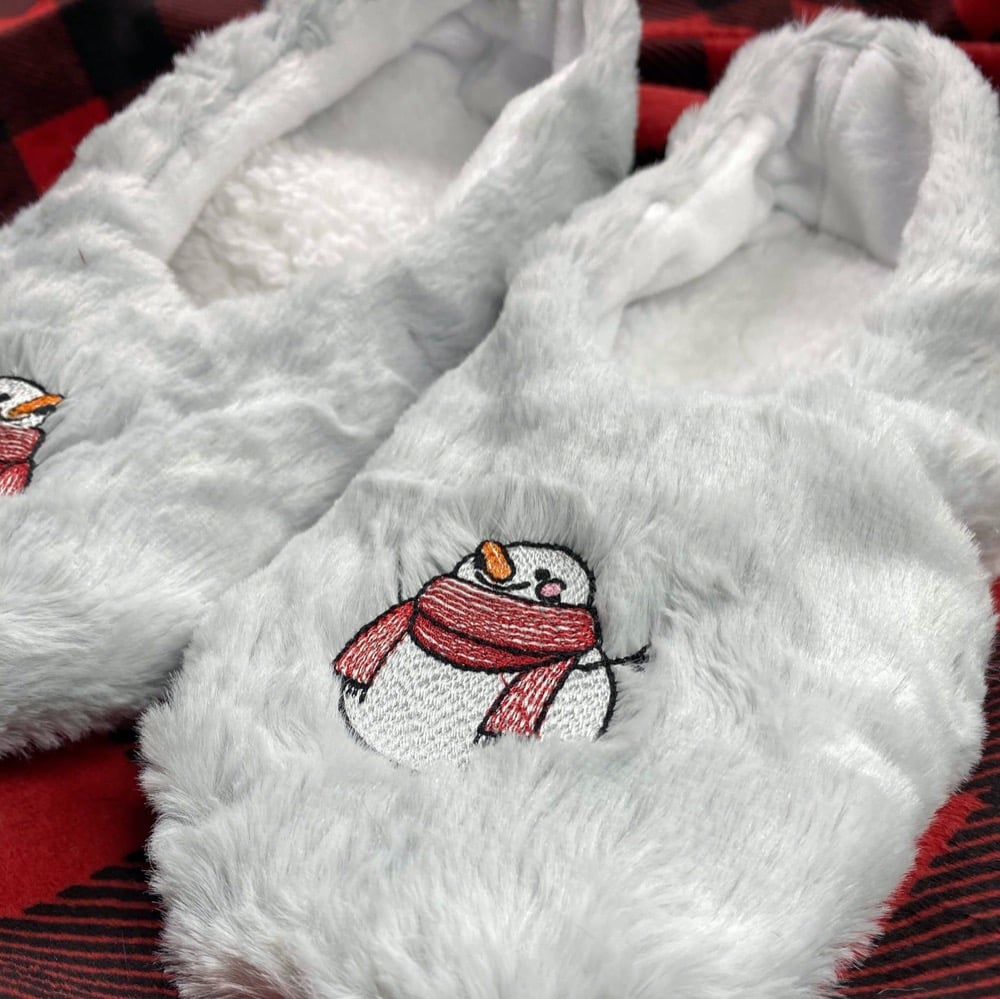 Tips for Sewing a Pair of Slippers
For easiest construction, use a Cuddle® 3 or a Luxe Cuddle® such as Chenille, Weave, Brooklyn for the outer slipper.
For the lining, use a Cuddle® 3 for the sides (the U-shapped piece).
For the sole lining, you can do all sorts of things: use a Cuddle® 3 by itself, adhere Cuddle® 3 to Soft and Stable® or batting, use Luxe Cuddle® Sherpa or Luxe Cuddle® Llama.
If wanted, you can add embroidery detail to the front toe of slipper prior to cutting or add a ribbon after sewing.
Don't use batting in the smallest sizes; it's unnecessary.
Hand sew the opening at the ankle on the children's slippers. Use a running stitch and circle the ankle twice, being careful not to gather the opening at all.
Add a little ribbon at the back of the ankle opening to make it easier to pull over the heel.
Mix and match the Luxe Cuddle® and a Cuddle® print for a fun look.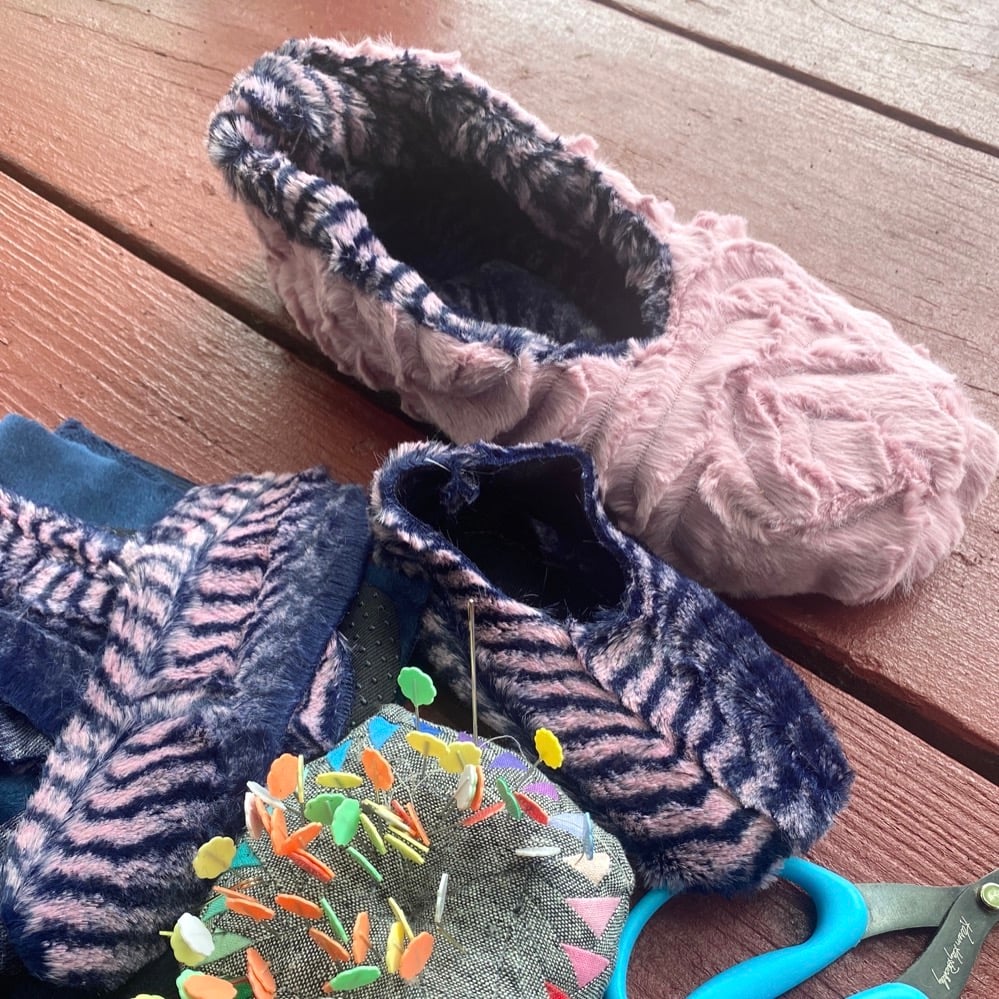 Video: How to Sew a Pair of Slippers
Mark your calendar — as part of Sew Together Tuesday, Teresa will be going LIVE on the Shannon Fabrics Facebook page at 10 am PT on May 17 to share her tips on how to sew a pair of slippers in Cuddle® minky fabric.
Kids version:
Adult version:


If you have any questions about Cuddle® minky plush fabrics or any of our Cuddle® Kits, feel free to contact our friendly, no-pressure customer service team at 866-624-5252.

Ready to start creating with Cuddle® minky fabric? Use our store locator to find a selection of Cuddle® minky fabric online or near you.