We're excited to share our Q&A series featuring exemplary quilt and fabric shops all around the country that sell Shannon Fabrics products. To nominate a shop in your area, please let us know in the comment section below. #shoplocal
With humble beginnings selling only sewing machines, Green's Sewing & Vacuum has expanded over the years to not just add vacuums, but most recently, fabric! After a remodel, they've also prioritized education — coining the phrase "ready, set, sew!" after introducing classes featuring "SEWlebrities" and "guest stars".
Our National Educator Teresa Coates (and Hawke, of course) will be stopping by for the 14th episode of Season 10 of Sew Together Tuesday to broadcast LIVE from the Green's Sewing & Vacuum shop floor (she'll be teaching a couple workshops, too)! Click here for more details and information about our Sew Together Tuesday series.
To learn more about and see the latest from Green's Sewing & Vacuum, visit their website, stop by their shop in Medford, OR, give them a call at 541-779-3411 or email owner Tina Munday at greenssv@gmail.com.
Click here for more details and information about our Sew Together Tuesday series.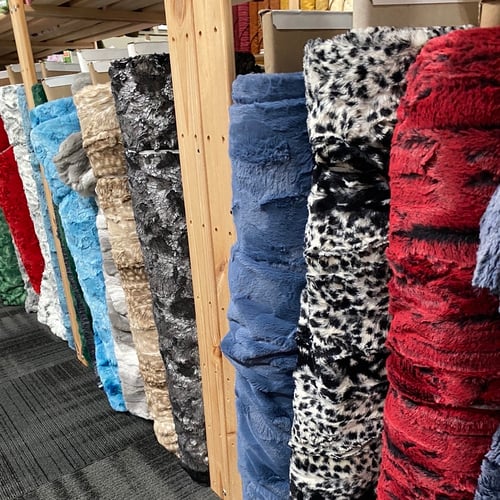 Shop Spotlight: Green's Sewing & Vacuum
SF: What is the history of your shop?
GSV: Ray Green, the original owner of Green's, started as a manager for Singer in the early 60s. Later when the original Singer Company closed all the Singer stores, Ray Green purchased the product and started what is now known as Green's.
Originally Ray only sold sewing machines, and then introduced vacuums along with providing service for vacuums and sewing machines. In 1989, Ray Green sold the shop to Richard Ballard who then expanded into most brands of sewing machines and vacuums and continued doing service. Velma Ballard, Richard's wife, joined the team in 1990 and they ran the store together as an amazing team until Velma's passing in 2013. Richard then decided it was time to retire and handed over the management of the business to Tina Munday, Velma's daughter — she is now co-owner with Richard.
Tina has been with the company since 1995 and has been selling sewing machines, vacuums and central vacuum systems along with offering education on sewing and embroidery machines. For many years, Green's collaborated with Calico Junction, a local and fabulous quilt shop in town owned by Vickie Kiser. When Vickie closed her shop, Tina managed to get her on board at Green's in 2015 and that is when the decision was made to expand Green's and bring in fabric.
Through a grueling remodel, we managed to open the fabric side in November 2019. The name "Ready Set Sew" was coined for the introduction of classes. Our goal is to inspire customers to sew by displaying several samples to spark creativity. Shannon Fabrics happens to be one of our favorites. We love ALL Cuddle® fabrics!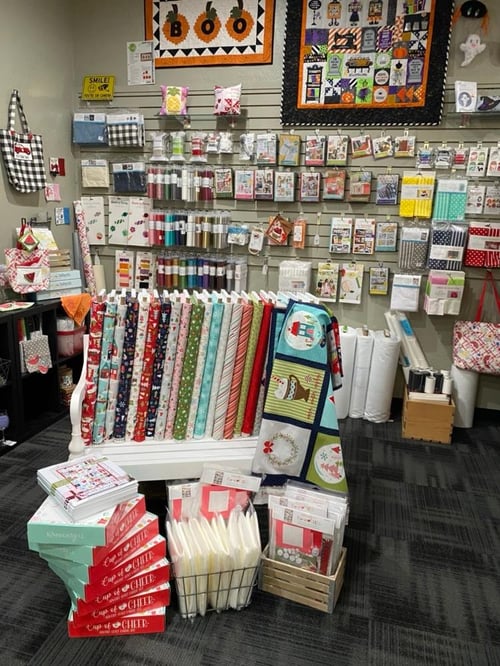 SF: Tell us one thing people might not know about your shop.
GSV: We have fabric!
SF: What's your shop's motto or tagline?
GSV: "Ready Set Sew"
SF: Describe your shop's aesthetic in five words or less.
GSV: Inspiring, creativity and welcoming
SF: What's unique about your shop?
GSV: We're the only store in Southern Oregon designed to meet sewing needs.
SF: What is your best-selling Shannon Fabrics product?
GSV: Cuddle®!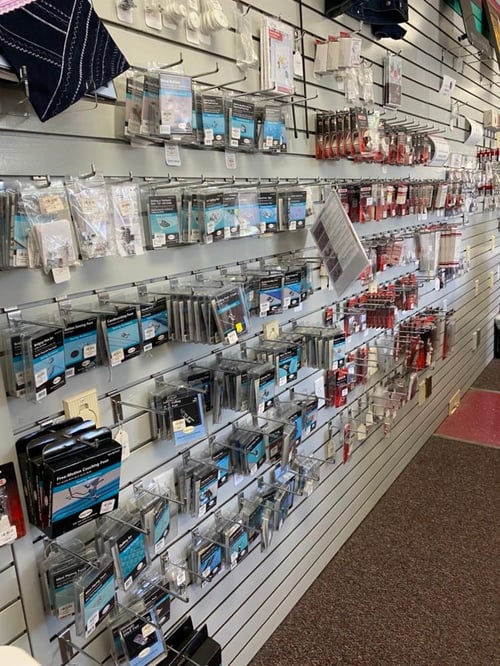 SF: Do you sell online? If so, how long have you been selling online and what have you learned?
GSV: We started selling online just after COVID shut down, and we've learned a lot about virtual everything!
SF: What top projects are on the "must make" list right now in your shop?
GSV: Some top projects include Cuddle® blankets and scarves, gnomes made out of Cuddle®, bags and purses and we carry a lot of bag hardware.
SF: What do you love most about creating (or seeing customers create) DIY projects with the fabrics you sell?
GSV: We love show and tell when customers bring in what they have made.
SF: What current quilting, sewing or crafting trends inspires you?
GSV: We love a new bag pattern, or Facebook/YouTube live videos with demos.
SF: What's next for your shop?
GSV: Within the last three years we expanded significantly by adding fabric, so we feel we have accomplished that next step.
SF: Is there anything else you would like us to know or share about you or your business?
GSV: We have fabric, and we love our customers!

If you have any questions about Cuddle® minky plush fabrics or any of our Cuddle® Kits, feel free to contact our friendly, no-pressure customer service team at 866-624-5252.
Ready to start creating with Cuddle® minky fabric? Use our store locator to find a selection of Cuddle® minky fabric online or near you.