We're excited to share our Q&A series featuring exemplary quilt and fabric shops all around the country that sell Shannon Fabrics products. To nominate a shop in your area, please let us know in the comment section below. #shoplocal
If you're looking for an extensive selection of bright and bold fabrics, Patched Works is a must-visit destination shop! Located in beautiful Elm Grove, Wisconsin, it's become the place where sewists and quilters gather to fill gaps in their stash of fabrics, or find the perfect fabric to complement their project.
While they're known for their fabric selection, hand-cut strip sets and bundles curated by their knowledgeable staff, Patched Works also manufactures a custom line of rotary cutters, too!
Our National Educator Teresa Coates (and Hawke, of course) will be stopping by for the fifth episode of Season 10 of Sew Together Tuesday to broadcast LIVE from the Patched Works shop floor (she'll be teaching a couple workshops, too). Click here for more details and information about our Sew Together Tuesday series.
To learn more about and see the latest from Patched Works, visit their website, stop by their shop in Elm Grove, WI, give them a call at 262-786-1523 or email owners Julie and Frank Karasek at julie@patchedworks.com.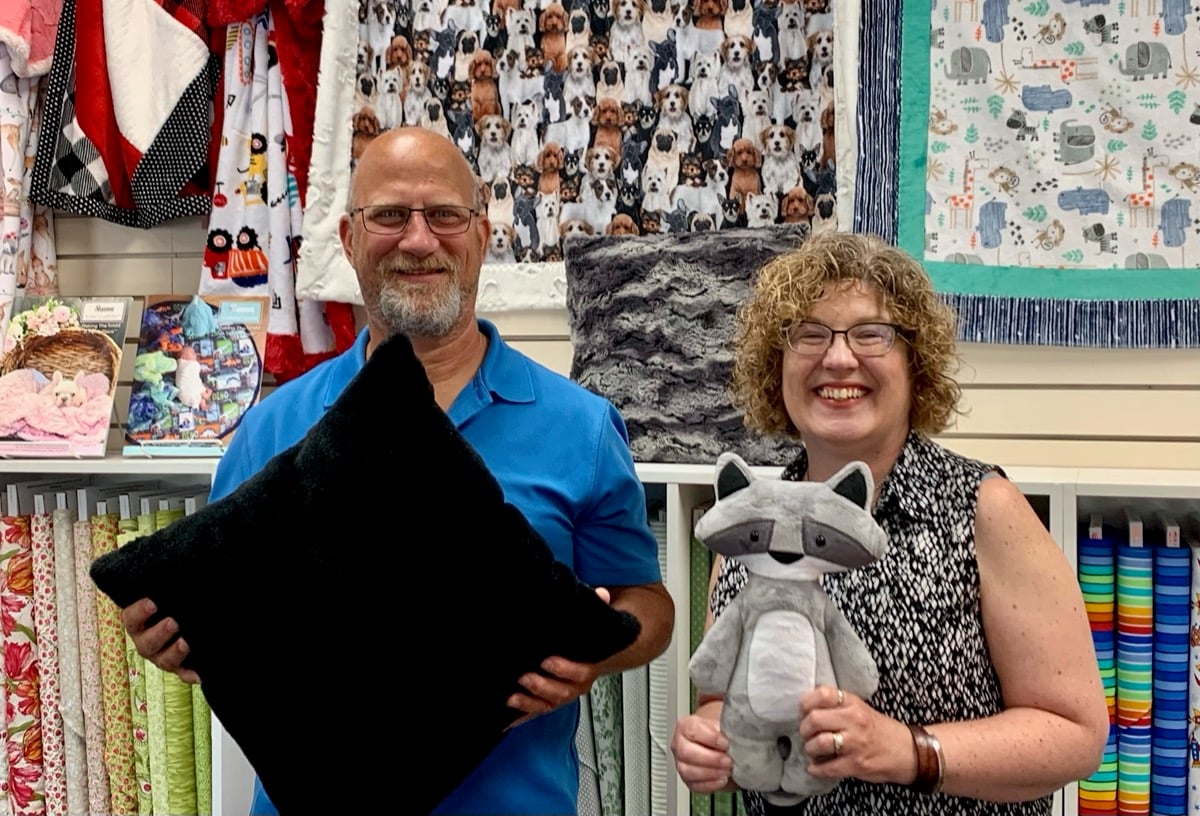 Shop Spotlight: Patched Works
SF: What is the history of your shop?
PW: Patched Works was founded in 1982 and became a regional quilting destination. In 2006, Frank and I became caretakers of this quilting institution. We strive to create an inspiring, creative environment for quilters from all walks of life. We carry a large selection of quilting cottons from a variety of manufacturers.
Our fabrics tend towards the bright and bold with a spattering of traditional. We offer holiday fabrics all year long. We have a growing selection of Shannon Fabrics Cuddle® to complement our quilting cottons.
SF: How has your shop evolved over the years? What caused the evolution?
PW: From one of the first quilting fabric shops in the area, we have grown in size of selection. We find that the best use of our retail space is fabric rather than extensive notion and pattern selection. So many customers enter the store with a project idea. We want to be the place to find just the right fabric, or fill in the gaps of your stash. The quilt industry and retail have changed so much in the past 16 years. We are excited with the opportunities presented of our ever-changing business.
SF: Tell us one thing people might not know about your shop.
PW: We manufacture and distribute a custom line of rotary cutting rulers.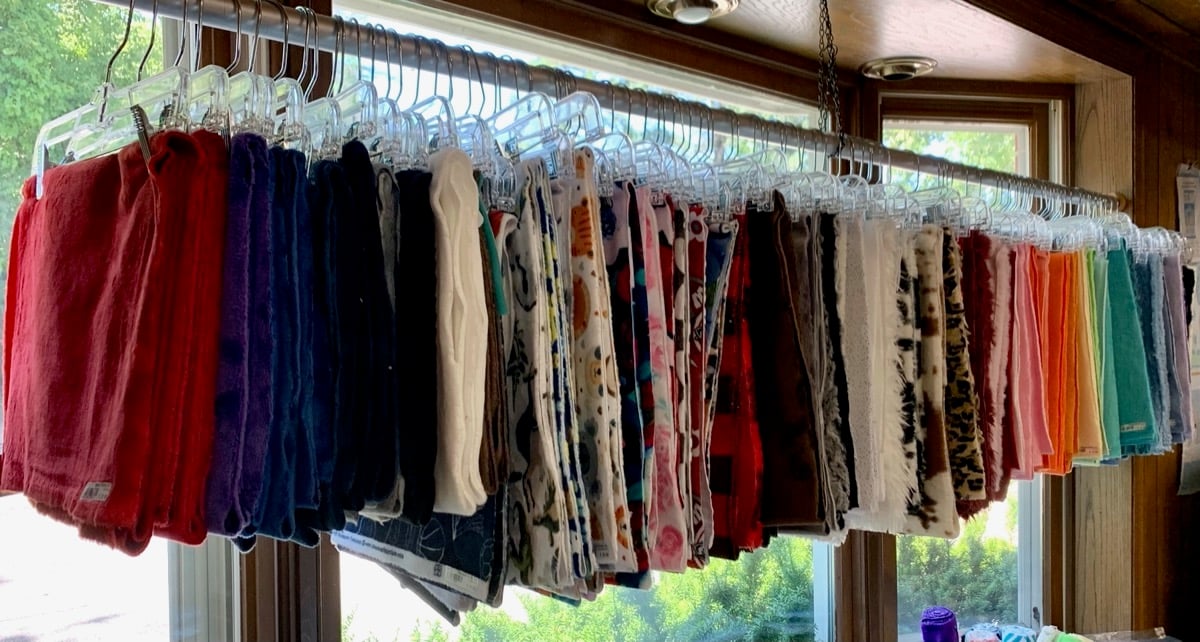 SF: What's your shop's motto or tagline?
PW: It's Always a Party at Patched Works!
SF: Describe your shop's aesthetic in five words or less.
PW: Happy, fun, inspiring.
SF: What's unique about your shop?
PW: We offer curated bundles and hand cut strip sets among our large fabric selection. We have an amazing team with extensive quilting and sewing knowledge to educate and troubleshoot.
SF: What is your best-selling Shannon Fabrics product?
PW: Cuddle® 3 for super-soft quilt backs.
SF: Do you sell online? If so, how long have you been selling online and what have you learned?
PW: We have had a website for years, but really started selling online in 2020. I have learned that operating on online business is truly a separate operation. We conduct most of our business in-store, so we have extended that level of service to our online/phone customers. We have the flexibility to assist in fabric selection and personal shopping based on customer input.
SF: What top projects are on the "must make" list right now in your shop?
PW: 1. QAYG Venice table runner - so quick and easy; 2. Pillowcase - classic project that never gets old - a perfect addition to any gift; 3. Coordinated pillow sham for your latest quilt; 4. Luxe Cuddle® Throw is the perfect addition to any decor.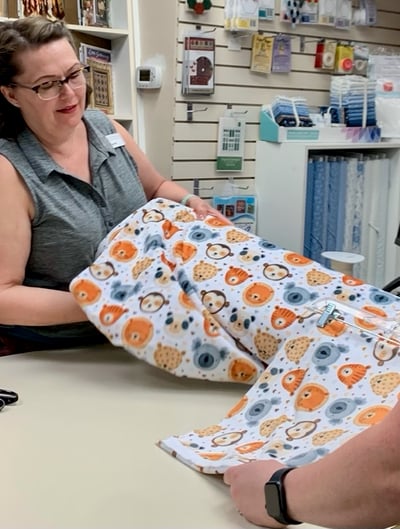 SF: What do you love most about creating (or seeing customers create) DIY projects with the fabrics you sell?
PW: I LOVE being able to make so many projects vicariously through my customers. I love sharing a technique, troubleshooting a problem or providing technical calculations and having customers return with finished projects.
SF: What current quilting, sewing or crafting trends inspires you? Where do you get your inspiration?
PW: I'm excited to return to Quilt Market this fall. I keep inspired with the amazing talent on social media. My customers are also eager to share their social media finds with me to stay on top of the latest trends.
SF: What's next for your shop?
PW: We are continuing to refine our weekly Thursday Night Must Sew TV program at 7PM CST. As we evolve in the ever-changing retail landscape, we are bringing our club content and store news to a video format.

If you have any questions about Cuddle® minky plush fabrics or any of our Cuddle® Kits, feel free to contact our friendly, no-pressure customer service team at 866-624-5252.
Ready to start creating with Cuddle® minky fabric? Use our store locator to find a selection of Cuddle® minky fabric online or near you.