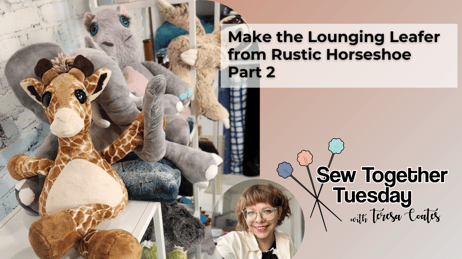 Join us for this 2 part series of the Rustic Horseshoe Lounging Leafer tutorial. Our national educator Teresa Coates will guide us through how to make this adorable giraffe stuffed animal, starting with the pattern, fabric choices and basic construction techniques.
Where to Get the Pattern
The pattern is available directly from Rustic Horseshoe Patterns (https://rustichorseshoe.com/product/lounging-leafer-giraffe-doll/) and THIS MONTH ONLY there's a discount code! Get 30% off the Lounging Leafer pattern by using discount code: SHANNONLEAFER30 at checkout. The code is valid until June 30, 2023.
Teresa will be joined by Rustic Horseshoe designer Rena Dearden at the beginning. Last year, Teresa and Hawke were able to join Rena in her studio in northern Arizona to get a behind-the-scenes look at her pattern design business. If you missed it, check it out on our YouTube channel: https://youtu.be/89AXULHzz8w
What You'll Need
For this project, Teresa chose to use the Cuddle® Baby Giraffe print and combined it with several Cuddle® 3 colors: Mocha, Chocolate and Beige. You can choose your own coordinating colors (maybe you prefer Cuddle® 3 Ash for the hooves) and use some of your scraps from previous projects.
Fabric requirements:
1/2 yd. Cuddle® Baby Giraffe
1/4 yd. Cuddle® 3 Mocha (hooves, head gusset, horn)
10" x 15" Cuddle® 3 Chocolate (mane, inner ear applique, horn tips)
10" x 15" Cuddle® 3 Beige (ears, belly, muzzle, nostril flap)
Additional supplies:
Lounging Leafer PDF pattern (Rustic Horseshoe)
Silky Poly-Fil (Fairfield World)
Poly Pellets (Fairfield World
20-30mm safety eyes
False eyelashes
Medium- to heavy-weight interfacing (Pellon)
Sewing Notions Needed:
90/14 Stretch needle (SCHMETZ)
Polyester sewing thread (Mettler)
Micro-serrated scissors (Karen Kay Buckley)
Marking pen
Tailors chalk (for dark fabrics), optional (Clover)
Basting spray (ODIF 505)
Long, flower head pins (Clover)
If you're interested in making more Rustic Horseshoe stuffed animals with a little help from Teresa, check out her tutorial for the Nutty Nag:
Sew the Nutty Nag, Part 1: https://www.youtube.com/watch?v=Qd6n2kW9DjM
Sew the Nutty Nag, Part 2: https://www.youtube.com/watch?v=dNdvay2PWC8
For more information on sewing stuffed animals in general: How to Make Stuffed Animals: https://www.youtube.com/watch?v=TOCNldNE_io&t=762s
SKILLS YOU'LL LEARN
Every week, Teresa Coates, National Educator and Cuddle® Sewist/Expert shares her insights with the Sew Together Tuesday Community. Here are some skills you will learn in this upcoming episode!
• Basic Stuffie Construction Techniques
• How to pick the right fabrics
• How to trace the patterns
• How to cut out small shapes
• How to sew small curved pieces easily
• How to sew round hooves
• How to sew cloven hooves
• How to appliqué on Cuddle