We're excited to share our Q&A series featuring exemplary quilt and fabric shops all around the country that sell Shannon Fabrics products. To nominate a shop in your area, please let us know in the comment section below. #shoplocal
Education, education, education! Inspired to Sew isn't your average retailer — owners Therese and Jill have created a culture where the entire staff is trained and excited to help their customers learn new skills and make the most of the fabric they purchase. In their own words, they want their customers to have a "whole new way looking at the world of sewing", and this includes encouraging them to try sewing everything from home decor items, to quilts (and everything in between). Sewing is an adventure, and Inspired to Sew is the ultimate guide for both beginner and advanced sewists and quilters.
Our National Educator Teresa Coates (and Hawke, of course) will be stopping by for the eighth episode of Season 10 of Sew Together Tuesday to broadcast LIVE from the Inspired to Sew shop floor (she'll be teaching a couple workshops, too)! Click here for more details and information about our Sew Together Tuesday series.
To learn more about and see the latest from Inspired to Sew, visit their website, stop by their shop in Cedar Rapids, Iowa, give them a call at 319-373-0334 or email owner Jill Reicks at jill@inspiredtosew.com.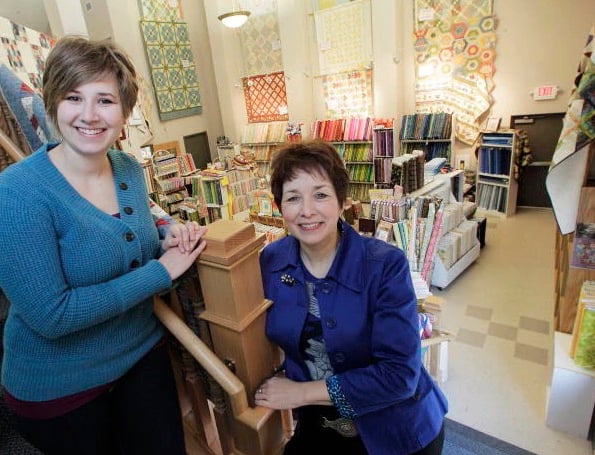 Shop Spotlight: Inspired to Sew
SF: What is the history of your shop?
ITS: We opened in 1999 as Pine Needles Quilt Shop in Cresco, Iowa, and opened our second location in Cedar Rapids in 2003. In 2005, our original store moved to new owners and we focused solely on Inspired to Sew in Cedar Rapids, expanding our location in a terrific Nordic-inspired building in a residential business district of the city. We grew our business out of a call to expand our reach as an event center and education hub to sewists in a wide geographic area.
Inspired to Sew is all about motivating people with education and enthusiasm. As a Bernina and Baby Lock dealer, we grew into more than just quilting, and enthusiastically brought in garment fabrics and our beloved Shannon Fabrics products to inspire our customers. Our customers count on us to be knowledgable with a team that works diligently to help quilters and sewists of all interests to explore a wide array of skills and talents. The Shannon Fabrics products have brought our customers a whole new way of looking at the world of sewing as we explore how to get amazing fabrics under their needles from quilting to garments and engaging home decorating items.
SF: How has your shop evolved over the years? What caused the evolution?
ITS: The evolution of our company has been spurred by our customers and our energetic and enthusiastic team. The individuals that work at Inspired to Sew are always looking for unique ways to help our visitors discover more than they imagined on first glimpse of sewing in this century. Quilting is king in the sewing industry presently, but it is just the start for many of our sewists. People are looking to expand their skills and experiences. We are on a journey with our customers to explore all that sewing and embroidery machines can bring to the creative adventures for the individuals we help to be INSPIRED to SEW MORE!
SF: Tell us one thing people might not know about your shop.
ITS: We look for people who don't typically sew or don't sew a lot as we want people who are committed to kind and attentive service first. When our team learns to sew through us (or advance their current skills), they are much more ready to be present to new sewers and have compassion for learning the skills we expect our team to instruct.
SF: What's your shop's motto or tagline?
ITS: Let Us Inspire You...to bring your dreams to cloth!
SF: Describe your shop's aesthetic in five words or less.
ITS: Unique Sewing Adventure for Everyone
SF: What's unique about your shop?
ITS: Our commitment to not just sell a product but to ensure that customers make the most of those products and services.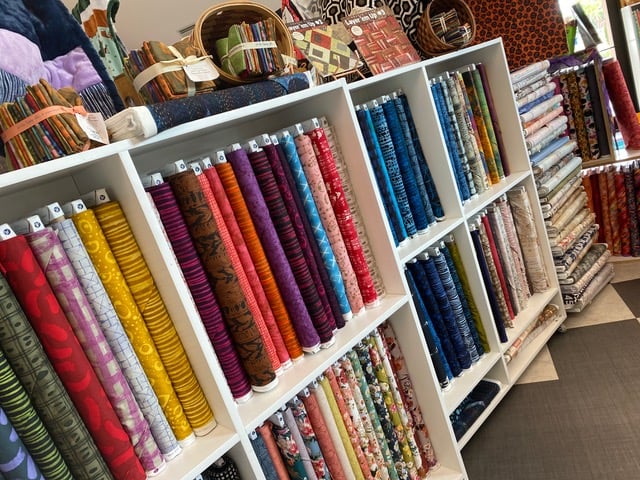 SF: What is your best selling Shannon Fabrics product?
ITS: Wide goods!
SF: Do you sell online? If so, how long have you been selling online and what have you learned?
ITS: Yes. We've been online since opening in 1999 but started selling some in (around) 2003. In 2021, we did a complete overhaul of our website to Shopify that improved our online shopping experience for customers.
SF: What top projects are on the "must make" list right now in your shop?
ITS: Home decorator pillows, Cuddle® throws, stuffed toys
SF: What do you love most about creating (or seeing customers create) DIY projects with the fabrics you sell?
ITS: Customers enthusiasm for their accomplishments is a rush for our whole team. Their pride and joy of achievement emanates from their faces and their words in powerful ways.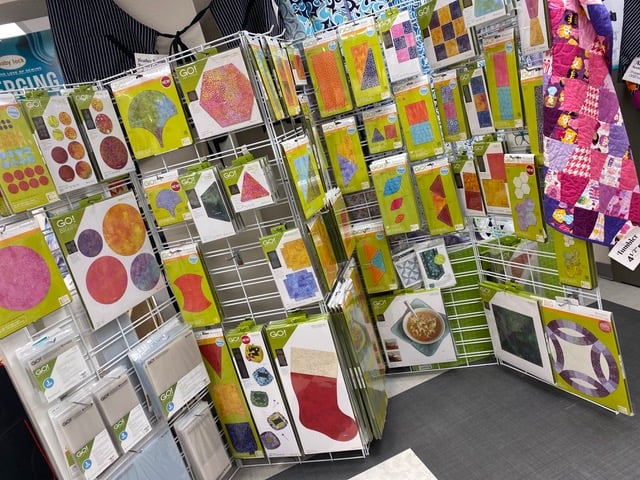 SF: What current quilting, sewing or crafting trends inspires you? Where do you get your inspiration?
ITS: We are Pinterest followers and blog readers. Through these channels, we often find the trendsetters who haven't yet reached our distributors. Our fabric companies help us to see the "next energies" coming up through social media.
SF: What's next for your shop?
ITS: Our onsite classes are growing more and we are hosting more hybrid offerings of online and onsite classes. We're bringing on more team members, and our current team (that helped us champion through pandemic) is excited to be having more support so we can get back to our routine offerings of a wide array of onsite classes. Our whole team presents during the weekdays on social media for our Facebook Live streams. Our offerings are education driven and are committed to helping people expand their skills.
SF: Is there anything else you would like us to know or share about you or your business?
ITS: We wish we had more space for more Cuddle® fabric. We are always looking for more and more space to expand our reach with this amazing product offering.

If you have any questions about Cuddle® minky plush fabrics or any of our Cuddle® Kits, feel free to contact our friendly, no-pressure customer service team at 866-624-5252.
Ready to start creating with Cuddle® minky fabric? Use our store locator to find a selection of Cuddle® minky fabric online or near you.