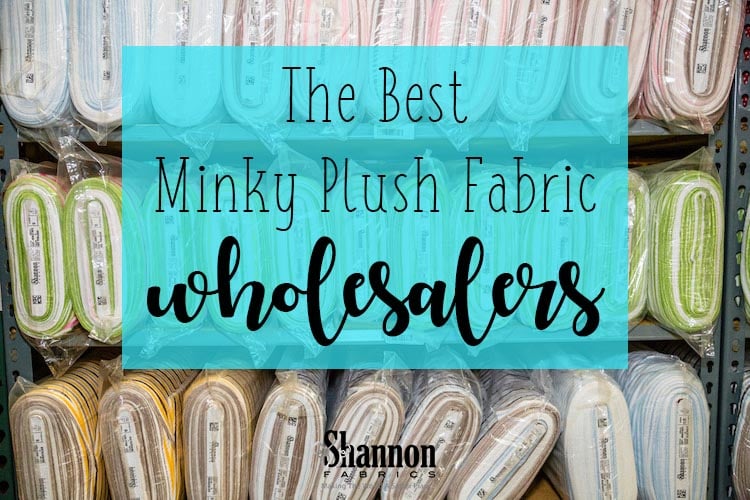 Who are the best minky plush fabric wholesalers? If you're a retailer or manufacturer, we know you have many options at your fingertips when it comes to minky plush fabric wholesalers.
And as you should, you're naturally going to research different minky wholesalers to figure out which best fits your company's needs and goals.
While here at Shannon Fabrics we've made it our mission to create several collections of minky plush fabric that are not only super soft and durable, but offer a strong value to our customers, we respect that you have other options to consider before choosing a minky plush fabric wholesaler.
We have an honest and transparent philosophy in all aspects of our business, and this includes providing our customers all the information they need to make the best decision for them — even if it means not doing business with us.
READ MORE: How Much Does Minky Plush Fabric Cost? A Guide to Minky Fabric Prices
Because of our long history developing high-quality minky fabric, as well as collaborating with and listening to feedback from our vendors, partners and customers, we have a thorough understanding of what makes a wholesaler (and minky fabric) great.
Here, we've compiled information about six of the best minky plush fabric wholesalers you should consider.
To be neutral, we've removed Shannon Fabrics from this list.
The 6 Best Minky Plush Fabric Wholesalers (in no particular order)
Benartex
Moda Fabrics + Supplies
Versailles Home Textiles
EZ Fabrics
Baum Textile Mills, Inc.
Riley Blake Designs
Benartex
Location: New York, NY
Year founded: Unavailable
Products include: Cotton, minky, patterns, quilt backs
Notables: Benartex has become a leading supplier of 100% cotton prints for quilters, crafters and home decorators. They also offer several different minky styles (they spell it minkee), including solids, animal prints and embossed stripe and dot textures.
Moda Fabrics + Supplies
Location: Dallas, TX
Year founded: 1975
Products include: Fabrics, notions, patterns, books, quilting supplies
Notables: Formerly branded as United Notions, Moda Fabrics + Supplies offers a few varieties of Fireside — their brand of minky plush fabric. Minky is just one small portion of their business, they're most known for their cottons, and they sell notions, quilting supplies and patterns at the wholesale level, too.
READ MORE: 9 Best Sewing Projects and Uses for Minky Plush Fabric
Versailles Home Textiles
Location: Los Angeles, CA
Year founded: Unavailable
Products include: Home fashion fabric, plush/minky fabric, ready-made capabilities
Notables: Versailles Home Textiles offers a wide range of fabrics, from home fashion fabrics to minky fabrics, and the team has over 100 years of experience in the home textile industry. Their ready-made capabilities include bedding and comforter sets, window panels, baby bedding, stuffed animals, etc.
EZ Fabrics
Location: Los Angeles, CA
Year founded: 1996
Products include: Minky, Faux Furs
Notables: Los Angeles-based wholesaler EZ Fabrics offers minky (Snuggle is their brand of minky) and faux fur fabrics in a variety of colors, designs and prints.
READ MORE: What is Minky Fabric? (Material, Textures, & Projects)
Baum Textile Mills, Inc.
Location: Jersey City, NJ
Year founded: 1955
Products include: Fleece, flannels, cottons, minky
Notables: While Baum Textile Mills is known for their fleeces and flannels (specifically their exclusive WinterFleece™ collection), they also offer a handful of minky plush fabrics in basic solid colors. And created in 1995, their Windham Fabrics division has become well known for its textured, floral and contemporary cotton fabric collections catering to today's quilter.
READ MORE: Minky Plush Fabric vs. Fleece Fabric: A Side-By-Side Comparison
Riley Blake Designs
Location: Alpine, UT
Year founded: 2009
Products include: Cotton basics, flannel, minky, wool
Notables: The first Riley Blake Designs fabrics were unveiled at the 2009 Spring Quilt Market, and they have since expanded their product offerings to include minky fabric. Their brand of minky is called "Dreamy", and is available in plain solids, as well as a solid-color embossed dimple option.
Next Steps
Now that you have a better idea of the minky wholesale supplier landscape, it's time to figure out which option is best for you and your company. As minky wholesalers ourselves, our goal is to assist you through finding the right fit as much as possible.
READ MORE: Top 5 Minky Plush Fabric Problems, Concerns & Solutions
Here are a few things to keep in mind when picking a minky fabric wholesaler:
Price
Pile height
Weight
Country of origin
Quality
Stretch (two-way vs. four-way stretch)
Location/shipping charges
Product availability
Product selection
We know how complicated finding the right minky fabric wholesaler for your business can be, especially for first-time customers.
At Shannon Fabrics, we live and breathe minky fabric. Not only do we provide all the educational resources, tutorials and free patterns you need to make the most of sewing with this soft, irresistible fabric, but we also have more than a million yards of fabric in stock and ready to ship.
READ MORE: 7 Must-Try Minky Fabric Sewing Tips
If you have any questions about minky fabric, or would just like to learn more about buying minky fabric at the wholesale level, feel free to email us or call our team of friendly, no-pressure customer service associates at 323.234.5252.