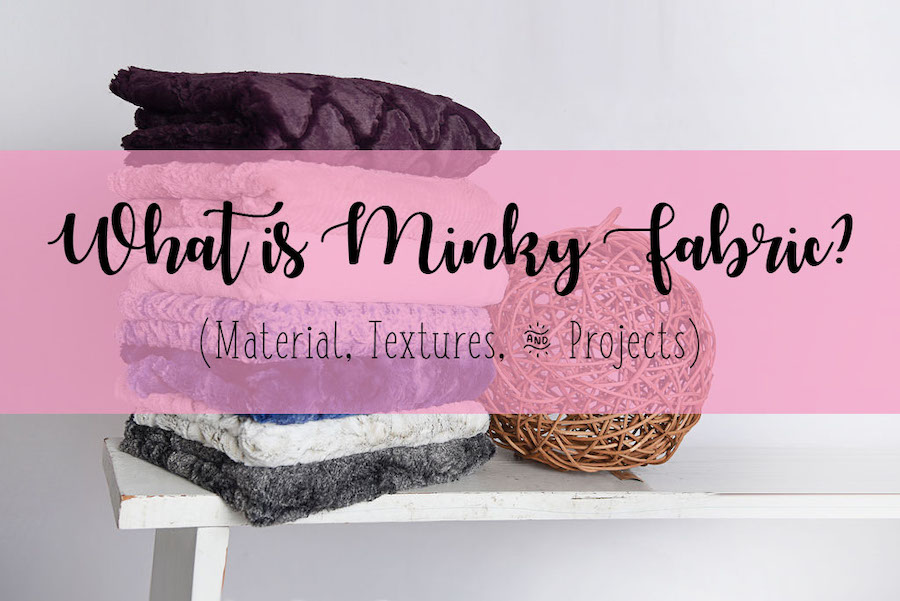 What is minky fabric? It's a fair question since this specific type of fabric goes by a few different names, making this a point of confusion for even seasoned sewists.
Minky fabric, also known as microfiber fabric or plush fabric, is a super-soft synthetic fabric made from 100% polyester fibers that are knitted into varying weights and pile heights.
But what does this mean in plain English? If you've ever felt a plush fur-like throw blanket or stuffed animal, chances are it's minky.
Sure, we're admittedly a little biased here at Shannon Fabrics, but minky is truly one of the must-feel fabrics out there.
READ MORE: The 6 Best Minky Plush Fabric Wholesalers (Reviews/Ratings)
Its smooth, bunny-soft surface has been embraced by all ages, and it doesn't just feel amazing, it's also highly versatile and comes in a variety of colors and patterns. We've seen minky fabric sewn into anything from baby blankets and quilts, to apparel and home decor.
Now that we've cleared up the basics of the age-old "what is minky fabric" question, let's get a little more in-depth.
What is Minky Fabric?
Minky plush fabric is a synthetic, hypo-allergenic fabric made from 100% polyester fibers. While quality differs between brands, all minky fabric is a knit fabric, which gives it the ultra-soft feel while maintaining durability. The majority of minky fabric on the market is one-sided, meaning the plusher, fur-like texture is only on the top side. It's also available in a range of weights and pile heights, which gives you the ability to pick the right fabric for the right project.
Care instructions couldn't be easier either — minky fabric is machine washable (gentle, please) and can be dried in the dryer on low or no heat.
READ MORE: How Much Does Minky Plush Fabric Cost? A Guide to Minky Fabric Prices
Ultimately, choosing the right minky plush fabric comes down to your personal budget and taste and finding the optimal balance between quality, durability and affordability for your project in mind.
Here at Shannon Fabrics, we pour as much pride into our fabrics as you do into your sewing projects. We're the largest importer and distributor of minky plush fabric in the United States, sourcing ethical, high-quality fabric that's not only long-lasting, but easier to sew with and comes in over 100 different colors.
Minky Fabric Colors and Textures
This is where minky fabric outshines other types of fabrics on the market.
Since minky plush fabric is synthetic, it can be manufactured in virtually any color imaginable. Pair this with its ability to be digitally printed (available in prints and panels), and you have unlimited color combinations right at your fingertips.
READ MORE: Minky Plush Fabric vs. Fleece Fabric: A Side-By-Side Comparison
As far as textures go, minky plush fabric can be embossed into several different styles through a heat-setting process.
For example, our best-selling collection of Cuddle® minky plush fabric is available with a few different embossings, including Paisley Vine, Arrow, Dimple (most popular), Star, Heart, Chevron, Houndstooth, etc. Our line of Luxe Cuddle® minky plush fabrics with the higher fur-like pile is available in Hide (most popular), Marble, Rose, Ridge, etc.
These embossed textures are a great way to add depth to any project — not to mention they change the overall feel of the fabric. You won't be able to keep your hands off (with over a million yards of minky in stock, we know how irresistible it is)!
Minky Fabric Sewing Projects
When you think of minky fabric, plush toys or baby blankets are probably the first things that come to mind. While minky is perfect for both of these, it's more versatile than you might realize and is great for just about any sewing project.
Minky fabric is surprisingly durable and plenty soft for all-day comfort, and its heavier weight and higher pile has been embraced wholeheartedly by quilters and sewists for its cozy, ultra-soft feel with no break-in period.
READ MORE: Top 5 Minky Plush Fabric Problems, Concerns & Solutions
These traits make it a good fit for anything from quilts and quilt bindings, to baby products, pet accessories and home decor and more. Minky is wearable too, perfect for apparel and accessories of all styles and sizes.
To make finding your first minky project easy, we've outlined our favorite sewing projects in our 9 Best Sewing Projects and Uses for Minky Plush Fabric guide. Once you've worked your way through those, don't forget to check out our Sewciety blog and our free patterns for more minky inspiration.
Learn More
As you can see, minky is a do-it-all fabric we suggest you touch in person to really get a feel for what it's capable of.
As a wholesaler of minky plush fabric, we've fostered a community of minky enthusiasts who sew with minky on a regular basis, and we've created resources to help you make sewing with minky as easy as possible.
READ MORE: 7 Must-Try Minky Fabric Sewing Tips
To join the conversation, be sure to follow us on Instagram and Pinterest, check out our blog or sign up for our newsletter updates. Also, tune in to our Facebook page on Tuesdays for LIVE tips on working with minky fabric from our National Educator Teresa Coates. To see what we've covered in the past, check out our YouTube channel.
If you're interested in sewing with or just learning more about minky fabric, use our store locator to find a store near you or contact one of our friendly customer service associates.