If you've ever been to your local quilt or fabric shop, you've undoubtedly noticed the shelves of fabric in all styles and colors — it's like a toy store for adults, but at a certain point the variety can start to blend together (and get a little overwhelming). We get it, and as a company with over a million yards of fabric in our warehouse, we know exactly what you're experiencing, but it's important to remember not all fabrics are created equal — especially minky fabrics.
So, what is minky fabric? You can check out our in-depth coverage here, but minky plush fabric is essentially a super soft plush synthetic fabric made from 100% polyester fibers that are knitted into varying weights and pile heights. It can be used by both manufacturers and at-home sewists for anything from quilts, throws and baby blankets, to stuffies, apparel and accessories.
This article addresses five of the most important things to consider when purchasing minky plush fabric. Through our experience developing high quality minky plush fabric for over 25 years, we know all the ins and outs of what you should look for and what to avoid.
The goal is to help you find a quality, well-made minky fabric that will be enjoyed by you, your family or your customers for years to come.
5 Most Important Things to Look For When Purchasing Minky Plush Fabric
Shedding
Finishing
Weight/Density
Washability/Recovery
Crocking (Color Fastness)
Shedding
One of the most-commonly asked questions we get here at Shannon Fabrics is "does minky fabric shed?". Our short answer is, "not if you purchase our brand of Cuddle® minky fabric", but the long, less-exact answer is "it depends".
A well-constructed minky fabric will have little to no shedding, even after months and years of use. Inexpensive minky fabrics will have significantly more shedding, and will leave loose fibers all over the house, usually sticking to other soft surfaces like carpets, bedding, couches, curtains, etc. These fibers can be tough to completely remove, and will be noticeable especially if the colors clash.
See Related: Top 5 Minky Fabric Problems, Concerns & Solutions
How can you tell if minky fabric sheds before you purchase? Easy — just give the pile a gentle tug and see if any fibers pull out. Another technique is to rub the fabric on a piece of dark clothing to see if there's anything left behind.
Finishing
First let's define what "finishing" means — it's essentially the hand feel of the fabric. The quality of the yarn, as well as the manufacturing processing and finishing plays a big role in how minky feels to the touch.
High quality minky fabric can be described as flowy, soft, plush and silky, whereas cheaper minky fabric usually feels more synthetic, flat and stiffer.
See Related: 10 Must-Try Minky Fabric Sewing Tips
You want to find a minky fabric that feels "alive", meaning it has a nice drape and the pile stands up nicely even after being used. You won't be able to tell any of these characteristics online, so head to your local fabric or quilt shop and feel them in person (or if you're a manufacturer, request headers or swatches).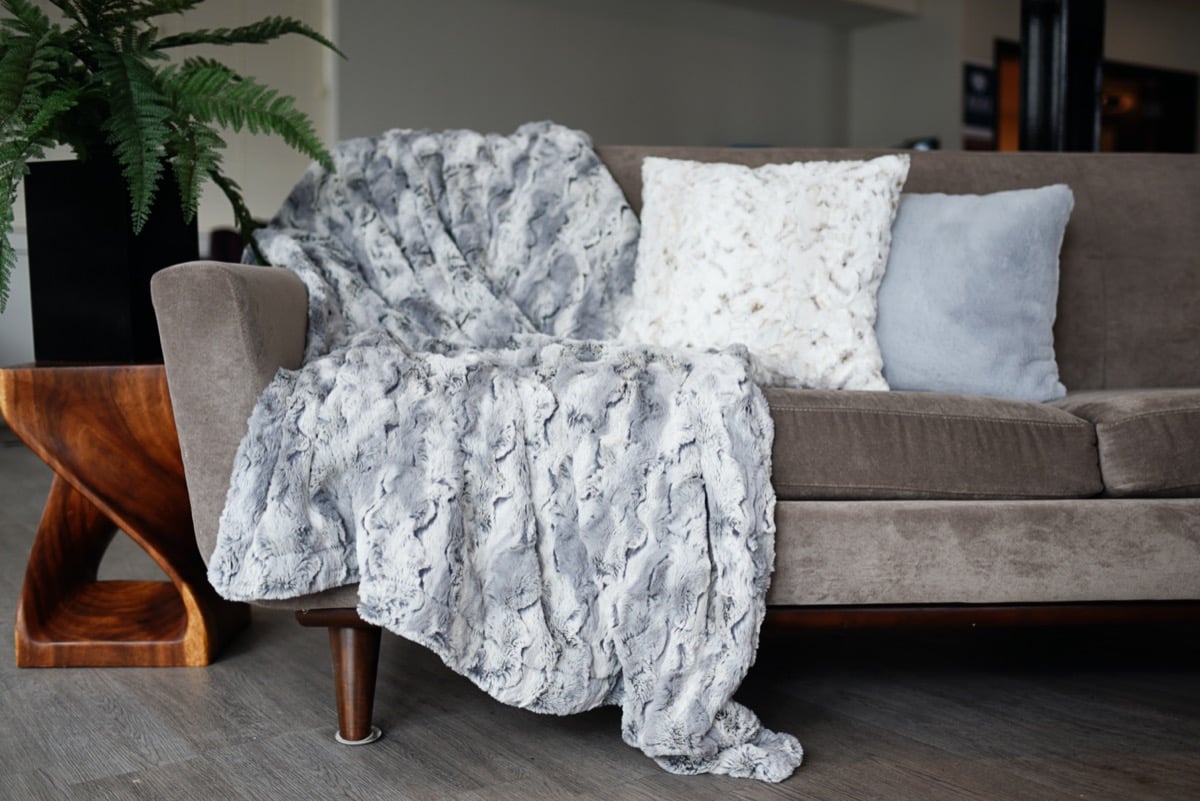 Weight/density
This one is simple, a minky fabric that's denser and weighs more just feels better. The amount of raw materials and fibers used in the manufacturing process has a direct correlation to the price and cost — ultimately, you get for what you pay for.
See Related: Minky Fabric vs. Fleece Fabric: A Side-By-Side Comparison
Cheaper minky fabric uses less yarn to cut down the cost, which means it's lighter weight, less dense and less cozy. You also might be able to see the backing in between the fibers in the pile, which makes for a less polished look.
Washability/recovery
A well-made minky fabric should be able to withstand years of daily use, including washing in a washing machine (just be sure to wash on cool with no fabric softener, and tumble dry with no heat).
Some minky fabrics, though, are ruined after a single wash. These fabrics are covered in chemicals to make them feel soft in the store, but once it's washed, these chemicals are stripped out and you're left with the inferior base fabric.
Same goes for recovery — a fabric's ability to return back to its natural shape without being permanently stretched out or deformed. High quality minky fabrics will do this without issue, whereas cheaper minky fabrics won't. This is especially important for sewists and manufacturers to keep in mind when using minky fabric yardage to create something special (nobody wants a stuffed animal or pillowcase that won't hold its shape!).
Crocking
Crocking is when the color of the fabric comes off either through abrasion, or when put through the wash. This is directly dependent on the dye that's used in the manufacturing process, and what level of color fastness is achieved.
For example, Shannon Fabrics uses the best dyes in the business which ensures crocking is eliminated or substantially reduced. Cheaper fabric suppliers are known to cut corners in this department, which can lead to a significant amount of crocking.
Before committing to a large purchase or order, buy the minimum amount you can and give it a wash to see how it performs. Be especially careful if you're washing cheap minky fabric in the same load as other clothes or blankets — it can give off residue dye and stain everything. For the ultimate test, add a piece of white cotton fabric into the wash with your minky fabric — if you take it out and it's still white, the color fastness is great and you shouldn't have to worry about crocking.
If this isn't an option, take a piece of white terry (such as a washcloth) with you to your local quilt or fabric shop and rub it on the fabric (like a dry rub) to see if any dye is discharged.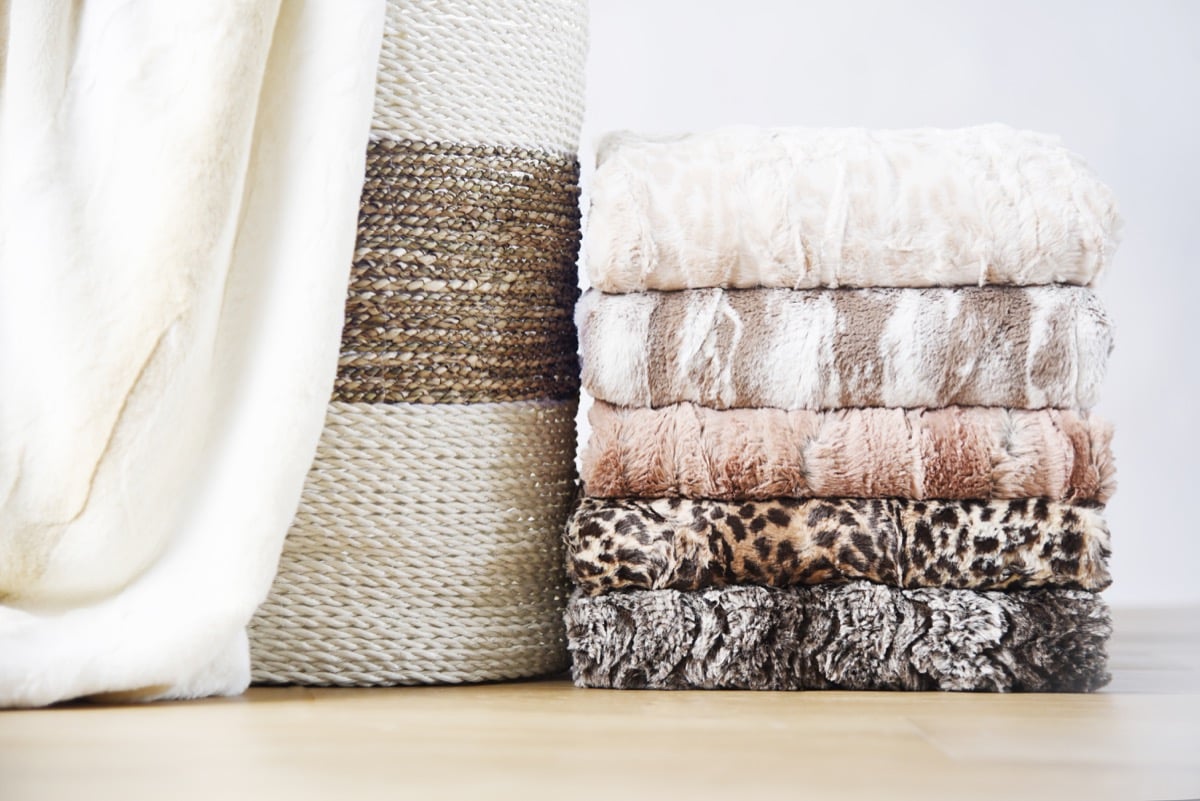 Learn more
As you've read, there are a lot of "things" to keep in mind when purchasing minky plush fabric. Ultimately though, picking the fabric that matches the look and feel you're going for is what's most important — minky is truly a fabric you have to get your hands on and feel in person!
Here at Shannon Fabrics we've perfected our collections of Cuddle® and Luxe Cuddle® minky plush fabrics for over 25 years. We've listened to the needs of sewists, quilters, retailers, manufacturers and designers to create minky that's not just high quality and super durable, but minky that's beautiful, luxurious and, if we do say so ourselves, irresistible.
If you're interested in sewing with or just learning more about minky fabric, use our store locator to find a store near you or contact one of our friendly customer service associates. If you're a manufacturer or designer, give us a call at (866) 624-5252 to request headers and swatches.