We're excited to share our year-long Q&A series featuring exemplary quilt and fabric shops all around the country that sell Shannon Fabrics products. To nominate a shop in your area, please let us know in the comment section below. #shoplocal

Owners Tayva and Joe Singer opened their online shop in Rancho Cordova, Calif. nine years ago, and started with a mere 22 bolts of fabric on Etsy. Despite having many local shops in their area, none of them stocked bright juvenile prints and the bright basics and blenders to go with them — so they created a shop that sold it all!
They have since become one of the largest privately-owned fabric stores in the western United States, and are pushing the boundaries of in-shop merchandising as well as classes and events for customers.

Without further ado, we're proud to present our first Shop Spotlight of the year - Cali Quilt Co!

To learn more about and see the latest from Cali Quilt Co, check out their Etsy shop, follow them on Facebook and Instagram, give them a call at 916-853-5600 or email them at orders@CaliQuiltCo.com.
Shop Spotlight: Cali Quilt Co
SF: How has Cali Quilt Co evolved over the years?

CQC: Our shop has evolved to more than juvenile prints, although we still consider juveniles our primary focus. We value and appreciate all types of quilting, but Modern Quilting with the bright colors and different shapes really makes our hearts sing, so we have expanded into a massive collection of Kaffe Fassett, Batiks, Art Gallery, Figo, and all of the bright basics from all of the industry staples.

SF: Tell us one thing people might not know about your shop.

CQC: Our oldest daughter is the most spectacular child, but she is medically fragile and severely disabled. Owning our shop has provided us the flexibility to provide the 24/7 care she requires. There isn't a week that goes by that we don't comment to each other how grateful we are for our customers and our team because we couldn't thrive or have the family life we want if we had to work regular full-time hours.

SF: What's Cali Quilt Co's motto or tagline?

CQC: Textiles for Modern Makers

SF: Describe your shop's aesthetic in five words or less.

CQC: "Happy, bright, spacious, a destination"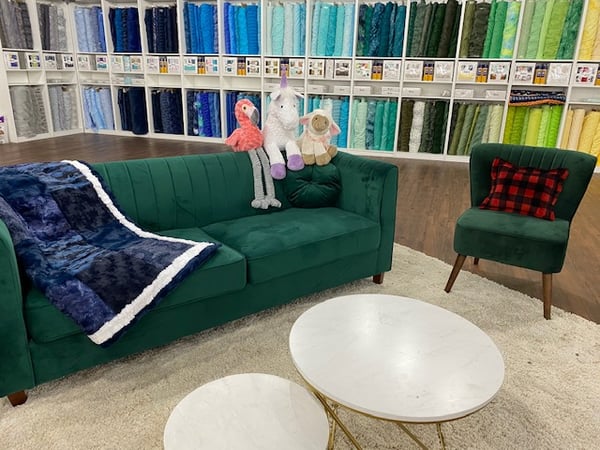 SF: What's unique about Cali Quilt Co?

CQC: Unique to our shop is our Cuddle® wall! We have never seen another like it in-person or online, and it is something that makes customers audibly squeal and/or clap! Really, it is something to experience! We have a sofa and comfy chairs in our Cuddle® section because after people fill their carts with Cuddle® they like to sit and rest, pet some fabric, then they get up and fill a second cart. All while smiling ear to ear and plotting who they love will receive a new throw or quilt. It is so fun and happy to watch each day.

SF: What is your best selling Shannon Fabrics product?

CQC: Scarf Kits are our best-selling Shannon Fabrics product because they are inexpensive, a quick project, and we won't stop talking about them. We even sell Scarf Kits during Sacramento summers, which at over 100 degrees each day says something about this product! Once customers sew a Scarf Kit, they usually come back to buy five to 10 more, then they are ready to make a Cuddle® throw.

SF: Do you sell online? If so, how long have you been selling online and what have you learned?

CQC: Selling online has always been our primary focus, we only opened our retail store two years ago. Online customers have many choices of where to shop but it is so difficult to trust a computer monitor when matching colors, so we have made it our mission to go above and beyond to help our customers match fabrics and colors, to help them as if they were standing in our shop talking with us.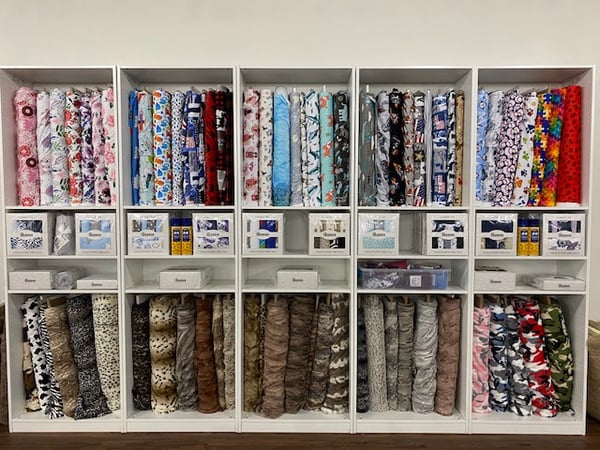 SF: What projects are on the "must make" list right now in your shop?

CQC: We think everyone needs a basket of Cuddle® throws in their home, so we are always talking about how fast and fun it is to make Cuddle® throws as well as Scarf Kits. When we aren't talking about Cuddle®, we are helping customers fill their carts with Bowl Cozy Kits as well as the Postcards from Sweden Quilt Kit.
When customers first see our shop sample they are often drawn to this quilt like a magnet. Then when they feel the plush Cuddle® backing they pick up the kit and stuff it into their cart. It is so much fun to watch! We call that quilt "color therapy" because it is impossible to not have a bright mood while sewing that much happy!

SF: What do you love most about creating (or seeing customers create) DIY projects with the fabrics you sell?

CQC: The best part of our shop is seeing customers' creations. Many bring them in to show us, but even more share pictures in our VIP Facebook group, we love it! Our VIP Facebook group is the most warm, loving, and supportive group of makers we have ever known.
When customers need help they will post a picture and question and often before we have seen the question there are a dozen responses with help and links, it is amazing! Seeing customers shine in their creative state makes our hearts sing!

SF: What current quilting, sewing or crafting trends inspire you? Where do you get your inspiration?

CQC: Two different types of sewing inspire us: things we want to use and things we want to look at. We love to have "distracted sewing" marathons where we binge shows and movies and sew, sew, sew. For this we love making repetitive blocks so we are obsessed with all of the Stripology rulers and patterns. They are so easy and fun to use, and within minutes we have complete quilts cut out and piled next to our machines. We love it!
Our other main inspiration comes from quilts we want to hang in our home. Some are art quilts that take months to create, others are scrappy patterns we spend a lot of time choosing the right fabrics for.

We absolutely love Instagram for inspiration. We find so much of our inspiration on Instagram.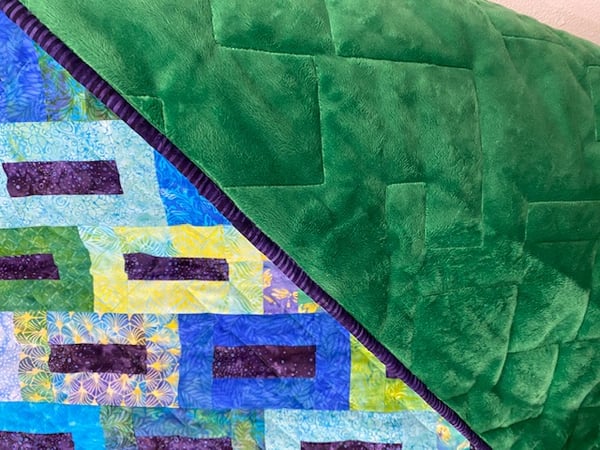 SF: What's next for your shop?

CQC: With the isolation of covid we are expanding our online class offerings as well as recording more YouTube videos. Currently we host three free classes each week: Miek's Mondays, Block Party w/ Emily each Wednesday, and Free-Motion Quilting w/Barbie on Fridays, all at 9:30am Pacific. We are also hosting random week night pop-ups where Tayva sews a project start-to-finish. We really miss people, and we really miss engaging and seeing people's faces when they talk.
These shows and pop-ups are the next best thing that we have found and helps us feel engaged with our customers and community. Our pop-ups are about connection and not focused on selling, but if you ever want to see us talk about products to purchase please watch our Saturday Night Facebook Live Shows at 5pm Pacific.

SF: Is there anything else you would like us to know or share about Cali Quilt Co?

CQC: We started selling Cuddle® fabric as a natural extension of our juvenile prints and we only stocked Cuddle® Dimple because we thought Cuddle® was a "baby fabric." Then our rep encouraged us to back a quilt with it. At first we thought she was crazy, why put a "baby fabric" on the back of an adult's quilt — then we finally tried it. Then we "got it" and expanded our collection. Yes, babies love Cuddle® but adults love it even more! The added weight and plush feel that Cuddle® adds to a quilt is priceless.
In our shop we encourage customers to touch our samples because we back almost everything with Cuddle®. It is that awesome! It is the difference between loving a quilt and being obsessive about a quilt, and we choose the latter! We recommend that everyone try it twice. The first time on a smaller quilt so they can build confidence, then to try it a second time on a quilt for themselves. Once they do this they become loyal Cuddle® quilt backers and we see a lot more of them!
If you haven't tried a quilt backed with Cuddle® yet, please do! If you want any help along the way, please reach out to us, we are always happy to help!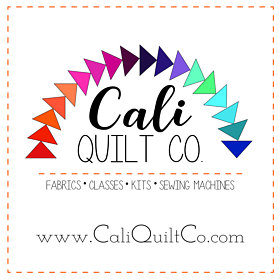 If you have any questions about Cuddle® minky plush fabrics or any of our Cuddle® Kits, feel free to contact our friendly, no-pressure customer service team at 866-624-5252.

Ready to start creating with Cuddle® minky fabric? Use our store locator to find a selection of Cuddle® minky fabric online or near you.