We're excited to share our Q&A series featuring exemplary quilt and fabric shops all around the country that sell Shannon Fabrics products. To nominate a shop in your area, please let us know in the comment section below. #shoplocal
5 Little Monkeys Quilt & Sew takes the classic idea of a quilt and fabric shop and adds their own unique flair! Owners DJ and Angie Lamoree named the shop after their five kids, and they've really leaned into the idea that quilting and sewing is something everyone can enjoy, regardless of age, gender or race. Of course you can find the usual fabrics and notions here, but they've become known for their novelty fabrics and prints that customers travel from out of town to find.
This spring, our National Educator Teresa Coates (and Hawke, of course) will be stopping by for the season premier of Season 9 of Sew Together Tuesday to broadcast LIVE from the 5 Little Monkeys Quilt & Sew shop floor (she'll be teaching a couple workshops, too)! Click here for more details and information about our Sew Together Tuesday series.
To learn more about and see the latest from 5 Little Monkeys Quilt & Sew, visit their website, stop by their shop in Weaverville, NC, give them a call at 828-484-7200 or email owner Angie Lamoree at angie@fivemonkeyquilts.com.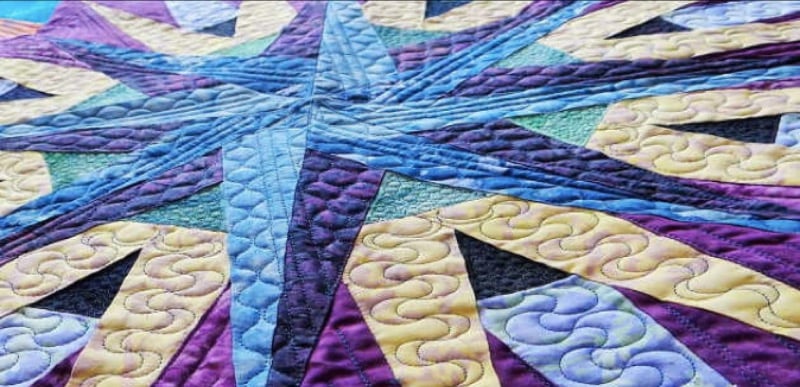 Shop Spotlight: 5 Little Monkeys Quilt & Sew
SF: What is the history of your shop? When did you open your store? How did you begin in the fabric business?
5LM: Angie was a longarm quilter for about 10 years when we decided to open our shop. We named it after our five kids, they currently range in ages from 17 to 22. We wanted to provide a space for all kinds of people to learn. We have always been intentional about the fact that people from all walks of life, races, ages and genders sew. The fact that not everyone likes the same type of fabric was also a priority.
We lean into the weird styles of fabric and people have responded well to it. We often hear that we have a unique and varied selection that they don't see many places. Our nerdy fabric is our pride too.
SF: How has your shop evolved over the years? What caused the evolution?
5LM: When we first opened, we tried to have something for everyone. Not really knowing what shoppers would gravitate toward, we just offered them everything. What we discovered was that the majority of our shoppers were visiting from out of town. What they were looking for was a selection that they couldn't find back home.
Once we launched our online store, that fact became even more obvious. We have curated a variety of novelty and unique things with those shoppers in mind.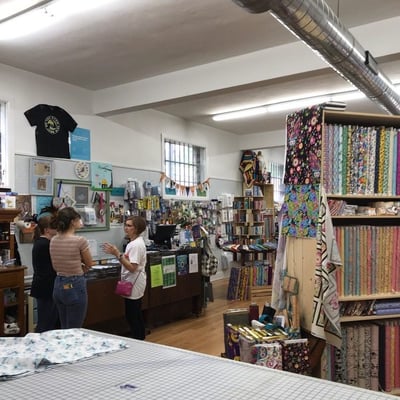 SF: Tell us one thing people might not know about your shop.
5LM: Everyone who works here sews, yes even the men.
SF: What's your shop's motto or tagline?
5LM: Quilting is for everyone — you can do it, we can help.
SF: Describe your shop's aesthetic in five words or less.
5LM: Bright, funky and unique.
SF: What's unique about your shop?
5LM: Angie and DJ own the shop together and both of them sew and longarm quilt. We never assume that quilting is a woman's sport.
SF: What is your best-selling Shannon Fabrics product?
5LM: We sell mostly the flat Cuddle® for quilt backings.
SF: Do you sell online? If so, how long have you been selling online and what have you learned?
5LM: We started our ecommerce site in late 2019, just in time for COVID.
SF: What top projects are on the "must make" list right now in your shop?
5LM: EPP projects, quick home decor and clothing.
SF: What do you love most about creating (or seeing customers create) DIY projects with the fabrics you sell?
5LM: I think making is therapeutic and mental health is a big motivator for how and what I teach.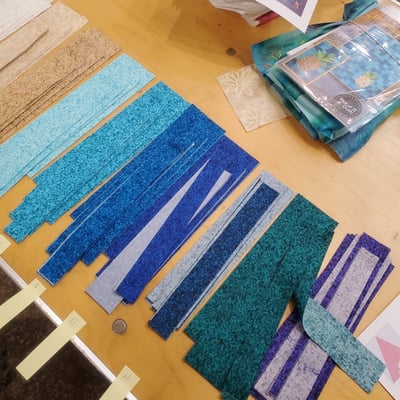 SF: What current quilting, sewing or crafting trends inspires you? Where do you get your inspiration?
5LM: I love things that look complicated but are totally doable. My claim to fame is tips and tricks that make sewing easier than it looks.
SF: What's next for your shop?
5LM: We just started TikTok tips, tricks and shenanigans. Our next thing is on-demand classes that will be found directly on our website.
SF: Is there anything else you would like us to know or share about you or your business?
5LM: Sewing isn't brain surgery, if you mess it up - no one will get hurt. Try it.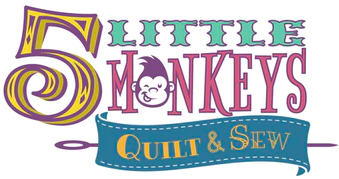 If you have any questions about Cuddle® minky plush fabrics or any of our Cuddle® Kits, feel free to contact our friendly, no-pressure customer service team at 866-624-5252.
Ready to start creating with Cuddle® minky fabric? Use our store locator to find a selection of Cuddle® minky fabric online or near you.