We're excited to share our year-long Q&A series featuring exemplary quilt and fabric shops all around the country that sell Shannon Fabrics products. To nominate a shop in your area, please let us know in the comment section below. #shoplocal
There are few quilting or fabric shops in the country with the experience, selection and enthusiasm as Sew It Up Bernina. Owner Lorene Bonewitz is truly a visionary in the quilting and fashion sewing space, not just for her creative ideas, but for her educational classes, being an early adopter of online selling and her ability to find and feature exciting new designers. Sew It Up Bernina offers everything from Bernina sewing and quilting machines to a highly curated selection of fabrics for just about any project you can imagine.
This summer, our National Educator Teresa Coates (and Hawke, of course) will be stopping by on her Sew Together Tuesday tour to broadcast LIVE from the Sew It Up Bernina shop floor (she'll be teaching a few workshops, too)! Click here for all the details.
To learn more about and see the latest from Sew It Up Bernina, visit their website, stop by their shop at 740 Grapevine Hwy, Hurst TX 76054, give them a call at 817-514-6061 or email owner Lorene Bonewitz at info@sewitup.com.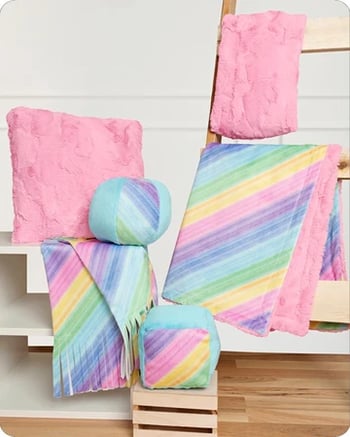 SF: What is the history of your shop?
SIUB: We are a small-but-mighty fabric store located halfway between Dallas and Fort Worth and have been serving our local community for more than 25 years. We are the mid-cities' leading dealership of Bernina sewing, overlockers, quilting and embroidery machines, and offer a wide range of classes and monthly membership events, including our Sew It Up, Quilt It Up & Embroidery Clubs.
We offer a carefully curated collection of modern quilting fabrics from today's most exciting designers, and where there are new designers to be discovered, we are often among the first to do so. We always receive the latest designs from Cotton+Steel, Rifle Paper Co., Ruby Star Society, Tilda Fabrics and Tula Pink. And, we love all the substrates, not just cottons. What makes us truly unique is that we not only scour the market for the latest quilting fabrics in the United States, but also source beautiful pieces from across the world, often years before they are known across the industry.
SF: How has your shop evolved over the years?
SIUB: I opened the shop with predominately fashion fabrics with over 400 bolts of silk alone! We definitely catered to the fashion sewing customer with designer buttons, 30-plus colors of rayon lining, truly amazing ribbons, trims and patterns. This was an era when "smocking" and heirloom sewing was quite popular, so we began to offer not only fashion classes, but classes in this arena. As long as we were stocking fine cottons, we thought "why not more "fun" cottons for kids clothing?".
One day we made a dress, displayed it and, of course, everyone wanted that fabric, those buttons and the pattern. We decided to make up a "kit" so we don't have to run all over the shop for the "ingredients", never knowing that quilt shops did this all the time! We found ourselves saying, "Have fun sewing it up!" — that's a cute name, let's change our name to that (and while we are at it, build a website). At that time, hardly anyone knew how to do this. We finally found a wonderfully creative person with the proper technical skills, way up on the east coast, who was incredible. Our website was born!
By now we were ordering more and more cotton prints, yet the fashion customer base was still thriving. Next, we were discovered by The Martha Pullen Show. To spread the news about our website, we decided to do more shows. For nearly ten years we traveled from coast to coast familiarizing sewers with the Sew It Up name and website. One of the shows that we finally conceded to exhibit at was the International Quilt Festival. This is where I met Weeks Ringle at Quilt Market and fell in love with modern quilting. I have been a quilter ever since, and naturally, added quilting to my shop. I discovered the incredibly "soft" world of Shannon Fabrics at Market as well.
It was also at Festival that Bernina discovered us and started to persuade us to join them. They had to talk me into becoming a dealer even though I only sewed on Bernina! I am so happy that I did and wish that I had done so much, much earlier! It's pure joy to see the look on someone's face when they experience a Bernina for the first time.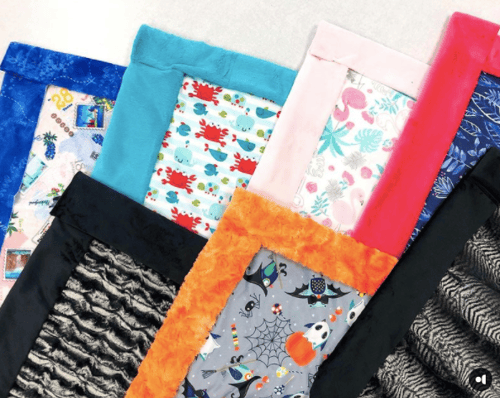 SF: Tell us one thing people might not know about your shop.
SIUB: We "hide" fabrics! That's right, we simply don't have room for everything. So, we do have silks, linens, shirtings and wools — just ask!
SF: What's your shop's motto or tagline?
SIUB: "Happy Sewing" is included on all correspondence and as customers leave the shop. Also — thank you, now go home and "Sew It Up!"
SF: Describe your shop's aesthetic in five words or less.
SIUB: We want to be your "Happy Place"! We also strive to be "Fresh, Colorful & Happy!"
SF: What's unique about your shop?
SIUB: We are not just a quilt shop! Customers do get excited when they find out that we carry a lot more than just quilting cottons.
SF: What is your best-selling Shannon Fabrics product?
SIUB: Luxe Cuddle®!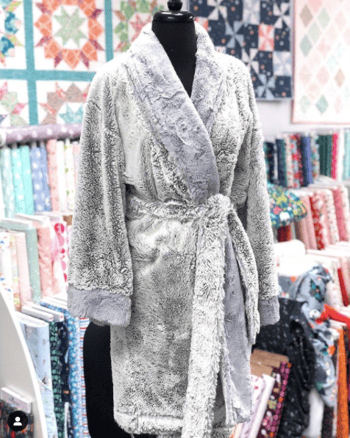 SF: Do you sell online? If so, how long have you been selling online and what have you learned?
SIUB: Yes, and for at least 15 years! I believe that you have to give your website the same love and care as you do your shop and refresh your look — we just built our third website!
SF: What top projects are on the must-make list right now in your shop?
SIUB: Actually, we want to make everything!
SF: What do you love most about creating (or seeing customers create) DIY projects with the fabrics you sell?
SIUB: The happiness and joy that fills you up! It is such an awesome feeling that is probably only understood by other makers!
SF: What current quilting, sewing or crafting trends inspires you? Where do you get your inspiration?
SIUB: Fabrics definitely do, and we love our customers "show & tells" as they inspire us!
SF: What's next for your shop?
SIUB: Sew Together Tuesday will be filmed right in our shop on August 17th! We are really looking forward to this and that same afternoon Teresa will present "The Beginner Box Workshop" via a Zoom class right from our shop. Shannon Fabrics and Sew It Up are sponsoring her to stay four more days and to teach five workshops for the ORIGINAL SEWING & QUILT EXPO, August 18th through August 21st. The Expo is at the Irving Convention Center in Irving, Texas (next to the Dallas/Forth Worth Airport). Teresa is teaching an all-day workshop — imagine spending the entire day with her. so much fun!

If you have any questions about Cuddle® minky plush fabrics or any of our Cuddle® Kits, feel free to contact our friendly, no-pressure customer service team at 866-624-5252.
Ready to start creating with Cuddle® minky fabric? Use our store locator to find a selection of Cuddle® minky fabric online or near you.