Catching the quilting bug is a very real thing, but pair that with catching the Cuddle® bug, and there's no turning back!
But why quilt with Cuddle®?
It's surprisingly durable and plenty soft for all-day comfort, and its heavier weight and higher pile has been embraced wholeheartedly by quilters and sewists for its cozy, ultra-soft feel with no break-in period. Simply put, it's irresistible — right from the beginning!
And while any of our Cuddle® and Luxe Cuddle® fabrics work well for machine quilting, our extra-wide collections have been embraced by quilters who both quilt exclusively with minky and those who use minky as the backing for their cotton patchwork quilt. It's also great for applique and for quilt binding!
This week Teresa stops by Sew It Up Bernina on her Sew Together Tuesday "On the Road" tour to discuss all things quilting and Cuddle®, including recommended notions, some of her favorite projects, longarm quilters in the US, and more.
Happy sewing (or rather, quilting)!
Recommended Notions for Quilting with Cuddle® Minky Fabric
These products and fabrics can be substituted for whatever works best for you, but here is what Teresa recommends for quilting with Cuddle® minky fabric:
45mm rotary cutter - OLFA or blade (SAC-1 - OLFA)
90/14 stretch machine needle – SCHMETZ (domestic machine)
18/110 Needle — SCHMETZ (long arm)
Fabric clips — (Wonder Clips - Clover)
Felt tip marker
Flower head pins – Clover
Glide Thread — Fil-Tec
Micro serrated scissors – Famore
Point turner
Polyester thread — (Metrosene - Mettler)
Quilters Select Poly Request Batting
Self-healing cutting mat — OLFA
Stiletto and pressing tool — ByAnnie
Walking Foot
Recommended book: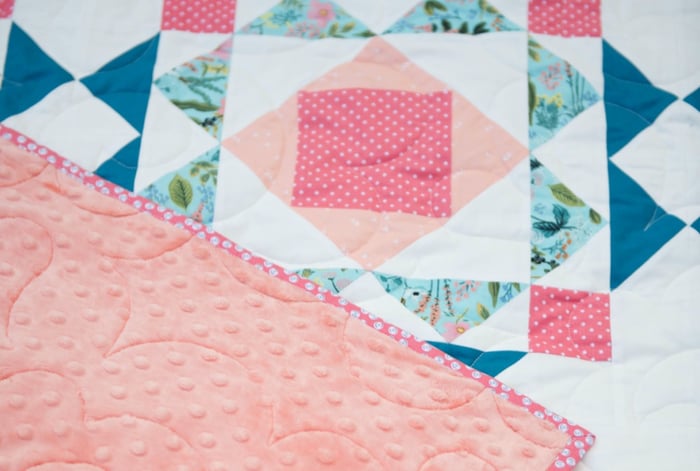 Quilting on Cuddle® Minky Fabric Blog Posts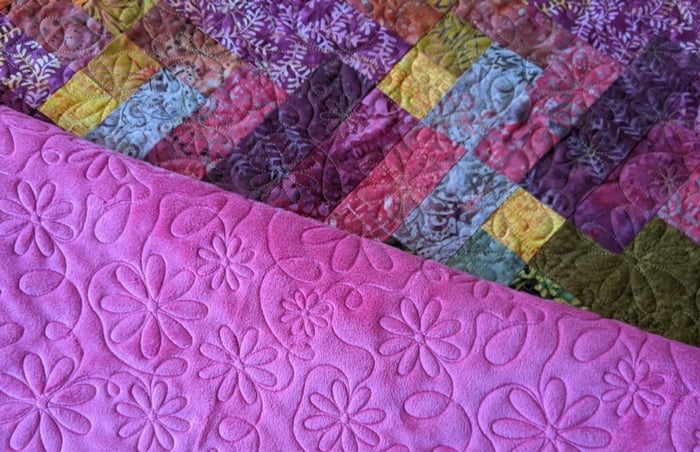 A Guide to Longarm Quilters in the USA
If you don't have a longarm machine, don't worry! There are tons of amazing local quilters who are willing and able to quilt for you on a per project basis. Here we've gathered a few longarm quilters we've heard good things about, but be sure to ask your local sewing and quilting guild to find one near you (or check out this ultimate guide to longarm quilters in the USA and Canada)!
Contact: Connie Keller | connieapqstexas@gmail.com | 940-600-7655
Location: Lewisville, TX
Contact: Contact page via website
Location: Linden, VA
Contact: Megan Pitz | megan@canoeridgecreations.com
Location: Decorah, IA
Contact: Cheryl Farris | cherylquiltspdx@gmail.com
Location: Portland, OR
Cosmic Quilting Longarm Services
Contact: cosmicquilting@gmail.com
Location: Laguna Hills, CA
Contact: Jill Johnson | hello@j-coterie.com | 208-309-1800
Location: Bellevue, ID
Contact: Sarah Wilson | info@crinklelove.com
Location: Springfield, MO
Contact: Julia Catherine Luke | kooncejclk@aol.com | 385-887-1254
Location: West Valley City, UT
Contact: Marsha Swanson | dogearcreekquilts@yahoo.com | 402-880-2293
Location: Omaha, NE
Contact: Kathy Noble | kathy@elegantmachinequilting.com | 413-593-6160
Location: Chicopee, MA
Contact: Richla Ramsey | gotkwilts@comcast.net
Location: Redmond, WA
Contact: Carrie Hanson | carrie.a.hanson@gmail.com
Location: Carlsbad, CA
Contact: Denise Hone | contact@happyvalleyquilting.net | 814-429-9555
Location: Spring Mills, PA
Contact: Leisha Farnsworth | quiltingit@gmail.com
Location: Utah
Contact: Steffani K. Burton | sk.burton@hotmail.com
Location: Brainerd, MN
Contact: Julie Ann | julieann@thequiltingnerd.com

Location: Little Rock, AR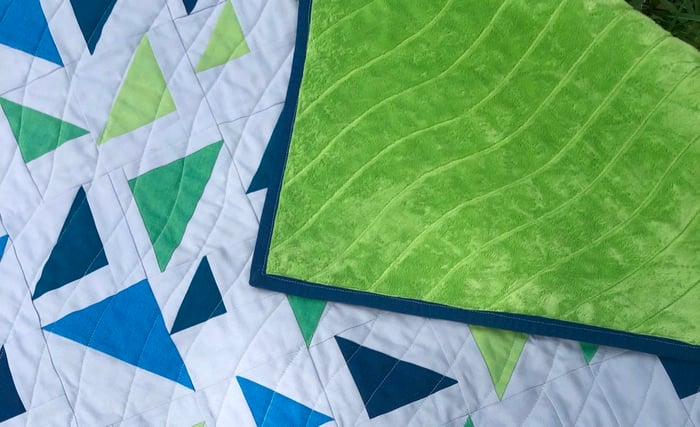 Download: Quilting with Cuddle® Tip Sheet
Click here or the "Download Now!" button below to download and print Teresa's tips and tricks for quilting with Cuddle® minky fabric.

If you have any questions about Cuddle® minky plush fabrics or any of our Cuddle® Kits, feel free to contact our friendly, no-pressure customer service team at 866-624-5252.
Ready to start creating with Cuddle® minky fabric? Use our store locator to find a selection of Cuddle® minky fabric online or near you.