Everyone knows babies and quilts go together about as well as, well, babies and quilts!
And while we regularly feature quilts here on the Sewciety Blog, this week we're excited to add a fun new spin by showcasing not just one, but a few super cute baby-sized quilts.
See Related: How to Make a Puff Quilt with Cuddle® Minky Fabric
Our friend Emily Jane (you know her as Homemade Emily Jane) is a quilt pattern designer who comes up with some of the most creative designs we've seen! Emily says "I'm a modern quilter and just a *little* obsessed with Shannon Fabrics. I LOVE using the Cuddle® or Cuddle® Dimple as quilt backings."
Here, in her own words, she shares her insight her favorite baby-sized quilts that incorporate Shannon Fabrics Cuddle® minky plush fabrics into the oh-so-cozy designs.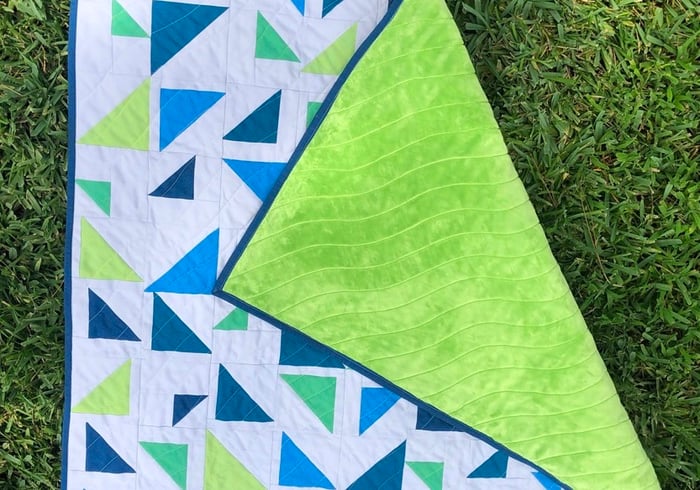 Baby-Sized Triangular Quilt
The Triangular Quilt Pattern is reminiscent of triangles falling like confetti.
I chose to make this version as a baby boy quilt using a handful of artisan cottons by Windham Fabrics. The texture of the artisan cottons is so soft and I knew I needed to pick a backing that would make this the most cuddly and cozy quilt for a lucky baby boy!
The backing I chose to use is Shannon Fabrics Cuddle® in Dark Lime. I quilted it with wavy lines spaced 1.5" apart. I like how the wavy lines contrast the sharp geometry of the triangles.
For more tips on Emily's baby-sized triangular quilt, click here.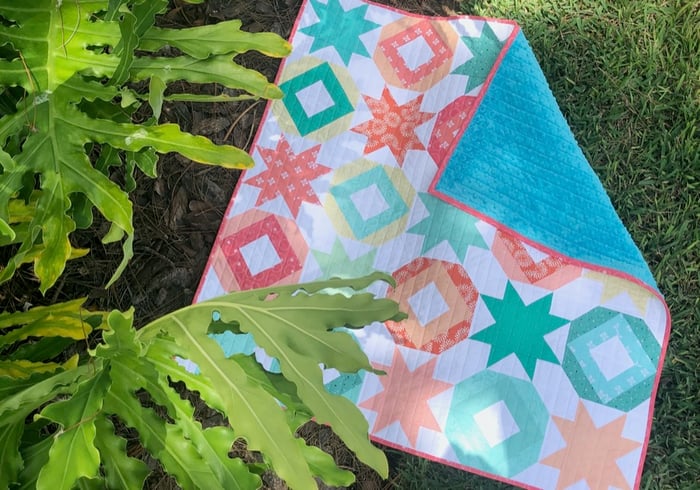 String Quilt Block Using AccuQuilt
This pattern is actually a free tutorial! The baby quilt uses 12 String quilt blocks and 13 Sawtooth Star quilt blocks.
I made my variation of a string quilt block using my AccuQuilt cutting machine and pulled all the fabrics from my scrap stash! It can totally be made with Fat Quarters or other pre-cuts too which makes it super versatile and fun.
This combination of "blue-ish" greens and "coral-y" pinks is one of my summer favorites and perfect for energetic and fun nursery decor!
I backed this baby quilt with Shannon Fabrics Cuddle® Dimple in Belize and quilted it with 1"-apart straight line matchstick quilting.
Read the rest of Emily's string quilt block tips, here.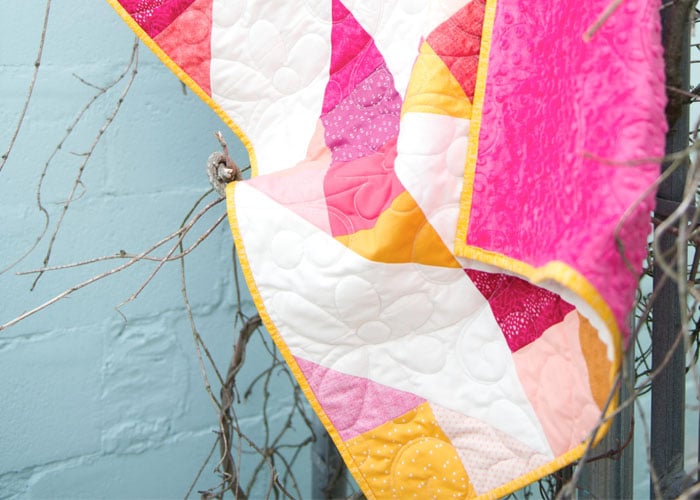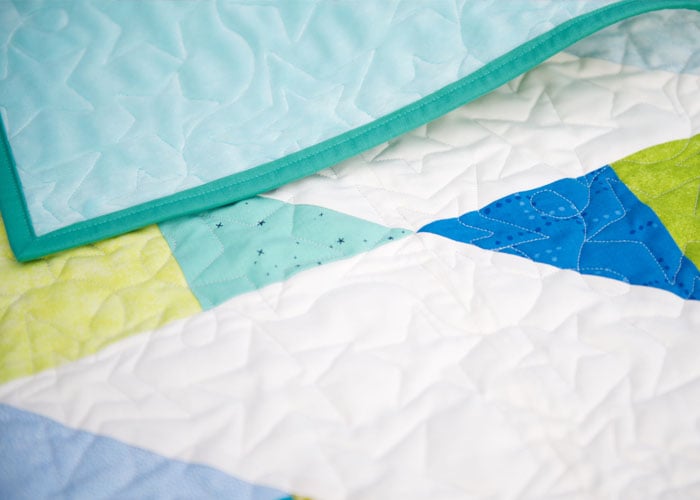 Bold and Scrappy Baby Quilts - Cirrus Quilt Pattern
The Cirrus quilt pattern is a modern geometric quilt pattern perfect for making scrappy baby quilts! It's a fast quilt pattern and ideal for using fabric scraps or pre-cut kits.
The baby quilts are backed with Cuddle® Dimple Fuchsia and Cuddle® 3 Saltwater.
Read more about the Cirrus quilt pattern, here: Bold and Scrappy Baby Quilts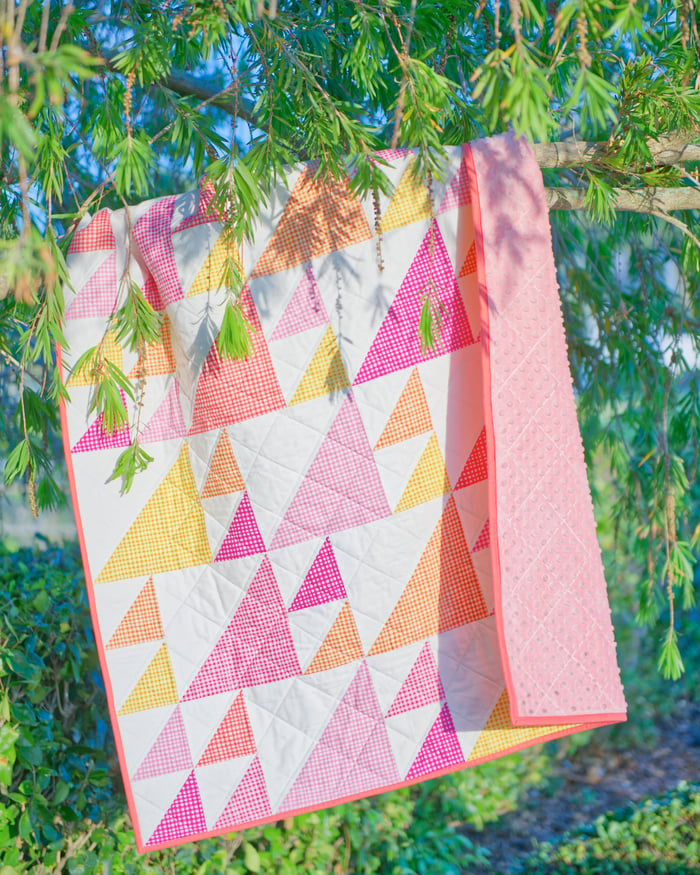 Easy AccuQuilt Modern Baby Quilt Pattern- Baby Girl Gingham Quilt
Made with half square triangles and perfect for an AccuQuilt Cutting machine. It features two different sizes of half square triangles and is beginner-friendly.
Emily used Cuddle® Dimple in the color Shell to back this precious quilt.
Read more about it here: Easy AccuQuilt Modern Baby Quilt Pattern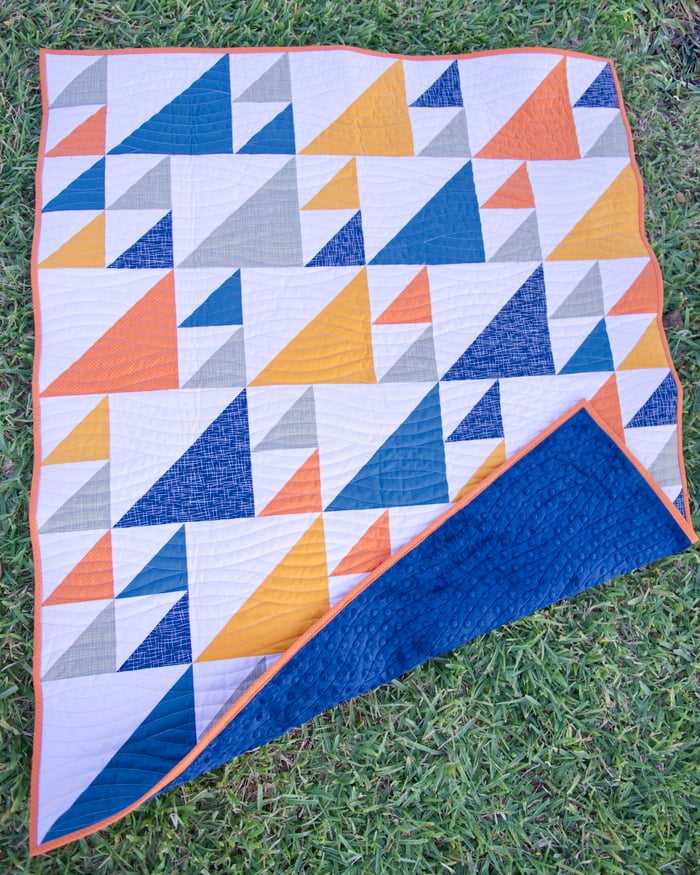 Half Square Triangle Quilt Pattern for Baby Boys
This quilt is easy and quick to make. The instructions come with two methods and one can be made with an AccuQuilt die cutting machine.
Emily used Cuddle® Dimple Navy for backing.
Read more about it here: Half Square Triangle Quilt Pattern for Baby Boys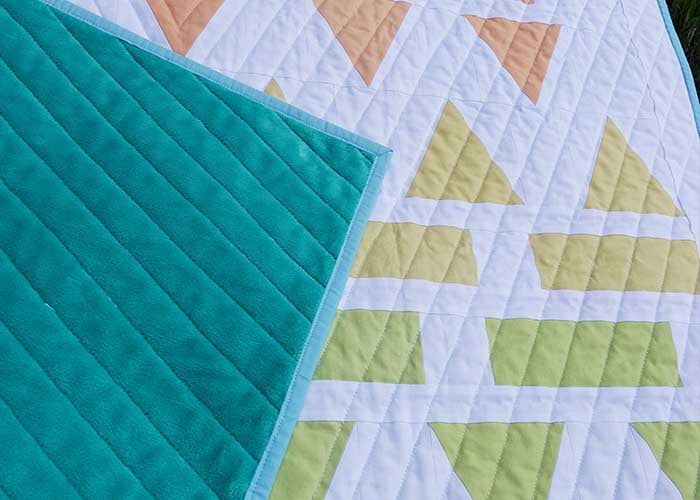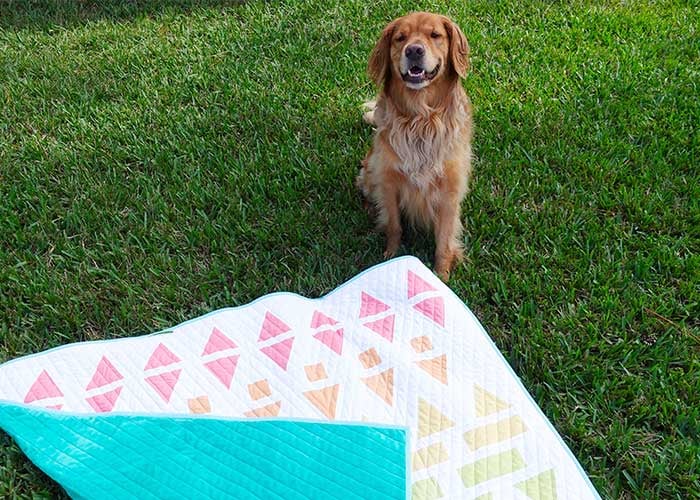 Bonanza: A Modern Triangle Quilt Pattern
The Bonanza quilt pattern is a modern triangle quilt pattern featuring Triangle in a Square quilt blocks. The Bonanza Pattern includes templates for cutting the triangle shapes, but you can also use rulers or AccuQuilt if you prefer. The pattern is great for intermediate level quilters. It includes Crib, Throw, and Bed sizes, which are all the same design scaled up or down to make the different size quilts.
Emily used Riley Blake Confetti cottons for the quilt top and her favorite Shannon Fabrics Cuddle® 3 in Sea Foam as the backing!
Read more about it here: Bonanza Quilt Pattern
If you have any questions about Cuddle® minky plush fabrics or any of our Cuddle® Kits, feel free to contact our friendly, no-pressure customer service team at 866-624-5252.
Ready to start creating with Cuddle® minky fabric? Use our store locator to find a selection of Cuddle® minky fabric online or near you.