Goodbye summer, autumn is finally here! And if you're anything like us, you're excited to welcome in cooler weather and shorter days filled with fall colors, pumpkin spiced-everything, and of course, sewing!
Infinity scarves, robes and throw blankets are always a great place to start for fall-inspired sewing projects, but this week, we're really embracing the season with a tutorial on how to sew a pumpkin with Cuddle® minky plush fabric.
See Related: How to Sew a Horse Stuffed Animal (Nutty Nag Plush Horse Doll) with Pattern & Video Tutorial
Teresa has taken the Pumpkin Sewing Pattern by Retro Mama and added her own flair (like usual) by making it with our luxurious Cuddle® minky plush fabrics. They're great for festive decorative pieces to leave around the house, and the smaller versions can even be used as a pincushion.
As always, feel free to get creative by mixing different colors and textures of both Cuddle® and Luxe Cuddle® fabrics to make unique, one-of-a-kind fall creations!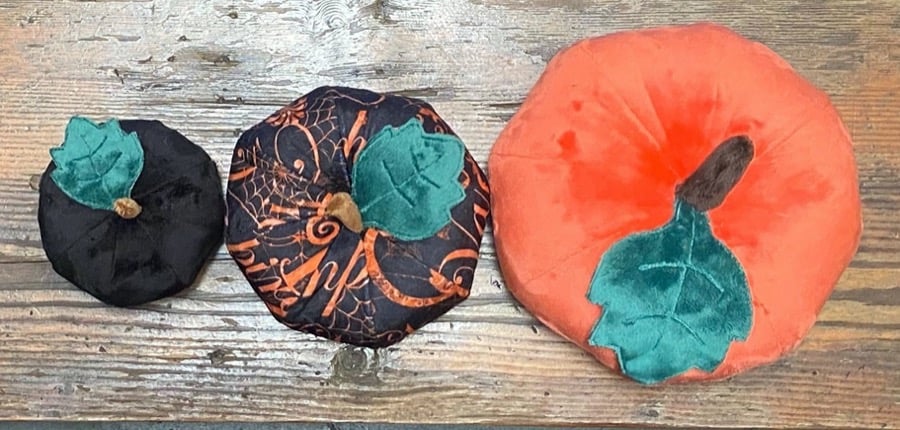 Fabrics and notions you'll need to make a pumpkin with Cuddle® minky plush fabric
These products can be substituted for whatever you have on hand, but here is what Teresa recommends for her pumpkin tutorial:
Cuddle® or Luxe Cuddle® fabrics (1/4 yard of each)
Stainless Steel Snap-Off Graphics Knife (SAC-1 / Olfa)
45mm rotary cutter
Felt tip marker
ByAnnie's Stiletto & Pressing Tool
Stuffing (Royal Silk or Poly-Fil / Fairfield World)
Long flower-head pins
Double sided fusible web (Appli-Web Plus / Quilters Select)
Polyester thread
90/14 Stretch needle
Hand sewing needle
Tips for sewing a pumpkin with Cuddle® minky plush fabric
Choose a Cuddle® 3 for easier construction, but don't be afraid of using a Luxe Cuddle® to make it extra fun and fluffy.
Try pinning parallel for the ¼" seams. If you pin perpendicular, make sure to pin often to avoid the layers shifting away from each other.
Use felt or two layers of Cuddle® 3 for the leaves.
Use felt or one layer of Cuddle® 3 sewn into a tube for the stem.
Mix and match the fabrics for a fun, textural display.
Video: How to sew a pumpkin with Cuddle® minky plush fabric
Mark your calendar — as part of Sew Together Tuesday, Teresa will be going LIVE on the Shannon Fabrics Facebook page at 10 am PDT on October 6 to share her tips on how to sew a pumpkin with Cuddle® minky plush fabric.
If you have any questions about Cuddle® minky plush fabrics or any of our Cuddle® Kits, feel free to contact our friendly, no-pressure customer service team at 866-624-5252.
Ready to start creating with Cuddle® minky fabric? Use our store locator to find a selection of Cuddle® minky fabric online or near you.