While our original "Cuddle® Puff Charm Quilt" blog post featuring Jenny Doan has been one of our most popular though the past several years, we thought it was time for a long (and we mean long) overdue refresh.
See Related: How to Sew a Burp Cloth (Free Burp Cloth Pattern and Video Tutorial)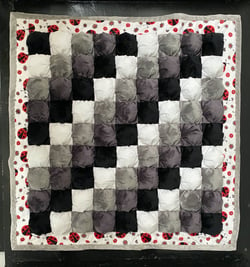 Don't worry, it's just as fun and easy to make as the original — we've just updated the pattern, refined the techniques and replaced the discontinued fabrics with fabric from our new line of 10" Cuddle® Sweet Strips.
The puff quilt (also called a biscuit, cloud or bubble quilt) measures in at roughly 38"x38" when finished, and can be customized color-wise to coordinate with just about any style or décor. Our 10"x60" Luxe Cuddle® Sweet Strips packs feature five precut strips of minky fabric in different colors that look beautiful together, and since they're precut, they help reduce how many cuts you have to make when making a puff quilt.
Here our National Educator Teresa Coates shares her expert tips on how to make this "fan favorite" of a sewing project. With the right techniques, a puff quilt can be tackled by even the most novice of quilters.
We've covered all the bases — you'll find a list of the fabrics and notions you'll need, Teresa's video puff quilt tutorial, as well as our free puff quilt downloadable pattern below!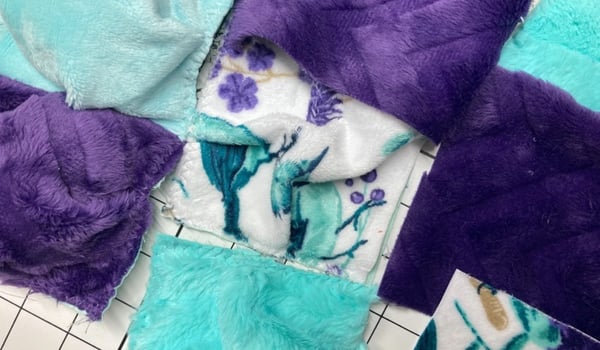 Fabrics and notions you'll need to sew a puff quilt
These products can be substituted for whatever you have on hand, but here is what Teresa recommends for her puff quilt tutorial*:
1 pack of 10-inch Cuddle® Sweet Strips (5 included in a pack) or 1/3 yard of five different Cuddle® solids/prints/dimple
1 1/4 yd. Cuddle® or Luxe Cuddle® for backing
1 yd. quilting cotton
Stuffing (Royal Silk or standard Poly-Fil) (we recommend Fairfield)
Polyester thread (we recommend Superior Threads or Mettler Threads)
45mm rotary cutter
90/14 Stretch needle (we recommend Schmetz)
Walking foot
Thin batting, craft size (optional)
How to sew a puff quilt
Mark your calendars — as part of Sew Together Tuesday, Teresa will be going LIVE on the Shannon Fabrics Facebook page at 10 am PDT on Tuesday July 14, Wednesday July 15 and Thursday July 16 to share her tips on how to make a puff quilt.
Can't make it? Check back here at 12 pm pacific after each day's live video concludes for the embedded on-demand video.
How to sew a puff quilt (Part 1)
How to sew a puff quilt (Part 2)
How to sew a puff quilt (Part 3)
Tips to keep in mind when sewing a puff quilt
Mark the wrong side of your Cuddle® squares with nap direction.

Don't panic if your Cuddle® strips aren't exactly 10" wide and/or your squares aren't 5"x 5", it will work just fine!

Use Wonder Clips to hold the layers together and flower head pins to keep the seams together.

Mix up prints and embossed Cuddle® fabrics, along with the solid Cuddle® fabrics, to personalize it.

You can use Luxe Cuddle®, but take extra care to make sure you catch all your seams.

Make your quilt bigger by cutting 8" squares of Cuddle® and 6" squares of quilting cotton and assemble the same.

Don't overstuff the square to make it easier to get under your walking foot.

Omit batting, if desired.
Free downloadable puff quilt sewing pattern
Click here to download and print Teresa's free puff quilt sewing pattern! To see our entire library of free patterns, click here to head over to our "Free Patterns" page.
If you have any questions about Cuddle® minky plush fabrics or any of our Cuddle® Kits, feel free to contact our friendly, no-pressure customer service team at 866-624-5252.
Ready to start creating a puff quilt with Cuddle® minky fabric? Use our store locator to find a selection of Cuddle® minky fabric online or near you.