You might be surprised to know that one of the most popular uses of our Cuddle® minky plush fabric is quilts!
Since it's become such a fan favorite, this week our National Educator Teresa Coates shares her tips and tricks for creating one of our favorite quilt designs (and also one of our most popular kits), our Fabulous 5 Cuddle® minky strip quilt pattern, LIVE on Sew Together Tuesday.
It's available on our Free Patterns page, but it's also included in our Fabulous 5 Cuddle® Kit.
See Related: How to Sew an Irresistibly-Cute Strip Quilt (Bambino Cuddle® Kit with Pattern)
Fabulous 5 (we like to call them Fab 5s) quilts are made with five 10" strips, and specifically our Fabulous 5 Cuddle® Kit High Tide includes our Hoffman Backsplash Digital Cuddle® Teal, Luxe Cuddle® Hide Aruba, Luxe Cuddle® Glacier Teal (also used for the binding) and Luxe Cuddle® Frosted Hide Navy fabrics.
This Fabulous 5 Cuddle® kit is approximately 38" by 58" and includes a pattern, pre-cut 10" strips and binding. Note that the backing fabric isn't included, and approximately 1 1/8 yards of Cuddle® 3 Teal or other coordinating fabric will be needed.
Let's get started!
Editor's note: Our friends at Quilters Dream Batting have generously offered to provide Dream Poly to three lucky viewers, and our friends at Odif USA have generously offered to provide Odif 505 Temporary Adhesive Spray to three lucky winners as well!
Fabrics and notions you'll need to make a Cuddle® minky strip quilt (Fabulous 5 Cuddle® Kit)
These notions can be substituted for whatever you have on hand, but here is what Teresa recommends for her Cuddle® minky strip quilt tutorial:
Fabrics:
Fabulous 5 Cuddle® Kit High Tide
Luxe Cuddle® Dazzle Hide Navy/Silver (backing)
Notions/supplies:
45mm rotary cutter - OLFA or blade (SAC-1 - OLFA)
90/14 stretch machine needle - SCHMETZ
Fabric clips - (Wonder Clips - Clover)
Felt tip marker
Flower head pins - Clover
Micro serrated scissors - Famore or Kai
Polyester thread - (Metrosene - Mettler)
Self-healing cutting mat - OLFA
Stiletto and pressing tool - ByAnnie
Walking Foot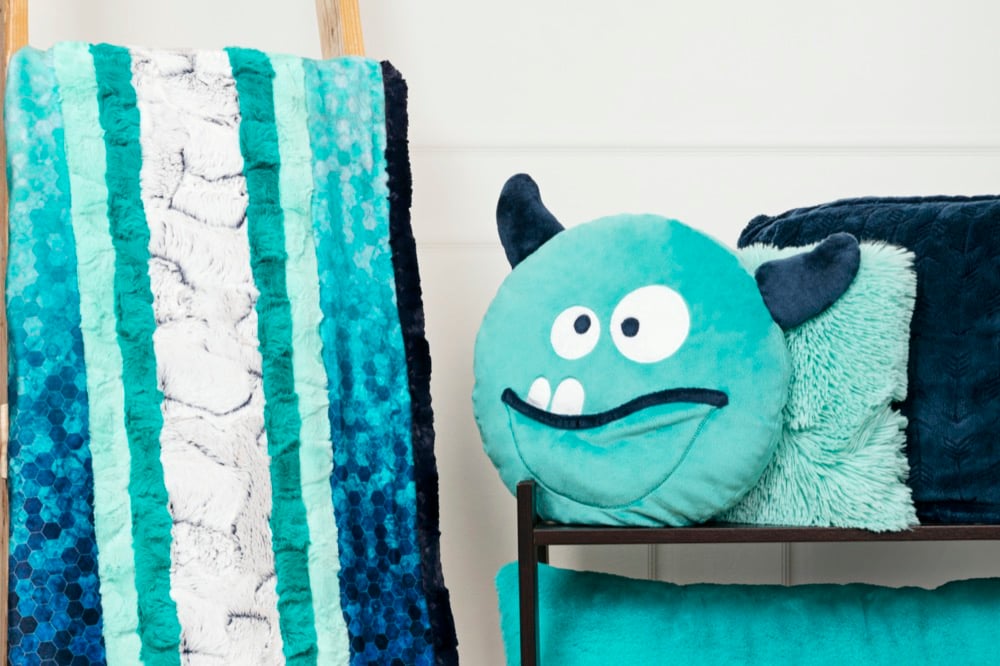 Teresa's tips for making a Cuddle® minky strip quilt
Construction for this quilt is sideways compared to other strip quilts. The 60" width of the fabric will be the length of the quilt.
The pattern layout is only a recommendation. Get creative with your strips!
Use ODIF 505 basting spray to keep your strips in position and flat.
Take your time. I prefer to make the quilt one day, then trim and bind the next.
Create your own Fab 5 quilts with our Sweet Strips! Use 5 (or more!) to create your own unique design.
Got twins to make quilts for? Make a Fab 5, then cut it in half and you'll have two 28" x 38" quilts that match!
Want a big quilt? Use two kits to make a 58" x 76" quilt.
Also:
Video tutorial: How to make a Cuddle® minky strip quilt (Fabulous 5 Cuddle® Kit)
Mark your calendar — as part of Sew Together Tuesday, Teresa will be going LIVE on the Shannon Fabrics Facebook page and YouTube channel at 10 am PDT on May 25 to share her tips on how to make a Cuddle® minky strip quilt.
Can't make it? Check back here at 12 pm pacific after her live video concludes for the embedded on-demand video.
If you have any questions about Cuddle® minky plush fabrics or any of our Cuddle® Kits, feel free to contact our friendly, no-pressure customer service team at 866-624-5252.
Ready to start creating with Cuddle® minky fabric? Use our store locator to find a selection of Cuddle® minky fabric online or near you.