Everyone loves stuffed animals, especially when they're handmade and sewn in Cuddle® and Luxe Cuddle® minky fabrics! This precious little lamb would be a great baby shower gift, expectant mom gift, or gift for toddlers or children of any age that'll last for years and years.
See Related: How to Sew an Elephant Stuffed Animal (with Pattern & Video Tutorial)
Affectionately named "Lamkins Lamb", this sew-at-home lamb plushie was designed by Pauline over at Funky Friends Factory. The pattern can be found for instant download here, and it would make a sweet keepsake for all ages. It would even be suitable for babies, but we suggest you embroider the eyes instead of using beads or craft eyes. The finished toy measures approx. 9", but can be sized up or down depending on taste.
Happy sewing!
Editor's note: Funky Friends Factory has generously offered Sew Together Tuesday viewers 50% off on the Lamkins Lamb PDF pattern. Valid from May 18, 2021- June 18, 2021. Use code "SHANNONSLAMB21".
Fabrics and notions you'll need to make the Lamkins Lamb stuffie:
These notions can be substituted for whatever you have on hand, but here is what Teresa recommends for her Lamkins Lamb sewing tutorial.
Fabrics:
Luxe Cuddle® Shearling Snow
Cuddle® 3 Beige
Cuddle® Baby Pink
Notions/supplies:
12 mm Safety eyes
45mm rotary cutter - OLFA or blade (SAC-1 - OLFA)
90/14 stretch machine needle - SCHMETZ
Embroidery floss
Fabric clips - (Wonder Clips - Clover)
Felt tip marker
Flower head pins - Clover
Micro serrated scissors - Famore or Kai
Polyester fiberfill - (Royal Sik - Fairfield)
Polyester thread - (Metrosene - Mettler)
Ribbon
Self-healing cutting mat - OLFA
Stiletto and pressing tool - ByAnnie
Walking Foot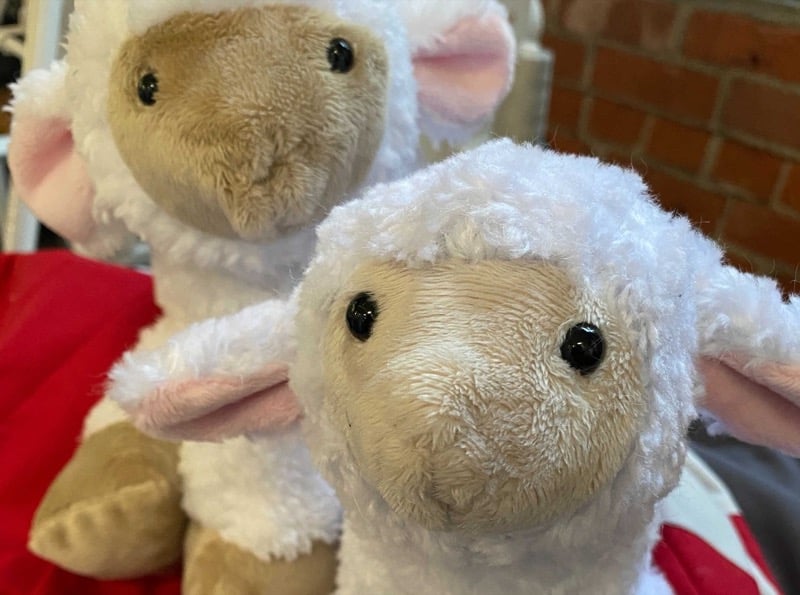 Tips for making a Lamkins Lamb stuffed animal
Print at 150% (or enlarge your pattern via copying) to make it easier to assemble with Cuddle®.
Using at 100% is difficult, and will require more hand basting.
Make sure to transfer all markings/letters onto reverse side of fabric using a felt tip pen.
Read instructions carefully! They are well-written, but construction isn't always in the order you expect.
Use Royal Silk from Fairfield World for a softer and huggable stuffie.
Pin perpendicular to the cut edge, every 1/2" or closer to keep fabric together as you sew.
Have a stiletto handy to help bring the fabric through more easily.
Video tutorial: How to make a Lamkins Lamb stuffed animal
Mark your calendar — as part of Sew Together Tuesday, Teresa will be going LIVE on the Shannon Fabrics Facebook page and YouTube channel at 10 am PDT on May 18 to share her tips on how to make a Lamkins Lamb stuffed animal.
Can't make it? Check back here at 12 pm pacific after her live video concludes for the embedded on-demand video.
If you have any questions about Cuddle® minky plush fabrics or any of our Cuddle® Kits, feel free to contact our friendly, no-pressure customer service team at 866-624-5252.
Ready to start creating with Cuddle® minky fabric? Use our store locator to find a selection of Cuddle® minky fabric online or near you.