Everyone appreciates a pillowcase that's soft and comfortable, but we think they're even better when made with Cuddle® and Luxe Cuddle® minky fabric!
We've featured a Cuddle® pillowcase on a previous episode of Sew Together Tuesday, so this week we're taking this simple project a step further and creating one with an envelope-style back.
See Related: How to Sew a Cuddle® Minky Fabric Pillowcase (Pillowcase Pattern & Video Tutorial)
Here we've put together a step-by-step tutorial on how to sew a Cuddle® minky pillow sham (we affectionately call it a "pillow sack"), complete with Teresa's video tutorial and free downloadable pattern.
It can be used to really add some visual interest to your bedroom and home decor, and it's removable so you can make a few sets and change them up for the seasons or depending on your mood.
Let's get started!
Fabrics and notions you'll need to make the Cuddle® minky pillow sack:
These notions can be substituted for whatever you have on hand, but here is what Teresa recommends for her Cuddle® minky pillow sack.
Fabrics:
Luxe Cuddle® Marble Merlot
Luxe Cuddle® Snowy Owl Rosewater
Rosa Digital Cuddle®Merlot
Notions/supplies:
45mm rotary cutter - OLFA or blade (SAC-1 - OLFA)
90/14 stretch machine needle - SCHMETZ
Fabric clips - (Wonder Clips - Clover)
Felt tip marker
Flower head pins - Clover
Micro serrated scissors - Famore or Kai
Pillow sack pattern - Shannon Fabrics free pattern
Polyester thread - (Metrosene - Mettler)
Self-healing cutting mat - OLFA
Stiletto and pressing tool - ByAnnie
Walking Foot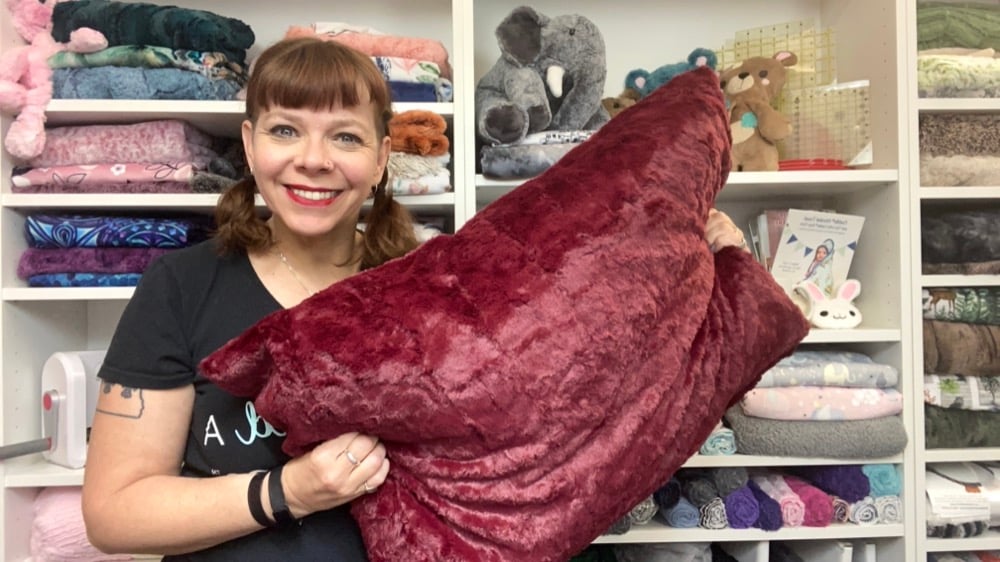 Tips for making a Cuddle® minky pillow sack
You can serge or zig zag the seam allowances, or leave them as-is!
Mix and match your pillow sacks by using a variety of Luxe Cuddle® fabrics.
Video tutorial: How to make a Cuddle® minky fabric pillow sack
Mark your calendar — as part of Sew Together Tuesday, Teresa will be going LIVE on the Shannon Fabrics Facebook page and YouTube channel at 10 am PDT on May 11 to share her tips on how to make a Cuddle® minky pillow sack.
Free downloadable Cuddle® minky fabric pillow sack sewing pattern
Click the button below to download our free pillow sack sewing pattern!

If you have any questions about Cuddle® minky plush fabrics or any of our Cuddle® Kits, feel free to contact our friendly, no-pressure customer service team at 866-624-5252.
Ready to start creating with Cuddle® minky fabric? Use our store locator to find a selection of Cuddle® minky fabric online or near you.