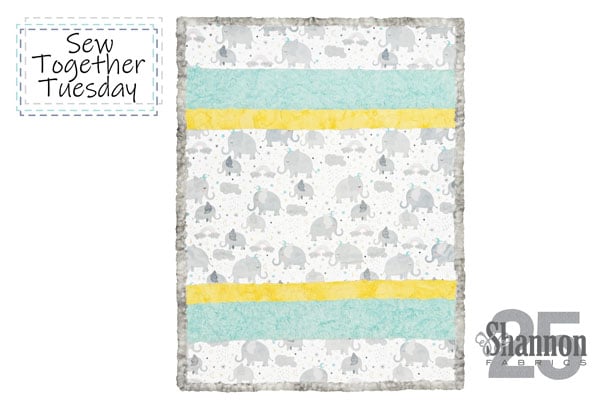 Most of us are stuck at home practicing social distancing (or shall we say, SEWcial distancing), so why not make the most of it? This week our National Educator went LIVE on the Shannon Fabrics Facebook page for another Sew Together Tuesday two-day mini-series, where she shared her tips and tricks for creating an irresistibly-cute Bambino Cuddle® strip quilt.
Don't worry, it's easier than it looks!
What is a Bambino Cuddle® Kit?
This darling quilt includes pre-cut, preselected fabrics to make sewing a strip quilt as easy as possible. Bambino Cuddle® Kit Ear for You Snow features our Mama & Me Digital Cuddle® Snow print with mama elephants and baby elephants meandering through rainbows, stars and moons (and cute little birds are along for the ride, too), and will quickly be an inseparable nap-time companion for any little baby boy or girl.
READ MORE: How to Sew a Protective Face Mask & Pattern (COVID-19)
Our Snow variation also includes Luxe Cuddle® Marble Saltwater for the top and backing, Luxe Cuddle® Hide Banana for the top, and Luxe Cuddle® Fawn Silver for the binding. This Bambino Cuddle® kit is approximately 28" by 37" when finished and includes a pattern and strips for the quilt top, backing and binding.
Also note that while "Bambino" is the pattern we use for the kit, the fabrics can be swapped out depending on the look and feel you're going for personally. Click here to download the free Bambino strip quilt pattern to create your own custom strip quilt with your own choice of Cuddle® and Luxe Cuddle® fabrics.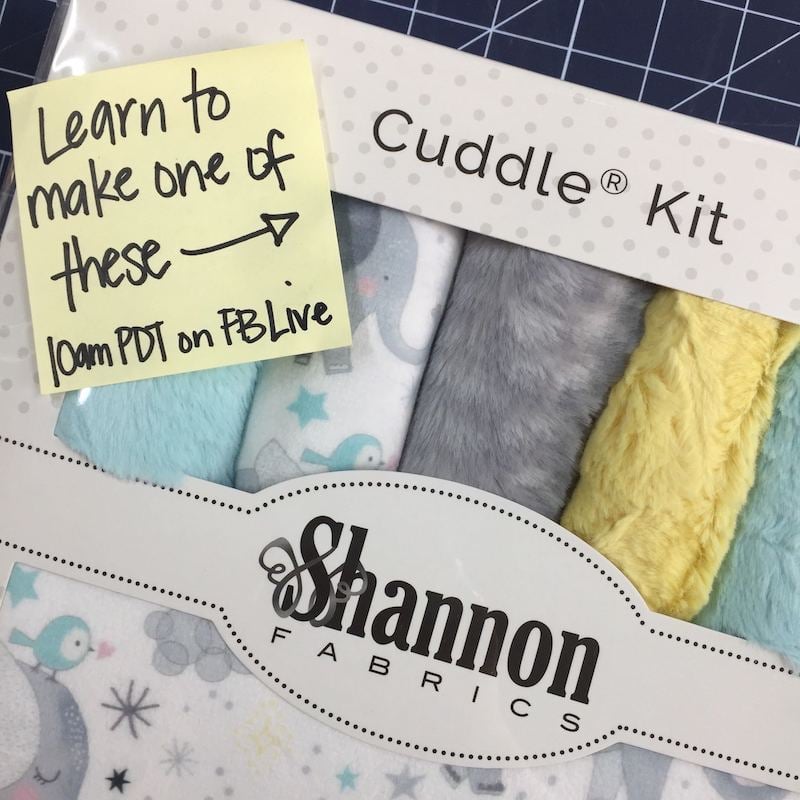 How to Prepare
Here is what Teresa recommends for sewing the Bambino Cuddle® Kit strip quilt:
Bambino Cuddle® Kit Ear for You Snow (can be substituted with other strip quilt kit or Cuddle® yardage)
Polyester batting (we recommend Quilters Dream Poly Request)
90/14 Stretch Needle (we recommend SCHMETZ)
Polyester thread (we recommend Mettler, medium grey)
Temporary spray adhesive (we recommend ODIF 505 spray)
Flat flower head pins (we recommend Clover)
Fabric clips (we recommend Clover Wonder Clips)
Stiletto (we recommend ByAnnie Stiletto)
Rotary cutter with a fresh blade (we recommend OLFA)
Sharp knife - optional (we recommend OLFA SAC-1 snap-off blade knife)
How to Sew an Irresistibly-Cute Strip Quilt (Bambino Cuddle® Kit)
Ready to start sewing your own Bambino strip quilt? Use our store locator to find a selection of Cuddle® Kits and Cuddle® minky fabric near you.
If you are a shop owner or manufacturer and have any questions about Cuddle® minky plush fabrics, Embrace® double gauze or any of our Cuddle® Kits, feel free to contact our friendly, no-pressure customer service team at 866-624-5252.