Hi everyone, Shannon Fabrics Brand Ambassador Rachel here today with an exciting partnership to share!
I'm also a longtime pattern tester and Brand Ambassador for Love Notions sewing patterns, and I'm bringing my friends at Love Notions and Shannon Fabrics together again! For years I've been using Shannon Fabrics for some of my favorite Love Notions patterns, and I've shared some of them here and here in the past.
Images by Katie Grimm, Tessa Heiser and Tami Peterson.
The Cutest Minky Fabric Vest Pattern for Kids (Free Acorn Vest Sewing Pattern)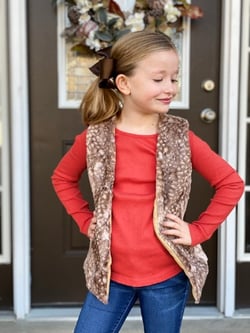 Now I'm excited to announce that Love Notions has generously offered View A of the Acorn Vest as a free download in kids' sizes 2t-16, and it can be found on the Shannon Fabrics website here. View A is a simple, fully-lined vest with no closures — it's perfect to showcase any of the Luxe Cuddle® fabrics from a simple Hide to a funky tie-dye Sorbet. For this one, I used the Luxe Cuddle® Hide in Berry and lined the vest with the Silky Satin in Silver. It was a quick and easy sew (I used the satin for the inseam pockets), and it's a great fit!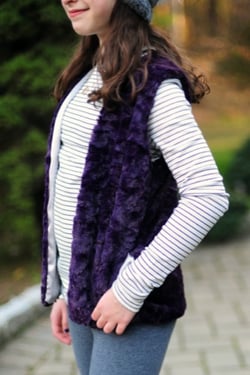 If you're new to PDF patterns, Tami has included instructions on the first page of the pattern printout to help. You'll need to print both the pattern pieces (15 pages) and the tutorial (2 pages), which includes illustrations and even a link to a video about how to bag a lining if you haven't done so before. This is a great beginner or advanced beginner project with less than 10 steps. The pattern pieces can be printed out at home on letter or A4 size paper, and will need to be taped together to form the actual pattern pieces (this pattern includes pieces for the front, back, and optional inseam pockets).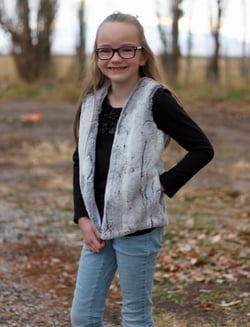 The Acorn pattern was released three years ago this month, and I love that the style is timeless and grows with my kiddo. She was eight when we tested the pattern for the first time, and even at the too-cool-for-many-things age of 11, she is still happy to have a few of these in her fall wardrobe. There are other views in the full pattern, as well as a women's range (called the Oakley vest), and those can be purchased directly from Love Notions (links are affiliate links, which means I earn a small commission at no charge to you when you click through and purchase).
There's also a free download on the Love Notions website for a doll size version of the same View A (although unlined) that will fit 18" American Girl and similar dolls (Our Generation, Journey Girls, etc.).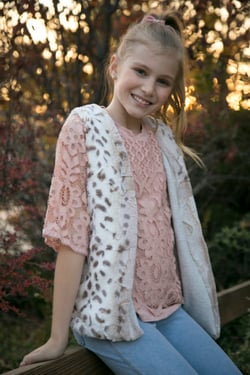 If you're new to sewing garments with Luxe Cuddle®, it's easier than you might think! Here's a blog post that I wrote awhile back over at Love Notions with some tips and tricks to help.
Shannon Fabrics generously sent fabric to a few of the other Love Notions Brand Ambassadors to help kick off this exciting collaboration, and these are some of their photos. Any of the 2-yard Cuddle® Cuts would be great for this project, and you'll still have plenty left over for another project (maybe even a second vest!)
We can't wait to see what your Acorns look like - which Luxe Cuddle® will you choose first? I know Miss P is not-so-patiently waiting for me to cut into my yardage of Luxe Cuddle® Sorbet in Mystic and Luxe Cuddle® Jaguar in Elderberry. And for our eagle-eyed Shannon fans, Miss P's beanie was crocheted by her Aunt Lauren (and actually gifted to me, but such is life with a tween, ha!) and the pom pom was made by me from one of these Fun Fur cuts.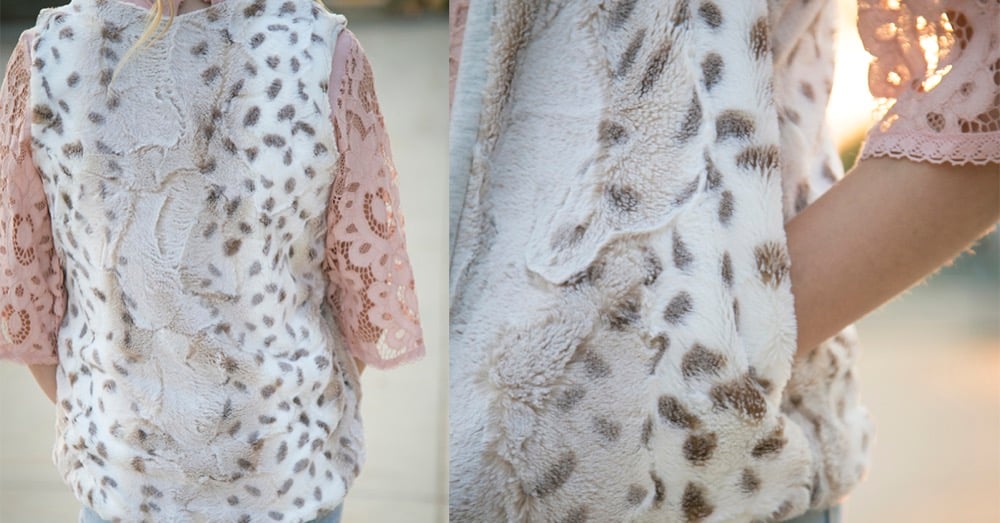 Free Acorn Vest Downloadable Sewing Pattern
Click the "Download Now!" button to download and print out the free Acorn Vest pattern (View A) and instruction sheet from Love Notions Sewing Patterns.
If you have any questions about Cuddle® minky plush fabrics or any of our Cuddle® Kits, feel free to contact our friendly, no-pressure customer service team at 866-624-5252.

Ready to start creating with Cuddle® minky fabric? Use our store locator to find a selection of Cuddle® minky fabric online or near you.