We're excited to share our year-long Q&A series featuring exemplary quilt and fabric shops all around the country that sell Shannon Fabrics products. To nominate a shop in your area, please let us know in the comment section below. #shoplocal
Over 40 years in business is an impressive milestone not many businesses reach!
For co-owners Charla Youngberg and Bobbi Clark, opening a fabric shop in a small-town market was born out of necessity. Valley Fabric Shop was designed to provide the women of Bridger a place to gather and learn about sewing and provide fabrics for apparel sewing, but they've since pivoted and grown to become a full-service quilt shop in the greater Lyman Wyoming area.
While fabric and quilting is their business, they place just as much importance on fostering community, friendship and creativity with their customers and their families.
Without further ado, we're proud to present our fourth Shop Spotlight of the year — Valley Fabric Shop!
To learn more about and see the latest from Valley Fabric Shop, check out their website, stop by their shop at 102 Meadow St. Lyman, WY 82937, give them a call at 307-786-2653 or email owners Charla Youngberg and Bobbi Clark at valleyfab@union-tel.com.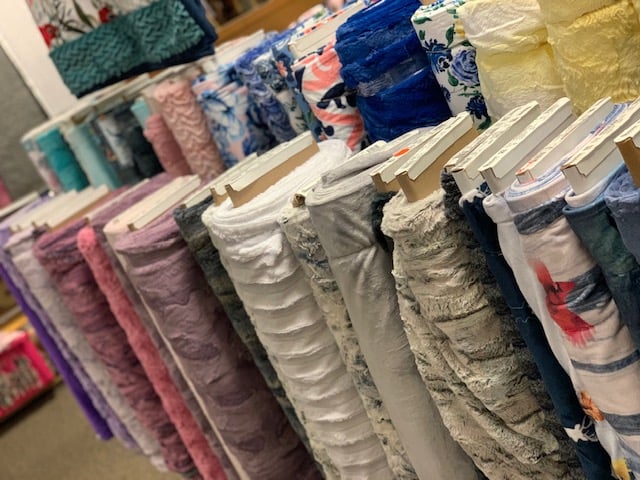 SF: What's the history of Valley Fabric Shop? When did you open your store?
VFS: We opened Valley Fabric Shop in March of 1979. There was a need in our small valley for something to do and our closest area to shop is around two hours away. People made their own clothes at that time (which now has diminished in popularity), so we have since transitioned into quilting. Our quilt shop offers ideas through our displays and once quilters stop here, they make sure to come back.
SF: How has Valley Fabric Shop evolved over the years?
VFS: We started in a 900 sq. ft building and now we have over 2000 sq. ft. in addition to a 1000 sq. ft classroom. Charla built this fabric store on desire and community need. The opening of Walmart in a nearby town approximately 40 miles away was a challenge that was met by transitioning to a full-service quilt shop.
See Related: Longarm Quilting Tips for Cuddle® Minky Fabric
SF: Tell us one thing people might not know about your shop.
VFS: We have over 100 toy sewing machines on display.
SF: What's your shop's motto or tagline?
VFS: "Your Idea Place" is our tagline. Also, "Valley Fabric Shop - For all Your Quilting Needs"
SF: Describe your shop's aesthetic in five words or less.
VFS: Warm, inviting, creative and friendly.
SF: What's unique about your shop?
VFS: We are the original owners and have been in business for 43 years. We also do not have a zip code, but we use the closest town's post office.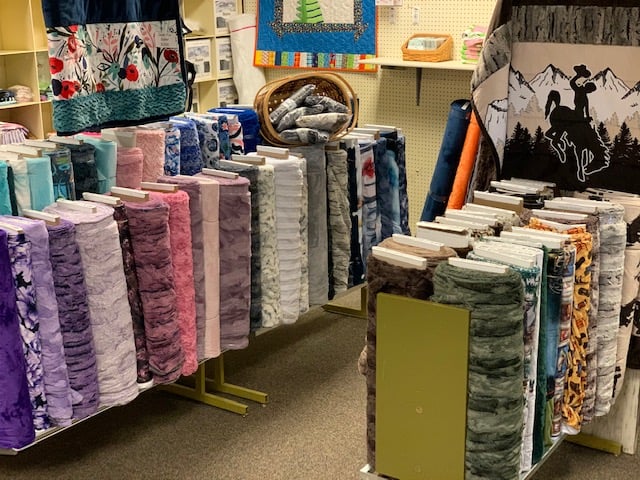 SF: Do you sell online?
VFS: Yes, we do. We have been selling online for six years and the one thing we have learned is, if you advertise something online, make sure you have the product on hand.
SF: What projects are on the "must make" list right now in your shop?
VFS: Decorative zippers and what you can make with them. Design our Saturday Samplers for 2021 (five quilts total). Make our Row by Row quilts with our Wyoming cowboy designed panel.
SF: What do you love most about creating (or seeing customers create) DIY projects with the fabrics you sell?
VFS: Seeing the happiness in our customers' eyes when they see a finished project, along with the sparkle in their eyes when they tell us of the joy that they had giving their creation to someone.
SF: What current quilting, sewing or crafting trends inspires you? Where do you get your inspiration?
VFS: We strive to be on top of all current trends by attending National Quilt Market, getting information from salespeople and inspiration on social media.
SF: What's next for your shop?
VFS: We would like to design a line of fabric.
SF: Is there anything else you would like us to know or share about Valley Fabric Shop?
VFS: We have been featured in the Spring/Summer edition of Quilt Sampler Magazine! We are also known for our samples and displays. There are "too many too count" and that is A LOT of samples.

If you have any questions about Cuddle® minky plush fabrics or any of our Cuddle® Kits, feel free to contact our friendly, no-pressure customer service team at 866-624-5252.
Ready to start creating with Cuddle® minky fabric? Use our store locator to find a selection of Cuddle® minky fabric online or near you.