We're excited to share our year-long Q&A series featuring exemplary quilt and fabric shops all around the country that sell Shannon Fabrics products. To nominate a shop in your area, please let us know in the comment section below. #shoplocal
With a focus on modern quilters and makers, Blue Bar Quilts has become a staple for creatives in the greater Middleton, Wisconsin community over the the past few years! Not only do they feature local Wisconsin pattern designers and stock a wide range of notions and fabrics, but they also offer classes in quilting and sewing projects and techniques.
This summer, our National Educator Teresa Coates (and Hawke, of course) will be stopping by on her Sew Together Tuesday tour to broadcast LIVE from the Blue Bar Quilts shop floor (she'll be teaching a few workshops, too)! Click here for all the details.
To learn more about and see the latest from Blue Bar Quilts, visit their website, stop by their shop at 6333 University Avenue, Middleton, Wisconsin, 53562, give them a call at 608-284-9299 or email owner Gael Boyd at bluebarquilts@gmail.com.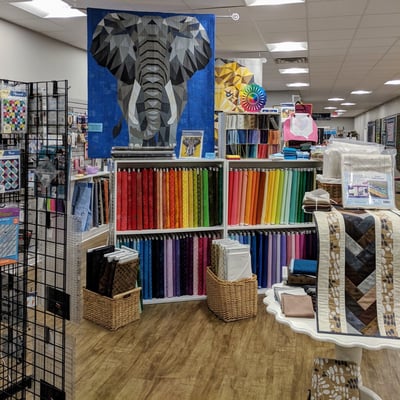 SF: What's the history of Blue Bar Quilts?
BBQ: We have been in business for four years. We opened after a previous local shop closed due to the owner retiring. We wanted to fill the void left in our local quilting community by becoming a gathering and teaching space for quilters and fiber artists and providing fabrics, notions, patterns, etc. with a focus on the modern aesthetic and basics that would appeal to quilters of all stripes.
SF: How has your shop evolved over the years?
BBQ: We are still a very new shop and have always had a modern focus in hopes of attracting a younger clientele that will be our customers for many years to come.
SF: Tell us one thing people might not know about Blue Bar Quilts.
BBQ: We have an in-store gallery where we display quilt and fiber arts shows and we have a dye studio on site.
SF: What's your shop's motto or tagline?
BBQ: Modern. Quilting. Community.
SF: Describe your shop's aesthetic in five words or less.
BBQ: Modern focus and fantastic basics.
SF: What's unique about Blue Bar Quilts?
BBQ: Our shop is spacious and well organized with a great selection of solids, shot cottons, basics and a color wall with a fantastic selection of quilting cotton blenders.
SF: What is your best-selling Shannon Fabrics product?
BBQ: Extra Wide Solid Cuddle 3® 90 for quilt backing.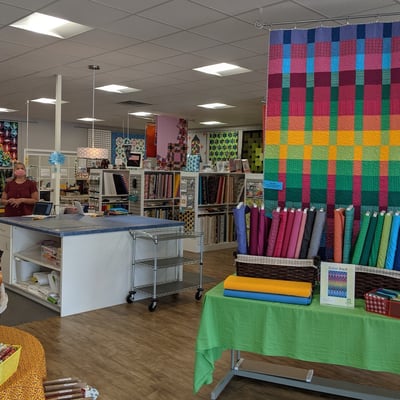 SF: Do you sell online?
BBQ: We have sold online for approximately 2.5 years although the majority of our customers are local and shop in-store. Our online exposure increased tremendously during the pandemic quarantine starting in March 2020. Selling online saved our business during this period.
SF: What top projects are on the must-make list right now in your shop?
BBQ: Self-Binding Cuddle® Blanket, Scout Tee in upper size range with bust darts made with Embrace®, Backyard Party quilt made with Tula Pink Daydreamer, Colorblock Flowers quilt made with RSS Speckled, Sandhill Sling made in Essex Linen.
SF: What do you love most about creating (or seeing customers create) DIY projects with the fabrics you sell?
BBQ: The unique color and fabric combinations and enthusiasm that our customers have when starting a new project and then when they bring their finished projects in for show and tell.
SF: Where do you get your inspiration?
BBQ: Honestly, I depend on my staff and customers for inspiration. I listen to those around me to guide me on what to stock in the shop. When I do get the opportunity to create something not for the shop, my personal inspirations come from travel, art, current events, friends and family.
SF: What's next for Blue Bar Quilts?
BBQ: We are beginning to start up our in-person classes and gallery shows again. We will continue to post and broadcast on social media and hope our online sales will continue to increase over time.
SF: Is there anything else you would like us to know or share about you or your business?
BBQ: We pride ourselves on customer service. We cut fat quarters on demand and are willing to curate a custom kit for the pattern of your choice.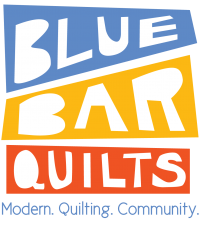 If you have any questions about Cuddle® minky plush fabrics or any of our Cuddle® Kits, feel free to contact our friendly, no-pressure customer service team at 866-624-5252.
Ready to start creating with Cuddle® minky fabric? Use our store locator to find a selection of Cuddle® minky fabric online or near you.