One of the great things about Cuddle® minky plush fabric is how versatile it is — it can be used in sewing projects ranging from a luxurious robe for grandma, all the way to burp cloths for the littlest of ones.
This week for Sew Together Tuesday, we've put together a must-have project for the special babies in your life. Affectionately called the "Lullaby Quilt" (download the free pattern, below), this 28" x 41" quilt makes a perfect gift that will be cherished for generations.
See Related: How to Make a Cuddle® Play Crib Sheet
Simply choose your favorite Cuddle® prints and colors for this fun quilt, and the stitch-and-flip construction makes it easy — even for the novice sewist. Join Teresa LIVE from Blue Bar Quilts as she shares her tips and tricks for making this oh-so-irresistible quilt.
Happy sewing!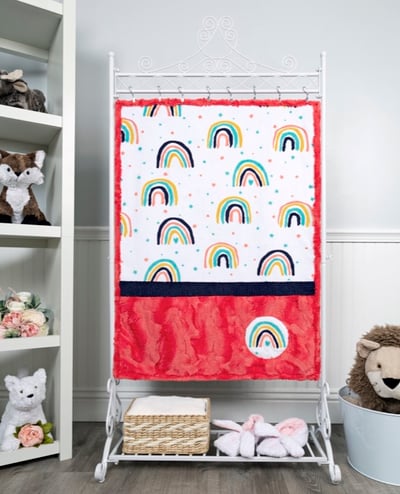 Stuffed Animal Patterns (Mickey Moose, Fifi Fox, Patch Pussy Cat, Larry the Lion) by Funky Friends Factory; Adult Sleeper Slippers pattern by Mckay Manor Musers
Fabrics, notions and supplies you'll need to make a Cuddle® Lullaby Quilt
These products and fabrics can be substituted for whatever you have on hand, but here is what Teresa recommends for her Lullaby Quilt tutorial:
Fabrics:
After the Rain Cuddle® Watermelon (Main: 29" x 42")
Luxe Cuddle® Hide Watermelon (Contrast: 13" x 29"; Binding: 6" x width of fabric; Backing: 30" x 42")
Luxe Cuddle® Chenille Navy (Band: 3" x width of fabric)
Notions:
45mm rotary cutter - OLFA or blade (SAC-1 - OLFA)
90/14 stretch machine needle - SCHMETZ
Basting spray (ODIF 505)
Batting, optional
Fabric clips - (Wonder Clips - Clover)
Felt tip marker
Flower head pins - Clover
Micro serrated scissors - Famore
Polyester thread - (Metrosene - Mettler)
Self-healing cutting mat - OLFA
Stiletto and pressing tool - ByAnnie
Walking Foot
Tips for making a Cuddle® Lullaby Quilt
Use ODIF 505 basting spray to keep fabric flat and where you want it!

Adding Pellon SF101 Shape-Flex woven fusible interfacing to the back of your appliqué will give it body and make it less likely to pucker.

Choose a Cuddle® print and couple of Luxe Cuddle® colors to create your own version!

Make sure to double pin strips to hold them in position when sewing.

For an in-depth tutorial on using Cuddle® for a quilt binding, click here

.
Video: How to make a Cuddle® Lullaby Quilt
Mark your calendar — as part of Sew Together Tuesday, Teresa will be going LIVE on the Shannon Fabrics Facebook page and YouTube channel at 10 am PDT on August 3 to share her tips on how to make a Cuddle® Lullaby Quilt.
Can't make it? Check back here at 12 pm pacific after her live video concludes for the embedded on-demand video.
Free downloadable Cuddle® Lullaby Quilt sewing pattern
Click here or the "Download Now!" button below to download and print our free "Lullaby Quilt" sewing pattern (designed by Shannon Fabrics National Educator Teresa Coates).

If you have any questions about Cuddle® minky plush fabrics or any of our Cuddle® Kits, feel free to contact our friendly, no-pressure customer service team at 866-624-5252.
Ready to start creating with Cuddle® minky fabric? Use our store locator to find a selection of Cuddle® minky fabric online or near you.