Let's face it — quilt making can be a lot of work. From figuring out the layout through trial and error (math, anyone?), to cutting out all the strips, there's a lot that goes into making a quilt.
While we're obviously big fans and advocates of quilt making (and using Cuddle® minky fabric for quilts, especially), there's something nice about occasionally streamlining the process. Our friends over at June Tailor have created a collection of sew-by-number quilt battings that have patterns printed directly on the cotton/poly material to alleviate a bit of the planning headache.
SEE RELATED: How to Sew a Cuddle® Minky Fabric Pillowcase (Pillowcase Pattern & Video Tutorial)
With the design already laid out, these 40" x 50" quilts can be finished with as few as 14 seams and, of course, a little bit of love.
This week, as part of our Sew Together Tuesday video series, our National Educator Teresa Coates shows us how to create a quick-and-easy quilt out of Cuddle® minky fabric using pre-printed batting! Note she used the "Sophisticated Strips" version in the Quilt As You Go pattern collection, but there are several others to choose from depending on what piques your interest.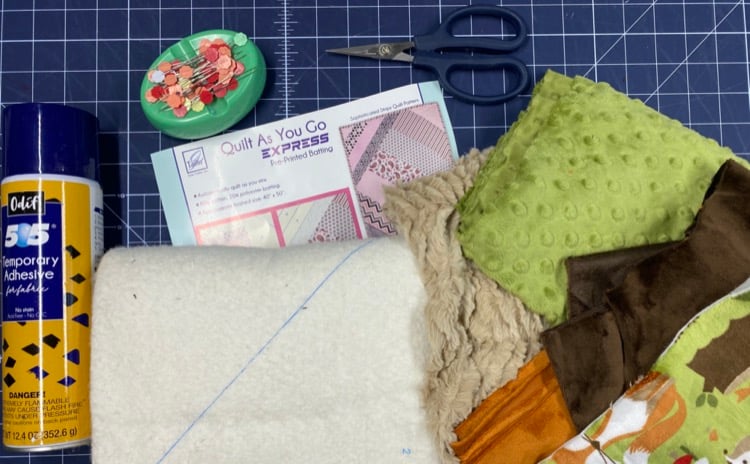 What you'll need to use pre-printed batting to make a quilt
Here are the fabrics, notions and supplies Teresa recommends (and used in her video) when using pre-printed batting to make a Cuddle® minky fabric quilt. Please note these are just suggestions and can be swapped out for whatever you have at home or whatever your local shop or online retailer has in stock:
12 pre-cut 10" strips (Cuddle®, Luxe Cuddle® or a combination)
1 ½ yds backing fabric (Cuddle® or Luxe Cuddle®)
Long flower-head pins (Clover recommended)
Basting spray (ODIF 505 Temporary Adhesive recommended)
Fabric clips (Wonder Clips recommended)
Polyester thread (Mettler or Superior Threads recommended)
90/14 stretch needles (SCHMETZ recommended)
45mm rotary cutter with new blade
Snips

(Famore recommended)

24"+ acrylic ruler
Things to keep in mind when using pre-printed batting to make a quilt
Be mindful of the nap when you cut out the pieces and place them
Use double pinning (through all layers) to hold in place while sewing
You can use a ¼" seam allowance as directed, or use a ½" seam allowance if easier — it will change the size of the blocks/strips, but it works fine
After sewing, spray baste each block/strip in place with ODIF 505 spray
For more tips on making Cuddle® strip quilts, get our tip sheet (Stitch and Flip)
How to Use Pre-Printed Batting to Make a Quilt
Part 1
Part 2
If you have any questions about Cuddle® minky plush fabrics or any of our Cuddle® Kits, feel free to contact our friendly, no-pressure customer service team at 866-624-5252.
Ready to start sewing? Use our store locator to find a selection of Cuddle® minky fabric online or near you.