We're excited to share our year-long Q&A series featuring exemplary quilt and fabric shops all around the country that sell Shannon Fabrics products. To nominate a shop in your area, please let us know in the comment section below. #shoplocal
When this mother and daughter duo opened Backdoor Quilt Shoppe back in 2002, they had no idea just how busy they'd become! Servicing the greater Billings area, their shop is super popular not just for their expansive selection of novelty and traditional fabrics, but for their classes as well. They're even a certified shop and instructor for Quiltworx!
This summer, our National Educator Teresa Coates (and Hawke, of course) will be stopping by on her Sew Together Tuesday tour to broadcast LIVE from the Backdoor Quilt Shoppe shop floor (she'll be teaching a couple workshops, too)! Click here for all the details.
To learn more about and see the latest from Backdoor Quilt Shoppe, visit their website, stop by their shop in Billings, MT, give them a call at 406-655-1001 or email owner Lauren Rogers at lauren525@earthlink.net.
SF: What is the history of your shop?
BQS: We opened our shop in October 2002 as a mom/daughter adventure. We do laugh about opening as my mom thought that I needed to have more family time with two young children. How wrong we were as lots of hours go into running a shop! There were only two shops available in our area at the time and only one of them was primarily quilting. We felt that Billings had a great draw from outer areas and so it would be a good fit. We like to focus on traditional as well as novelty fabrics although we do venture out of the box on occasion and bring in something unexpected. My mom and I have been in the fabric industry for lots of years!
SF: How has your shop evolved over the years?
BQS: In January 2020 we downsized from 5000 square feet to 2500 square feet. This was in part due to a change in ownership of our building and because of all the travel I had been doing in 2019 and fully expected to continue in 2020. It has been a blessing to be a bit smaller as far as staffing during the pandemic. We still manage to have lots of fabric, just not all the furniture we once had. We carry several patterns from local designers and we're also a certified shop/instructor for Quiltworx.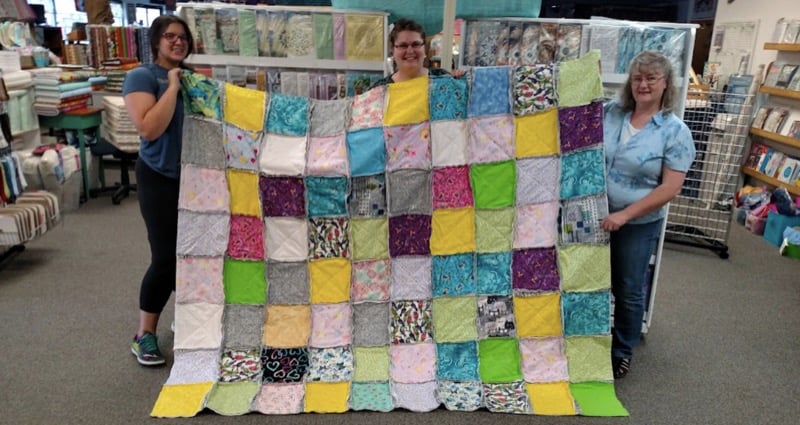 SF: Tell us one thing people might not know about your shop.
BQS: We have an official jingle for our shop that was part of an advertising package early on when we first opened.
SF: What's your shop's motto or tagline?
BQS: "You're among friends at Backdoor Quilt Shoppe"
SF: Tell us one thing people might not know about your shop.
BQS: Friendly and helpful
SF: What's unique about your shop?
BQS: We are a certified shop for Quiltworx and I'm a certified instructor. We carry a full range of her patterns. We also have a large selection of batik fabrics.
SF: What is your best-selling Shannon Fabrics product?
BQS: Basic Cuddle® although the more 90" wide we bring in, the more we are selling.
SF: Do you sell online? If so, how long have you been selling online and what have you learned?
BQS: We have a full website — we established the website within the first couple of years of opening the shop (it's hard to remember exactly when). The biggest lesson is that it's a full-time job to also have a website so we do our best to put everything on the website as soon as it arrives.
SF: What top projects are on the "must make" list right now in your shop?
BQS: Three-yard quilt samples, Wee Ones kit, and stuffed animals with Cuddle®
SF: What do you love most about creating (or seeing customers create) DIY projects with the fabrics you sell?
BQS: The color combinations as well as how "out of the box" some people get. I can always see the wheels turning in their minds as the process evolves.
SF: What current quilting, sewing or crafting trends inspires you? Where do you get your inspiration?
BQS: I'm always looking at free projects that are offered from the manufacturers, ideas from the sales reps when we order fabrics, landscaping as we travel, a little bit here and there as well as just a simple mention of an idea will send me in different directions. Sometimes it's the brainstorming when helping a customer create their project.
SF: What's next for your shop?
BQS: We are going to be back to a full schedule of classes this fall including retreats. I'm excited to be able to get back to a full and fun atmosphere in the store and sharing inspiration and knowledge with fellow quilters.
SF: Is there anything else you would like us to know or share about you or your business?
BQS: We just have kept evolving over the past 19 years and are looking forward to all the fun new items being released. We are very excited to be able to host Sew Together Tuesday in September.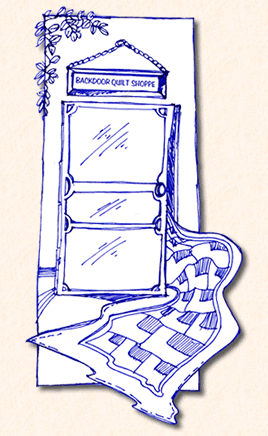 If you have any questions about Cuddle® minky plush fabrics or any of our Cuddle® Kits, feel free to contact our friendly, no-pressure customer service team at 866-624-5252.
Ready to start creating with Cuddle® minky fabric? Use our store locator to find a selection of Cuddle® minky fabric online or near you.