We're rolling out the red carpet (or rather, Cuddle® carpet) this week for Sew Together Tuesday!
Our National Educator Teresa Coates will be joined on the road by two very special guests, Shannon Fabrics Brand Ambassadors Ajaire Parello and Bianca Springer, to talk all things apparel and Cuddle® minky fabric.
See Related: How to Make a Luxe Cuddle® Stole
Both have been sewing with Cuddle® for years, and will suggest some of their favorite patterns, their tips they've learned while creating apparel with Cuddle® and share some of their beautiful, must-see finished pieces.
This is one Sew Together Tuesday you don't want to miss!
Image above: Collar - Luxe Cuddle® Llama Rosewater - Cedar Coat & Cardi - Designs by Call Ajaire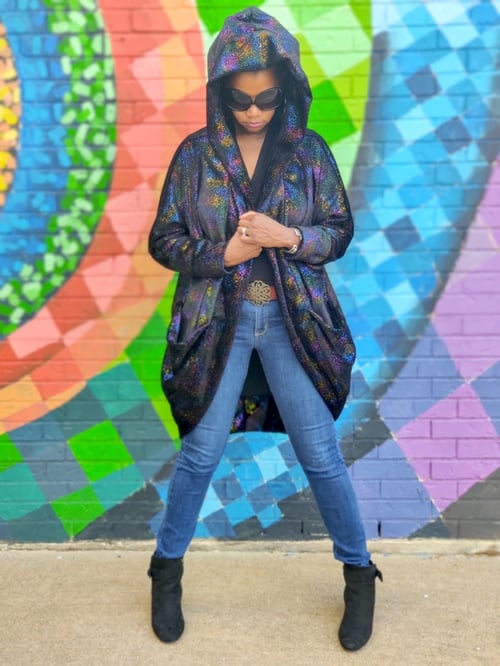 Sparkle Cuddle® Glitter Black/Multi - Unlined Cocoon Cardigan (Simplicity #S8740)
Apparel Sewing Tips for Cuddle® Minky Plush Fabric
Ajaire:
Use a pattern without tiny, finicky pieces OR use a different type of fabric for the small bits that will pair with Cuddle®
When sewing Cuddle® to a different fabric, keep the Cuddle® on the top side if possible so that the walking foot can help keep it from shifting
Use the long flower head pins at a diagonal, with the head sticking off the edge of the seam allowance – many clothing seams are short distances and curved areas which make it tricky to use the double pinning along the seam method
For short seams where the fabric may want to shift, pin over the edge as above AND pin in the direction of the seam past the seam allowance where those pins can stay during the stitching as with the double pinning method
Use a serger for any patterns which require stretch – a stretch stitch (lightning bolt) on a regular machine will give the necessary stretch, but the serger will make it easier to keep the fabric from shifting vs all of those tiny stretch stitches
If you have a directional Luxe Cuddle® fabric, you can add a seam to keep the fabric facing the correct direction as it comes around the body (as with the shawl collar of the mackinaw or cedar coats) and then fluff the fabric with a stiletto to hide the seam
Cuddle® 3 is excellent for coat linings and pocket linings
Add a seam about two inches from the edge of a pocket pattern piece to add a facing to a standard inseam pocket. This allows you to have the super soft Cuddle® inside the pocket without seeing it from the outside.
When using a Luxe Cuddle® with another type of fabric, fluff the edges where the two fabrics meet to maximize the effect of the Luxe Cuddle®
Use snaps or zippers instead of buttons. Buttons can be used, but zippers and snaps are much simpler and they make lovely snaps these days
Opt for cuffs or bindings instead of bands at the neck or wrist. Bindings can be sewn from the wrong side, wrapped around and then topstitched in place using a zigzag similar to binding a blanket with Luxe Cuddle®
Bianca:
When working with Cuddle® fabric that has a thick pile, trace the pattern on the backside of the fabric
Use a sewing scalpel to cut through the backing only to separate the pieces (this does not result in blunt fiber edges and it reduces the Cuddle® dust produced)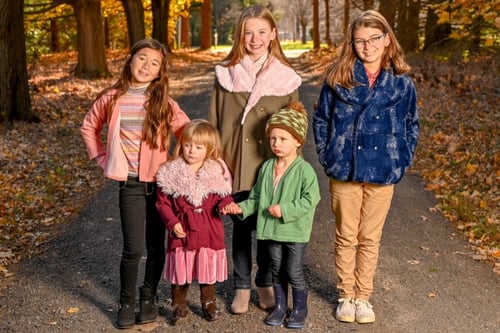 Favorite Apparel Patterns for Cuddle® Minky Plush Fabric
Ajaire and Teresa have listed a few of their favorite patterns below, and click here for a complete list of our FREE downloadable Shannon Fabrics apparel and accessory patterns.
Ajaire:
Use code SHANNON at checkout for 20% off Ajaire's patterns through Tuesday, February 22!
Teresa: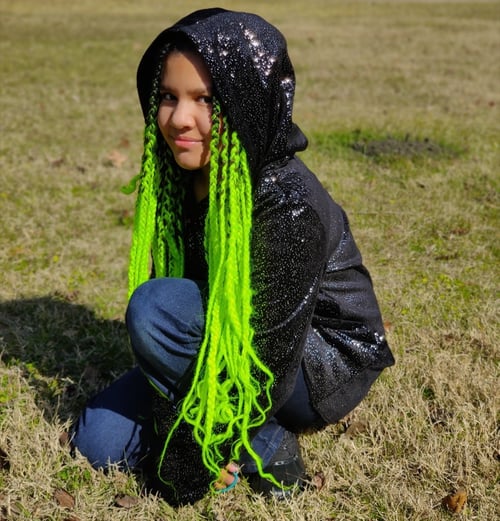 Sparkle Cuddle® Glitter Black/Silver - Hoodie (Simplicity #S9210)
Let's meet our guests this week!
Bianca Springer
Bianca Springer is an island girl born and raised in the Bahamas, who currently lives with her family in Pearland, TX. Bianca is primarily a garment sewer with a love of retro patterns from the '60s, '70s and today. She chooses simple and fun silhouettes that serve as the perfect foundation for the bold prints and colorful fabrics that make her heart sing.
She loves experimenting with new techniques and constantly asks the question, "I wonder what will happen if?" and "Why sew boring?". With her passion for sewing, she acknowledges the tedium of cutting patterns and fabric. To increase the efficiency and speed of the process, she makes and sells decorative sewing pattern weights in a range of designs.
You can find Bianca in print, as a contributor and designer for Sew News Magazine and Creative Machine Embroidery Magazine.
Ajaire Parello
An avid sewist and crafter for over 30 years and the sole creator at Call Ajaire since 2009, it wasn't until her oldest daughter was born in 2011 that she found an outlet for her creative ideas and the focus of Call Ajaire shifted to sewing and fashion inspiration for young girls.
In 2015 she opened a pattern shop called Designs by Call Ajaire (DbCA) with patterns that are designed to help build sewing skills and confidence. Each pattern listing has skill-builders listed so if you're looking to learn something new you are able to choose those options.
This along with free patterns and tutorials on the Call Ajaire blog continue to feed her passion for helping others elevate their sewing.
Click here to learn more about all of our brand ambassadors.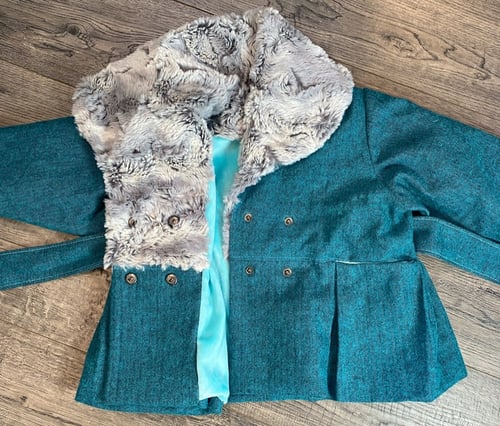 Collar: Luxe Cuddle® Wild Rabbit Silver - Lining: Cuddle® 3 Aruba - Mackinaw Coat, Designs by Call Ajaire
Free Download: Apparel Sewing Tips for Cuddle® Minky Plush Fabric
Click here or the "Download Now!" button below to download and print Teresa's free apparel sewing tip sheet!

If you have any questions about Cuddle® minky plush fabrics or any of our Cuddle® Kits, feel free to contact our friendly, no-pressure customer service team at 866-624-5252.
Ready to start creating with Cuddle® minky fabric? Use our store locator to find a selection of Cuddle® minky fabric online or near you.