Hi I'm Ajaire from Call Ajaire and I'm excited to share some of the tips I have for working with both Cuddle® 3 and Luxe Cuddle® when sewing a coat!
My Mackinaw Coat pattern (click here to learn more and purchase) has a dramatic collar view that is perfect for using one of the gorgeous Shannon Luxe Cuddle® fabrics. For this one, I used Luxe Cuddle® Wild Rabbit in the color Silver Lining and it's such a show-stopper!
Mackinaw Coat Lining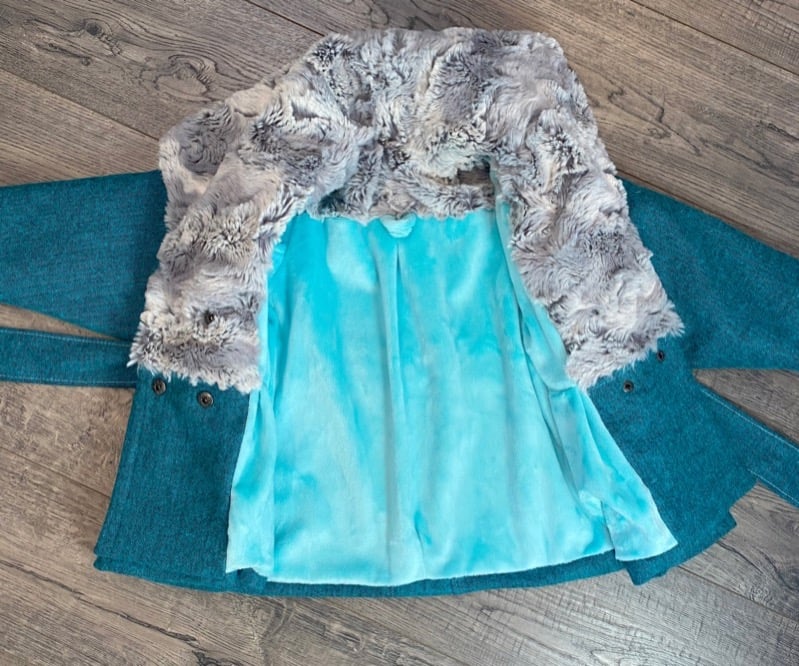 For the lining I used Cuddle® 3 in Aruba to help bring out some of the greenish-blue flecks in the wool outer coat. This lining is so soft and cozy that my two-year-old was wearing it around the house hugging herself for ages after trying it on.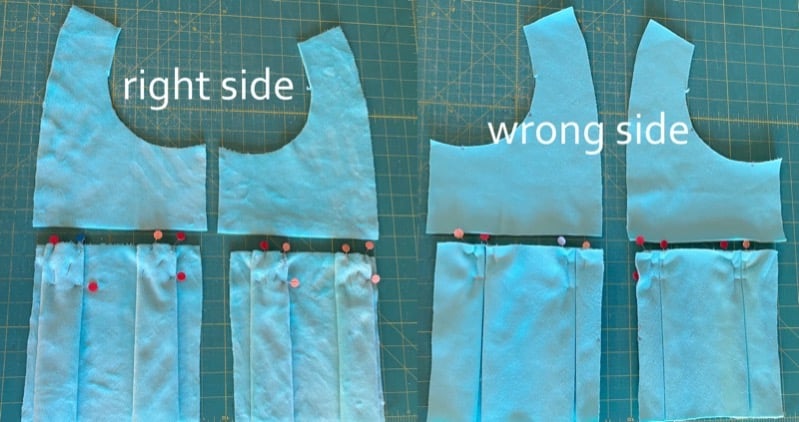 Mackinaw Coat Pleats
It may seem daunting if you're new to sewing fully-lined coats, but I promise you that by working step-by-step with the pattern, you'll get a stunning finished coat in less time than you'd think.
My number one tip — as with any project using Cuddle® — is to take the time to pin, pin and pin. In this step I've pinned the lining pleats both along the seamline as well as a second pinning through the pleats further down.
When basting the top edge, these extra pins will help keep the Cuddle® fabric from wanting to shift or stretch. Otherwise, Cuddle® 3 is so easy to work with that there aren't any other major tips I have for it other than the standard ones we all know and love: use a Stretch 90/14 machine needle, flower head pins, walking foot and polyester thread.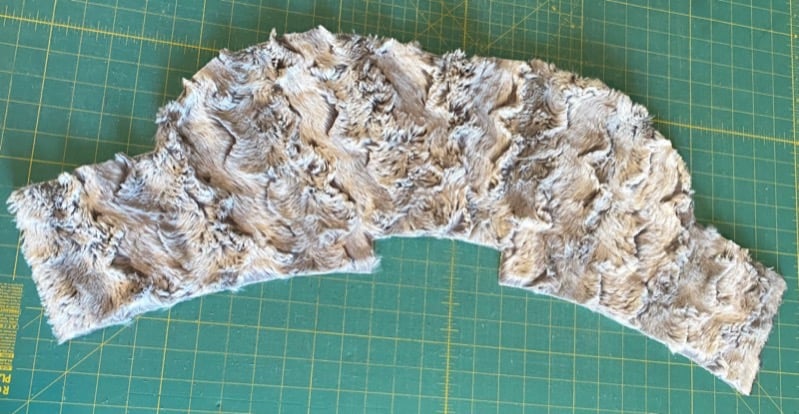 Pinning Techniques
Luxe Cuddle® is a little trickier, but I found a few techniques that helped me a ton and they're easy to implement. I start by using the same tips from above for Cuddle® 3 and add three more for the high pile of the Luxe: 1. extra pinning, 2. tucking in the pile while you're pinning and, 3. using a stiletto to fluff the seams.
At this point we're aware of how important it is to use lots of flower head pins, but one thing I like to do with Luxe Cuddle® is to use my finger to tuck the longer pile in between the layers as I'm pinning. If they are sticking outside of the raw edge, then when the seam is sewn, those fluffy bits will be caught inside the seam allowance. By tucking them in, there is less chance that the fibers will be caught by the stitching.

Fluffing the Seams
Even with the tucking tip, some of those long fibers will be caught in the seam. Running a stiletto along the seamline will gently pull those fibers free, which creates the "after" look above. Luxe Cuddle® appears to float alongside the wool, whereas in the "before" it looks like they're being forced to coexist. This fluffing is a tip often used with Luxe Cuddle® and here it really is evident what a difference it makes.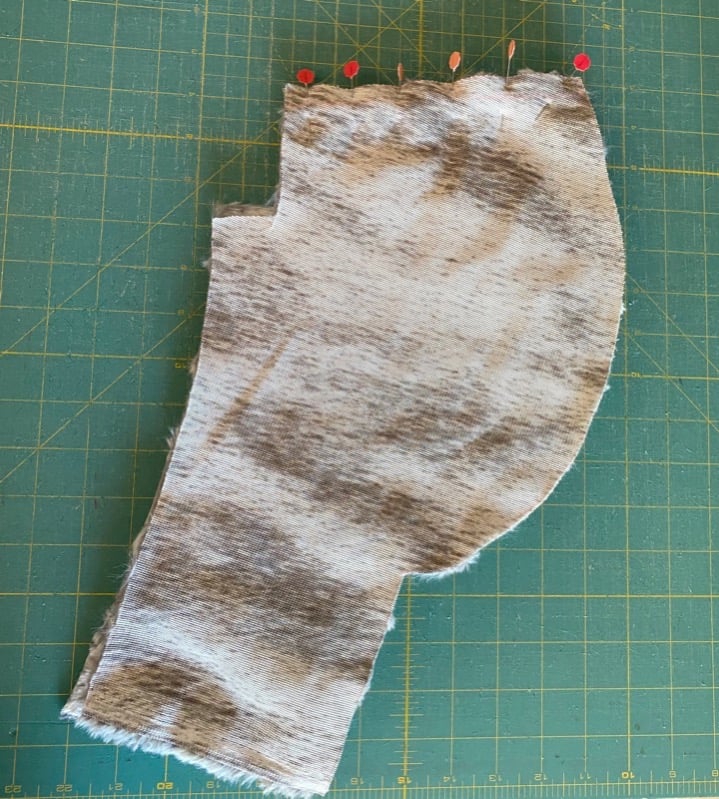 One of the coolest things about using Luxe Cuddle® and the seam fluffing techniques is that you can hide a seam very easily. In my Mackinaw Coat pattern, the facing is supposed to be cut on the fold so that it is one solid piece. This is so that the statement collar can really shine and not have an ugly seam running down the back, but it also means that when the fabric is positioned correctly on the grain and on the fold, the cutout shape leaves behind fabric that isn't as easily used for another project (think about when you cut fabric on the bias for a project and how the leftovers are odd triangles).
Since I was using Luxe Cuddle®, I simply cut two pieces on the grain, adding a seam allowance where they could be joined — thus maximizing the leftovers for another day.

Seaming Two Pieces
Once I sewed the two pieces together, I finger pressed the seam on the wrong side. I then flipped the piece over and the seam already was barely even noticeable. I lined up the seam with the yellow line on my cutting mat so that it would be easy to see where the seam should be, but the seam was almost hidden. I used the stiletto to fluff the seam and it turned out just perfect.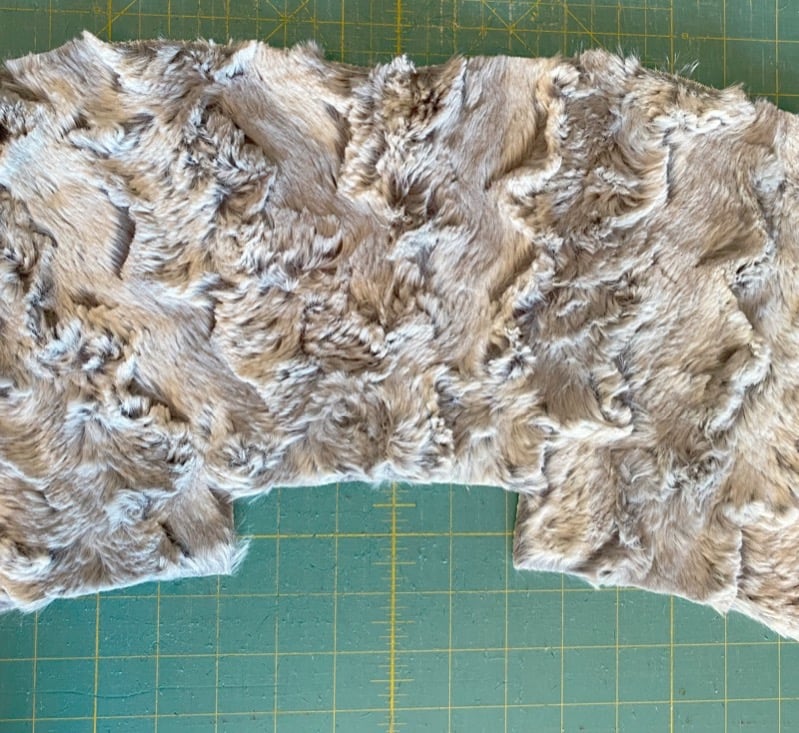 You'd never be able to tell that this was two pieces sewn together to make one large facing, which is mind blowing. It's so fun sewing with Luxe Cuddle® and Cuddle® 3 and I hope you're inspired to sew a coat yourself, using these few simple tips.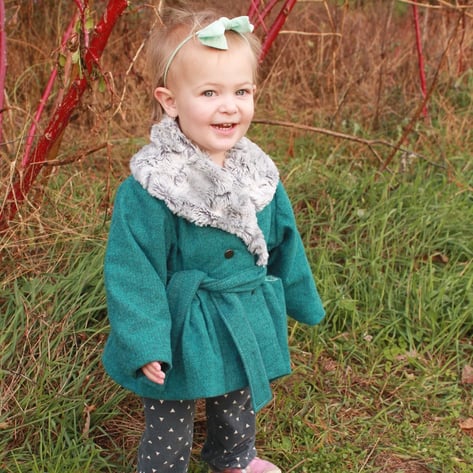 If you have any questions about Cuddle® minky plush fabrics or any of our Cuddle® Kits, feel free to contact our friendly, no-pressure customer service team at 866-624-5252.

Ready to start creating with Cuddle® minky fabric? Use our store locator to find a selection of Cuddle® minky fabric online or near you.