We're excited to share our Q&A series featuring exemplary quilt and fabric shops all around the country that sell Shannon Fabrics products. To nominate a shop in your area, please let us know in the comment section below. #shoplocal
When the local quilt shop closed after being in business for 25 years, Mark and Laurie Cohen seized the opportunity to take their passion to the next level and open their own! Located just one block off the famous square in historic Granbury Texas, Sew Much Love has quickly grown to offer everything from high quality quilt fabrics, classes for both beginner and advanced quilters and longarm quilting services.
This winter, our National Educator Teresa Coates (and Hawke, of course) will be stopping by on her Season 8 Sew Together Tuesday tour to broadcast LIVE from the Sew Much Love shop floor (she'll be teaching a couple workshops, too)! Click here for more details and our complete Season 8 schedule.
To learn more about and see the latest from Sew Much Love, visit their website, stop by their shop in Granbury, Texas, give them a call at 817-754-8877 or email owners Mark and Laurie Cohen at SewMuchLoveTexas@gmail.com.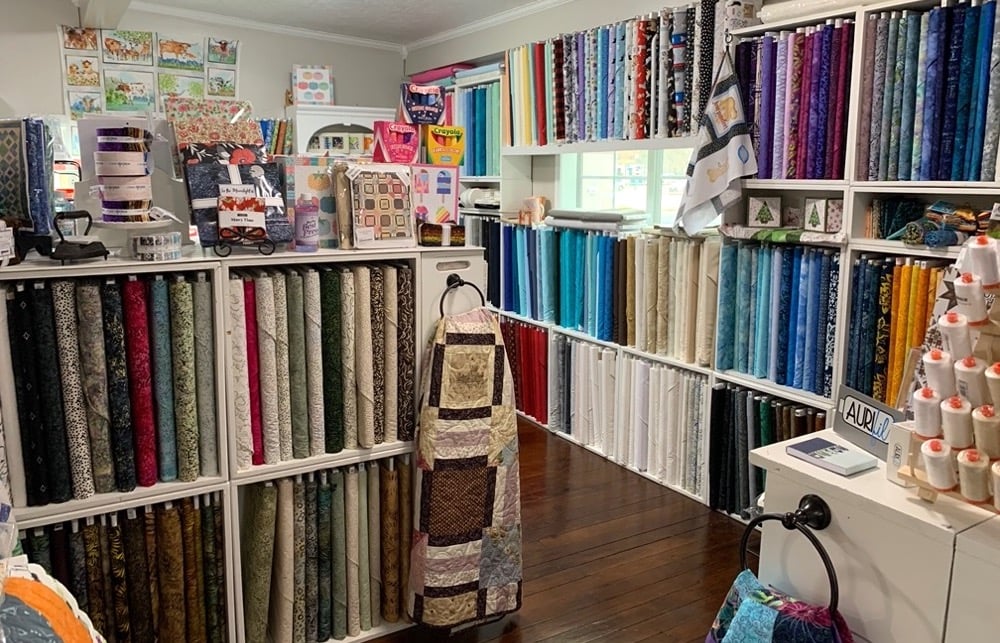 Shop Spotlight: Sew Much Love
SF: What's the history of Sew Much Love?
SML: We bought our building in January 2019 and had our grand opening for Sew Much Love on July 4, 2019. We are located one block off the historic square in Granbury. Granbury has been named USA Today's Best Historic Small Town in America for the past three years, so it is a great place to visit.
The local quilt store that had been on the square for 25 years had closed and we decided it was a great time to move and start our own quilt store. We offer fun, brightly colored fabrics and of course, lots of Cuddle® fabric. We are a full-service quilt store offering a large variety of high quality quilt fabrics and notions, lots of quilt classes and longarm services which also includes rental of our longarm so customers can finish their own quilt tops. We make custom t-shirt quilts, memory quilts and any other types of quilts our customers are needing.
We are also proud to sell Baby Lock Sewing machines. We feel very blessed to have a business in such a welcoming community as Granbury and to be a part of the amazing quilting industry.
SF: How has your shop evolved over the years?
SML: Many things have changed in our young life as a quilt store. We were only seven months old when we had to shut our doors for the pandemic. This was a blessing in disguise. We were forced to improve our website, which has increased our online sales ever since the start of the pandemic. Our fabric inventory has more than tripled in size. The variety of classes we offer has increased. We have also started creating our own kits with the lovely fabric collections we receive. Many of our kits come with the backing which always makes our customers smile!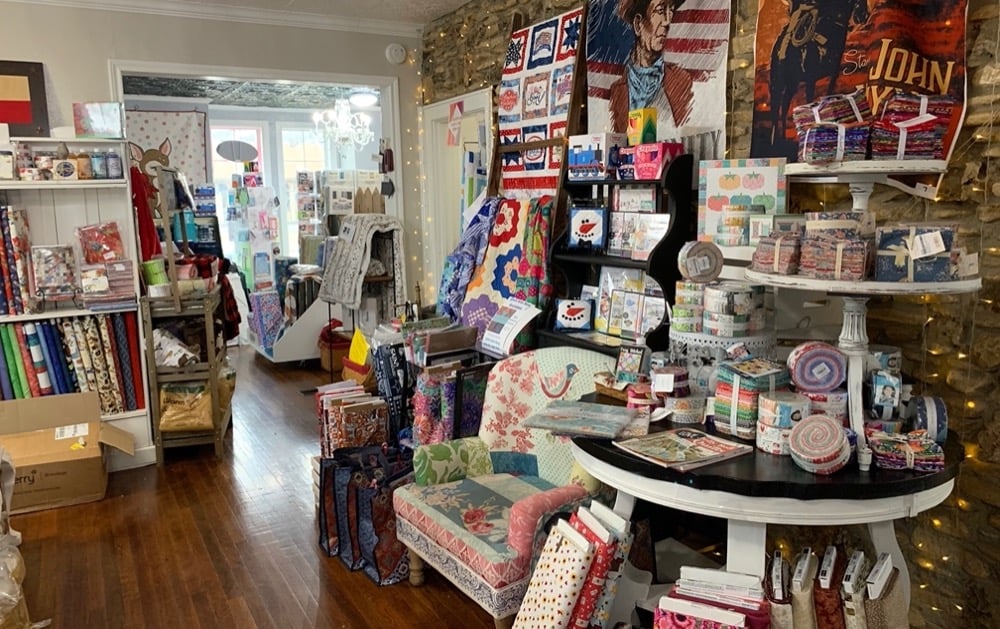 SF: Tell us one thing people might not know about your shop.
SML: We have a shop dog, Beau, who is a Papillon and is also a certified service dog for one of the owners. He is always here to greet customers. Sometimes you might also find two other fur babies (Penny & Bandit) behind the front counter hanging out for the day.
SF: What's your shop's motto or tagline?
SML: Sewing Love with Every Stitch
SF: Describe your shop's aesthetic in five words or less.
SML: Bright, Cheery, Love, Faith and Happiness
SF: What's unique about your shop?
SML: We are located in a historic house that was built around 1880 by one of the first doctors in Granbury (J.R Lancaster).
SF: What is your best-selling Shannon Fabrics product?
SML: We use a lot of Shannon Fabrics on the back of our quilts. We sell tons of Luxe Cuddle® and 60 and 90 inch Cuddle® 3. Customer are always amazed at how good it looks on the back of quilts and how luxurious it feels!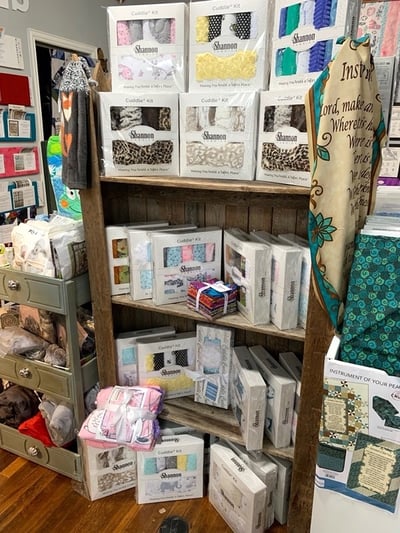 SF: Do you sell online? If so, how long have you been selling online and what have you learned?
SML: We have been selling online since day one. We have noticed a steady increase in our online sales. We have learned to keep our customers happy by working hard to ship out the same day they order. We find that majority of our customers receive their orders within one to three days of purchase.
SF: What top projects are on the must-make list right now in your shop?
SML: Our Heavenly Spring Quilt using Kathleen McEwlaine's watercolor quilt block art pieces is perfect for spring! Also, our two Belle Isle quilt kits are great. One of our customers' favorites is our Barn Star Quilt which we use in our beginning quilt class. It's perfect for beginners and for anyone needing a quick project with beautiful results!
SF: What do you love most about creating (or seeing customers create) DIY projects with the fabrics you sell?
SML: We feel so blessed to be a part of so many amazing projects. We find ourselves getting extremely emotional with customers (friends). Every quilt has a story and we love hearing these stories.
Quilts are so much a part of many different times in our lives (birthdays, anniversaries, weddings, welcoming new babies, celebrating grandbabies and comforting friends when undergoing difficult times), not to mention the t-shirt quilts that hold so many memories and the memory quilts that comfort those who have lost a dear loved one. Our customers definitely sew with much love.
SF: What current quilting, sewing or crafting trends inspires you? Where do you get your inspiration?
SML: We try and listen to our customers. They bring us some amazing ideas.
SF: What's next for your shop?
SML: We will be building our online presence in the next year. We will be doing more live events and building up our YouTube channel which will include "how to" videos. We are planning on bringing in another longarm for rentals as well as a line of longarm machines that we can sell. We are always trying to stay on top of social media and improve our online presence.
SF: Is there anything else you would like us about Sew Much Love?
SML: We are a husband and wife team and absolutely love what we do. Our customers are inspiring and absolutely amazing!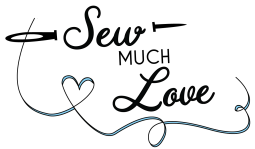 If you have any questions about Cuddle® minky plush fabrics or any of our Cuddle® Kits, feel free to contact our friendly, no-pressure customer service team at 866-624-5252.
Ready to start creating with Cuddle® minky fabric? Use our store locator to find a selection of Cuddle® minky fabric online or near you.