We're excited to share our Q&A series featuring exemplary quilt and fabric shops all around the country that sell Shannon Fabrics products. To nominate a shop in your area, please let us know in the comment section below. #shoplocal
The American dream is something we hold close to our hearts here at Shannon Fabrics. Not only does our business have humble roots as a small, family-owned operation, but most of the quilt and fabrics shops that carry our fabrics do as well.
None embody this better than Sew Yeah Quilting — they're a full-service quilt shop owned and operated by three brothers. With the idea to open a quilt shop originating as a joke by their mom, their business has grown to offer everything from fabrics and notions, to sewing and longarm machines, machine repairs and quilting services.
This winter, our National Educator Teresa Coates (and Hawke, of course) will be stopping by on her Season 8 Sew Together Tuesday tour to broadcast LIVE from the Sew Yeah Quilting shop floor (she'll be teaching a couple workshops, too)! Click here for more details and our complete Season 8 schedule.
To learn more about and see the latest from Sew Yeah Quilting, visit their website, stop by their shop in Las Vegas, NV, give them a call at 702-375-9235 or email co-owner Raymie Tippetts at raymie@sewyeahquilting.com.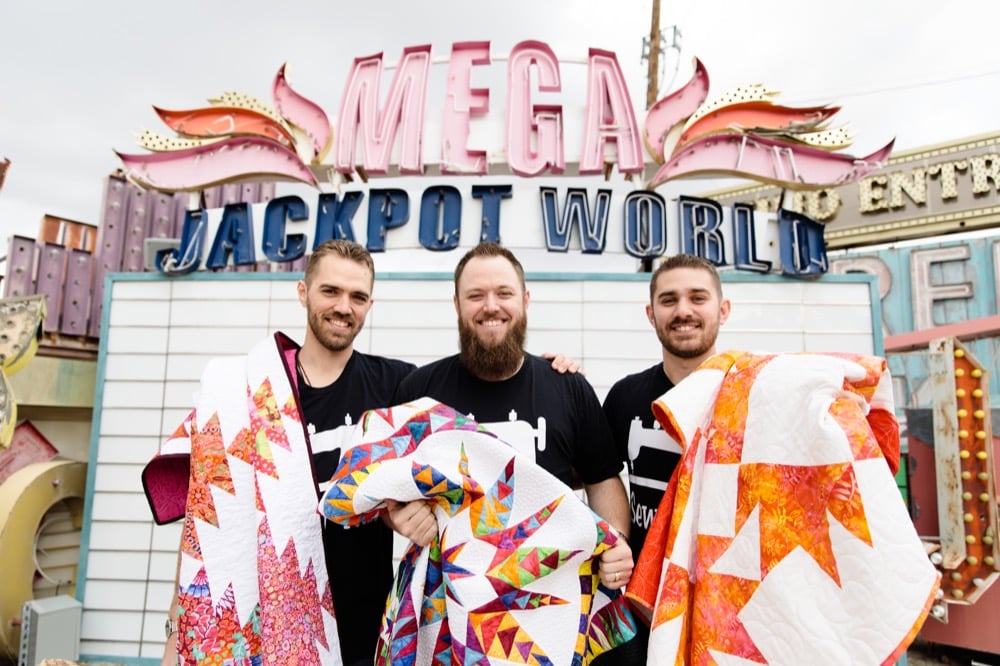 Shop Spotlight: Sew Yeah Quilting
SF: What is the history of your shop?
SYQ: For us it started around a kitchen table, finishing off the last of mom's pot roast, following a family Sunday dinner. Our mother, jokingly, brought up the idea of opening up a quilt store. She loves quilting, and saw a gap in the market in our area. After a lot of deliberation (and finishing the pot roast) we decided to open up Sew Yeah Quilting. We have always loved the American dream, and mom's quilting joke inspired us to become a part of the creative industry.
Mom's dinner joke soon became a reality — we opened a quilt store. However, none of us ever imagined that our little shop would grow into what it is today — an internationally-recognized operation serving seven countries (currently), with more growth to come.
We opened almost six years ago and have been growing ever since!
SF: How has your shop evolved over the years?
SYQ: What's really been evolving lately is our online/YouTube presence. When we originally opened, we barely had an online site. Now we're very proud of our website and YouTube channel where we have LIVE events twice a week.
We started the YouTube right as the pandemic hit. We realized how important it is for our customers to be able to get their fabric and some wholesome entertainment in the midst of these hard times.
SF: Tell us one thing people might not know about your shop.
SYQ: Surprisingly a lot of people don't know that we have a website and YouTube channel.
SF: What's your shop's motto or tagline?
SYQ: Sew Like A Pro
SF: Describe your shop's aesthetic in five words or less.
SYQ: There's something for everyone!
SF: What's unique about your shop?
SYQ: We always carry 10,000 bolts of fabric in stock along with the top notions, threads and machines to help you finish any project.
SF: What is your best-selling Shannon Fabrics product?
SYQ: Cuddle® Kits
SF: Do you sell online? If so, how long have you been selling online and what have you learned?
SYQ: YES! We've been online since the beginning but we just revamped our website!
SF: What do you love most about creating (or seeing customers create) DIY projects with the fabrics you sell?
SYQ: We love being able to see how creative people are. Sometimes we would've never thought of the projects that get brought into the store. We are very grateful to be able to learn so much from our customers.
SF: What current quilting, sewing or crafting trends inspires you? Where do you get your inspiration?
SYQ: The thing about us is that at work or in our free time we're always together. Sometimes the inspiration for our next project comes as we're watching a parade or taking the kids to the aquarium. Because we're all always together we have a lot of time to bounce raw and unedited ideas off each other.
SF: What's next for your shop?
SYQ: We are setting up and planning to travel around the country to teach at guild events
SF: Is there anything else you would like us to know or share about you or your business?
SYQ: We want to be your one-stop shop. We offer long-arm quilting services, machine repairs, machine sales, online sales, YouTube live sales and so much more. We hope you will visit us on our website, YouTube, social media and in-store.

If you have any questions about Cuddle® minky plush fabrics or any of our Cuddle® Kits, feel free to contact our friendly, no-pressure customer service team at 866-624-5252.
Ready to start creating with Cuddle® minky fabric? Use our store locator to find a selection of Cuddle® minky fabric online or near you.