We're excited to share our Q&A series featuring exemplary quilt and fabric shops all around the country that sell Shannon Fabrics products. To nominate a shop in your area, please let us know in the comment section below. #shoplocal
While many small businesses unfortunately closed their doors during the height of the pandemic, Bobbin & Bolt in Henrico, Virginia defied all odds and had their grand opening in July 2020. With the immediate support of their local community, they've thrived as a full-service quilt and fabric shop, offering lots of unique fabrics as well as an extensive selection of basics and blenders. They're also a certified BERNINA dealer, with two certified technicians on staff to service and repair their customers' machines in house.
This spring, our National Educator Teresa Coates (and Hawke, of course) will be stopping by for the next episode of Season 9 of Sew Together Tuesday to broadcast LIVE from the Bobbin & Bolt shop floor (she'll be teaching a couple workshops, too)! Click here for more details and information about our Sew Together Tuesday series.
To learn more about and see the latest from Bobbin & Bolt, visit their website, stop by their shop in Henrico, Virginia, give them a call at 804-418-8001 or email owners Lucy Ess & Jennifer Buehrle at bobbinboltrva@gmail.com.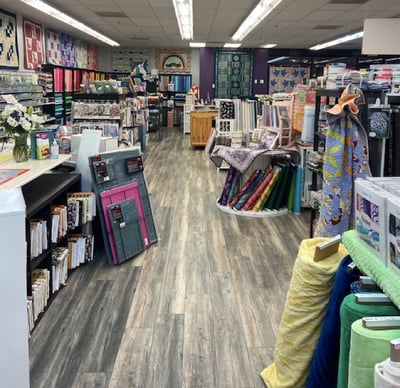 Shop Spotlight: Bobbin & Bolt
SF: What is the history of your shop?
B&B: Bobbin & Bolt was founded in March 2020 by Lucy Ess and Jennifer Buehrle. With Lucy's background in Fine Art and expertise of the quilting industry, and Jennifer's love of quilting, Bobbin & Bolt was born. We are the only Certified BERNINA/Bernette dealer in Central Virginia. We cater to the quilter but are expanding into different product lines for other types of sewing as we continue to grow.
We sell sewing, embroidery and serger machines to meet the artistic needs of our customers. We offer high quality fabrics, patterns, notions, Koala cabinets, Horn cabinets and a wide range of classes to sharpen your skills or to learn new ones. Our experienced staff is here to help and offer creative assistance. We have master level instructors to teach all of our classes — they love sewing and quilting as much as you do! We have two BERNINA-certified technicians on staff to service and repair your beloved machines.
SF: How has your shop evolved over the years? What caused the evolution?
B&B: We opened our doors July 1st, 2020, so the pandemic forced all of us to evolve and develop new ways of connecting with our customers. In the beginning, we were unbelievably blessed with steady business and eager customers from the day we opened. This was at a time when many small businesses were forced to close their doors. This miracle was driven by our loyal customers as well as the need for "mask fabric" and sewing machine service/repair.
SF: Tell us one thing people might not know about your shop.
B&B: All of our machine service and repair is done in-house by our two BERNINA certified technicians. We are the only certified BERNINA/Bernette Dealer in Central Virginia. Recently, we have expanded our service offerings to include other brands of sewing machines and sergers.
SF: What's your shop's motto or tagline?
B&B: "Where everybody knows your name!" We pride ourselves on personalized customer service.
SF: Describe your shop's aesthetic in five words or less.
B&B: Fresh, Bright, Cheerful, Encouraging, Inspirational.
SF: What's unique about your shop?
B&B: We carry a unique variety of fabrics and don't subscribe to any "style" or "theme". At Bobbin & Bolt you'll find extensive selections of basics and blenders that work with all types of quilting. Specialty product lines that we offer include Shannon Fabrics, Kimberbell, Creative Grids, OESD, and ByAnnie.
SF: What is your best-selling Shannon Fabrics product?
B&B: Solid Cuddle®, Luxe Cuddle® and Cuddle® Kits!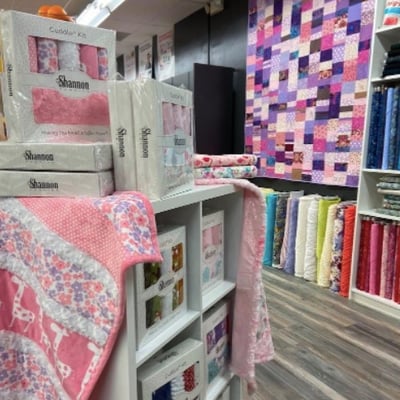 SF: Do you sell online? If so, how long have you been selling online and what have you learned?
B&B: All of our in-stock fabrics are available online 24/7. We have learned that lots of customers will pre-shop online and make a list before coming in. Good pictures and correct inventory counts make or break an online shop!
SF: What top projects are on the "must make" list right now in your shop?
B&B: Lucy's must-make list for future 2022 classes include the ByAnnie's Ultimate Travel Bag 2.0, Gail Yellen's Serge It! Table Runner and the Plum Fusion Block of the Month Quilt by Wing and a Prayer.
SF: What do you love most about creating (or seeing customers create) DIY projects with the fabrics you sell?
B&B: We love hearing the personal stories that come with a customer's project. Whether it's for a new baby, a celebration of life's milestones or a remembrance quilt — so much love is sewn into our projects.
SF: What current quilting, sewing or crafting trends inspires you? Where do you get your inspiration?
B&B: We get so much inspiration from our customers and the projects they bring in — if there is a trend they will be the first to let us know! Lately we have been on a serger kick due to BERNINA's new L890 Air Threading Serger.
This machine makes serging a breeze, eliminating the frustration of threading loopers. Our goal is to help quilters understand how to incorporate a serger into their projects — sergers can do so much more than just sewing garments and knits!
SF: What's next for your shop?
B&B: We're starting to grow our in-person class and event offerings. We're also learning TikTok to reach a younger audience of DIY sewists.
If you have any questions about Cuddle® minky plush fabrics or any of our Cuddle® Kits, feel free to contact our friendly, no-pressure customer service team at 866-624-5252.
Ready to start creating with Cuddle® minky fabric? Use our store locator to find a selection of Cuddle® minky fabric online or near you.