Hi, my name is Janelle of Seams.Come.True! I first watched Avatar the Last Airbender (AtLA) during my freshman year of art school in 2007, and it was one of the defining moments that led to me switching majors from illustration to animation. The first season was light and fluffy and exactly the reprieve I needed from very real-world stress.
However, as the story went on, the characters embedded themselves in my heart and I have since rewatched the whole series at least eight times. With the rerelease of Avatar the Last Airbender on Netflix, it's as if I get to experience the excitement all over again!
See Related: K/DA The Baddest Evelynn Cosplay Sewing Tutorial
I love watching people's reactions to seeing it for the first time and all of the amazing new fanart coming from it. Big name brands are even releasing new merch to collect and I have bought my fair share.
Even with all of the new things being offered currently, I had yet to find a piece to truly honor the (to me) most important character on the show, Appa, Aang's flying bison. So, I decided to make it myself!
How to sew an Appa-inspired hoodie from Avatar the Last Airbender (Avatar cosplay sewing tutorial)
It's currently freezing outside and it made me wonder what the Air Nomads in the Northern Air Temple did to keep warm. They're strict vegetarians, so I knew leathers and fur-lined skins were out of the question — but that doesn't mean their largest furred friends are unable to help.
During one episode, while running from the Fire Nation, the gang realizes that Appa's prodigious shedding had been leaving a clear trail straight to them. In normal times, when not constantly fleeing, I imagine that the Air Nomads would gather the flying bisons' shedded fur and use it to make warm clothing. All of a sudden, all I wanted was a giant, fluffy sweater to make myself look like a baby flying bison — and away I went!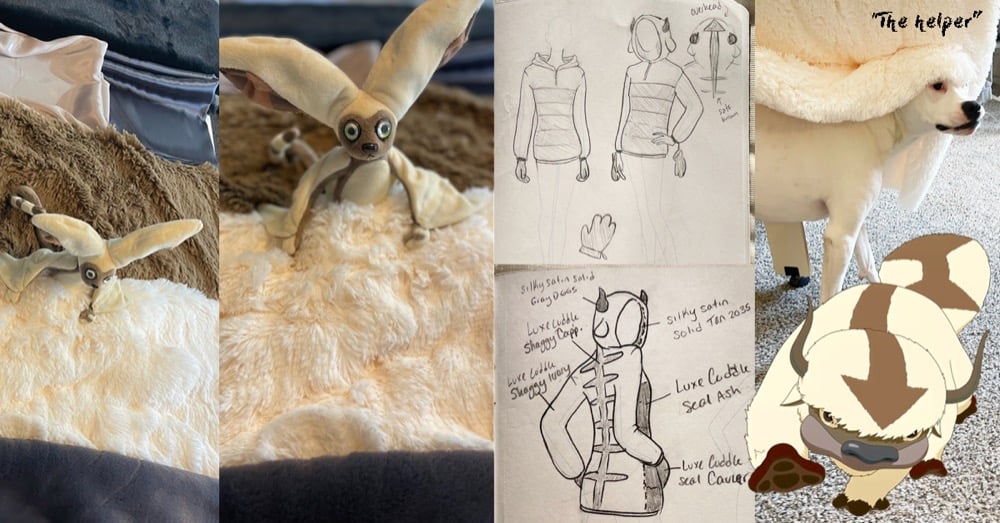 After deciding on a design, I chose my favorite hoodie to base the pattern off of. It is a large, grey sweatshirt originally belonging to my husband, but had long since been commandeered by me. I traced the body, arm and hood onto paper and only minimally adjusted the overall shape. The hood pattern was manipulated into a more face-fitting shape and the front bodice was adapted to accommodate the chest zipper and striped stomach. These new pattern pieces were transferred to muslin and tested.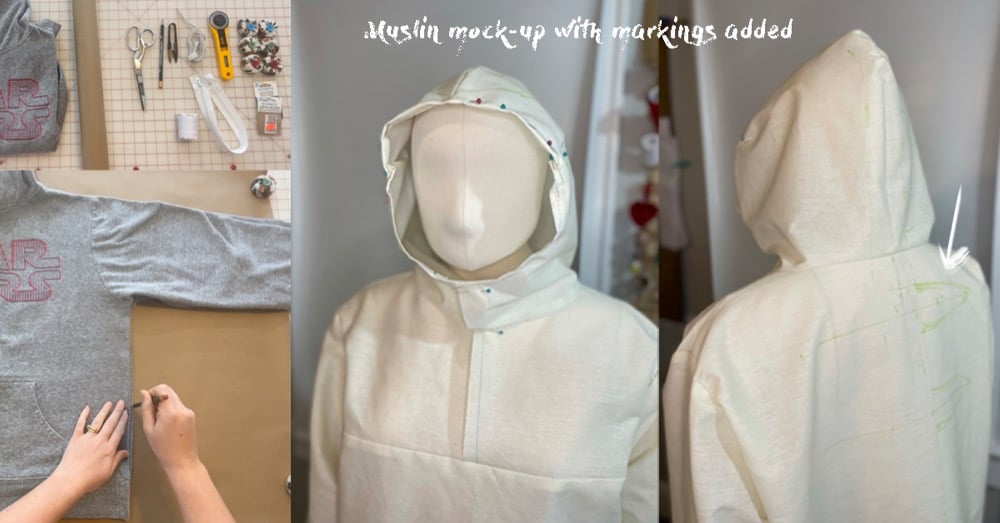 After slightly adjusting the hood shape, I drew on all of the back and arrow markings. At this point, it was just a matter of transferring these designs back onto the paper pattern and completing the look in the proper Luxe Cuddle® outer and Silky Satin lining. I made the satin lining first to be sure it would fit properly. Satin has no stretch so if that was comfortable, I could be sure that the stretchy, soft Luxe Cuddle® would fit just fine.
I ended up piecing the brown markings into the white body fabric, which was the most tedious part of the whole process (but the results were worth the extra time).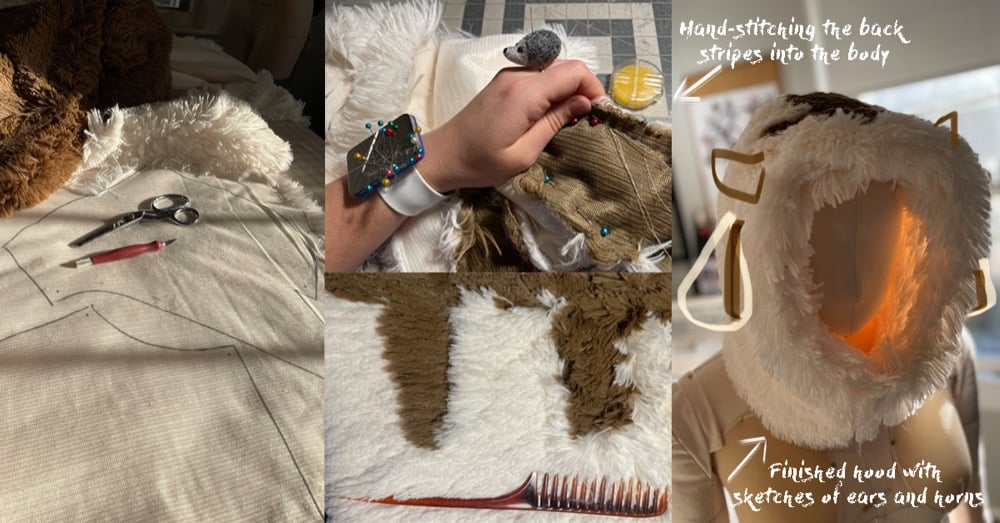 Once the lining and outer body parts were assembled, I machine-sewed the elastic casings between the two and turned them right side out. The body was finished by whip stitching the lining to the neckline and wrists, then inserting the elastic into the wrists and bottom edge.
All that was left was adding the horns and ears!
I had to wait until the very end to add these in order to get the positioning right. The horns were made with a layer each of satin, cotton and interfacing. A handy tip to reducing material waste is to use scraps as stuffing! Both horns were firmly filled with Luxe Cuddle® and satin trimmings. The ears were made of satin and body matching Luxe Cuddle® in teardrop shapes. After positioning both the ears and horns in place, with several try-ons to get it right, I whip stitched them on and it was done!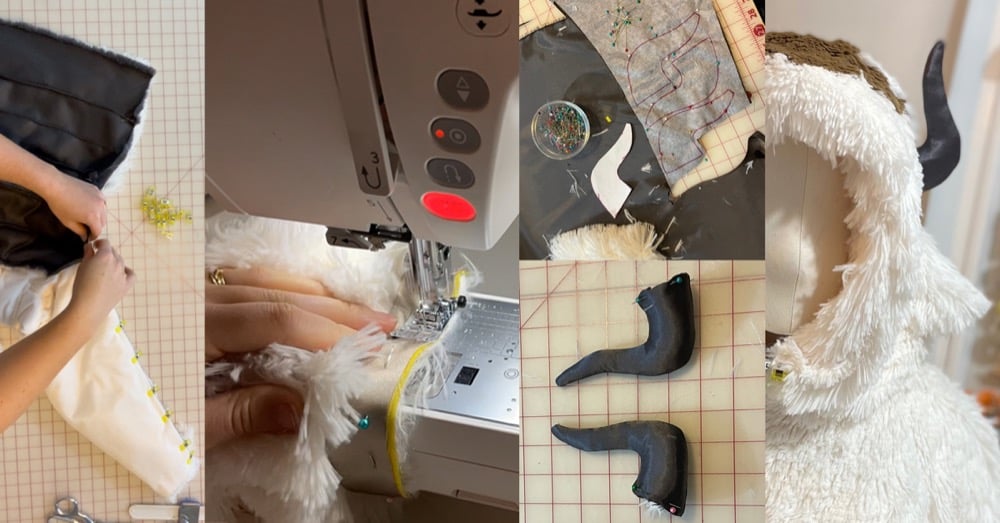 Video: How to sew an Appa-inspired hoodie from Avatar the Last Airbender (Avatar cosplay sewing tutorial)
I hope this video walkthrough is helpful and please visit my Instagram to see more photos of this and my other work! Yip yip!
If you have any questions about Cuddle® minky plush fabrics or any of our Cuddle® Kits, feel free to contact our friendly, no-pressure customer service team at 866-624-5252.

Ready to start creating with Cuddle® minky fabric? Use our store locator to find a selection of Cuddle® minky fabric online or near you.