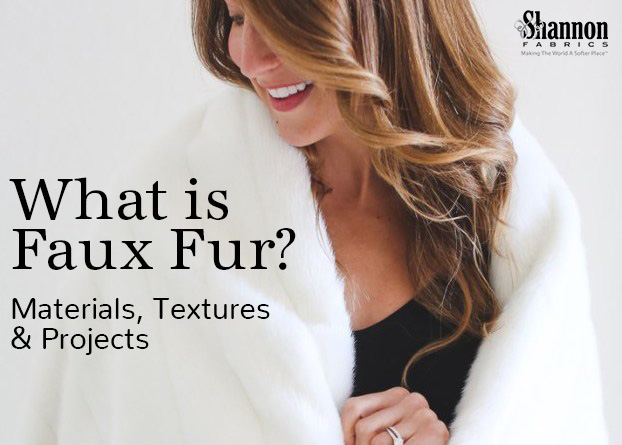 What is faux fur? And more specifically, what is faux fur fabric? As a wholesaler of faux fur fabric, we get asked this question on a regular basis. But before we dive into what faux fur fabric is, let's be clear: our faux fur is free from animal products, and no animals were harmed in the production of our faux fur.
Now the business is out of the way (whew!), let's define what faux fur is.
Faux fur is literally exactly what it sounds like — it's fake fur. It's generally a knitted, synthetic fabric made from a blend of acrylic and polyester fibers that's available in virtually endless colors and patterns, and well as different weights and pile heights. So, if you're looking for a bright pink, luxury shag fur, we have you covered.
Whenever you see someone in public wearing a leopard fur jacket or a fur vest, chances are it's faux fur. It's as soft and cozy as it looks, and with a variety of textures and pile heights, it's a fabric you truly have to feel in person to understand completely (we know, we're a tad biased).
READ MORE: Real Fur vs. Faux (Fake) Fur: A Side-By-Side Comparison
It's good for more than just accessories and apparel — faux fur is a surprisingly versatile fabric and can be used in ways you may not expect. We'll mention some fun faux fur sewing projects in more detail below, but for now, let's dig into our "what is faux fur?" question a bit further.
What is faux fur?
Faux fur is most commonly found as a knitted, synthetic fabric that is made from a blend of acrylic and polyester fibers. Note its construction can vary though, as faux fur can be made by other techniques such as weaving or tufting, and can be infused with other materials like wool or cotton.
Here at Shannon Fabrics, most of our faux fur is knitted and is made with 80 percent acrylic and 20 percent polyester fibers. The "knitted" attribute is key here — this manufacturing process increases the fabric's durability without sacrificing softness.
READ MORE: 8 Best Sewing Projects and Uses for Faux Fur Fabric
Faux fur is also generally manufactured with the plush "fur" on one side of the fabric, and a smooth synthetic backing (base) on the other. This common one-sided technique is available in a wide range of pile heights and weights, with "pile height" essentially referring to how long the fur on top is.
For example, remember the hot pink faux fur we mentioned previously? That's a woven faux fur made with 80 percent acrylic and 20 percent polyester fibers, and has a weight of 850 grams and a pile height of 45 mm.
Faux fur colors and textures
For the sake of simplicity, let's take a closer look at the 80/20 blend faux furs. Because this type of faux fur is a synthetic, it can be created in virtually any color and in a wide range of textures.
Faux fur colors
Color-wise, simple solid faux furs are the most popular variety, but faux fur is available in prints that contain multiple colors (and colors that aren't found in nature), too.
READ MORE: How Much Does Faux Fur Cost? A Guide to Faux Fur Prices
A testament to the technological advances in how faux fur is made, it can be almost impossible to tell the difference between faux fur and real fur, and this especially is the case with animal prints. You can now get the look of an authentic animal hide without harming any critters we adore so much.
Faux fur textures
In addition to colors, manufacturers are able to match a specific fur texture with impressive accuracy. We offer faux fur fabric that feels (and looks) like authentic yak fur, rabbit fur, leopard fur, alpaca fur, weasel fur, etc. These different types of faux fur textures are a great way to add depth for a more visually interesting sewing project.
Faux fur sewing projects
Speaking of sewing projects, faux furs are one of the most versatile fabrics on the market. What started as a way to ethically mimic the look and feel of expensive fur coats, faux fur fabric has been adopted by both high-end fashion brands and at-home sewists and been used for a wide range of applications.
READ MORE: The 5 Best Faux Fur Wholesalers (Reviews/Ratings)
Accessories and apparel are two obvious categories that come to mind when thinking about faux fur. Its inherent durability is perfect for high-mileage wear-all-day garments, and its high pile adds warmth and softness that you won't be able to keep your hands off of.
Designers have taken advantage of faux fur's versatility and are always pushing the boundaries by creating stand-out, creative pieces. Faux fur works especially well in anything from a stylish jacket and slippers, to a cozy winter vest.
Apparel aside, faux fur looks great in home decor pieces, including shaggy faux fur pillows and throw blankets. It's perfect for intricate embroidered designs and heavy threading, too!
Learn more
As you've now read, faux fur is a highly versatile fabric that strikes the right ratio between durability and softness. While faux fur coats are always in style, it's an elegant solution for anything from home decor and accessories, to stuffed animals and many types of apparel.
We know finding the right faux fur for your business or sewing project is a highly personal decision. And with so many styles available on the market, it's important to find fabric that fits a mix of your personal taste, budget and quality.
READ MORE: 7 Must-Try Faux Fur Sewing Tips
Shannon Fabrics has over a million yards of fabric in-stock and ready to ship, with over 130 different faux fur fabrics to choose from. We only partner with ethical, certified manufacturers who create long-lasting, quality fabrics at a competitive price point, so not only are no animals harmed, you're getting faux fur fabric at a strong value.
And, because our manufacturers are certified and regulated, our faux fur is hypoallergenic and free from chemicals — something not all brands can offer.
Our fabrics aside, we've created a library of FREE tips and tricks, patterns and videos to make the most of sewing with faux fur, no matter if you decide to purchase Shannon Fabrics faux fur or not.
We're all about Making the World a Softer Place™ and educating fellow sewists on the benefits and uses of this fabric we love so much.
If you'd like to learn more about faux fur or are interested in using faux fur in your next sewing project, don't hesitate to contact one of our friendly customer service associates at (866) 624-5252, or use our store locator to find fabric near you.