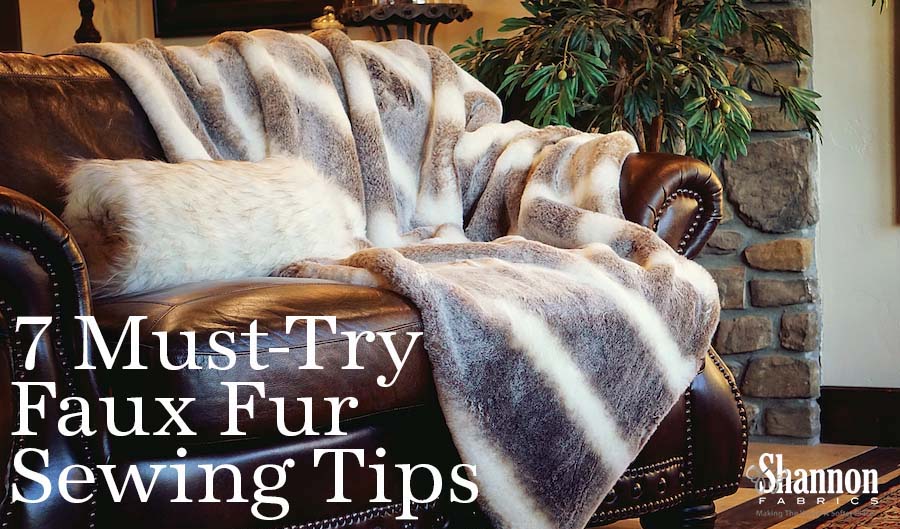 Many sewists and quilters are often intimidated by faux fur. Instead of seeing it as a versatile, durable fabric that's oh-so-cozy, they see the long hairs and nap as a challenge — which unfortunately means they sometimes reach for an alternative fabric that may not fit their project as well.
It's time to set the record straight.
By keeping these faux fur sewing tips and techniques in mind, sewing with faux fur fabric is a breeze.
It's easy to include this luxurious fabric in anything from wearables and accessories, to home decor and stuffed animals. Pair this versatility with the wide range of colors, textures and weights available, and faux fur can add a bit of fun and elegance to any style decor or wardrobe.
But before we get into our must-try faux fur sewing tips, let's briefly define what faux fur is.
READ MORE: Real Fur vs. Faux (Fake) Fur: A Side-By-Side Comparison
Authentic animal furs have long been out of style. Instead, many fashion brands and home goods brands have opted for faux fur in their designs. It's essentially "fake" fur, meaning you'll get the same look and feel of animal fur, but it's made out of a knitted, synthetic material composed of acrylic and polyester fibers.
While you won't find a rainbow-colored animal hide out in the wild (if you do, please let us know), crazy color schemes like these are available as a faux fur — and that's what makes it so fun to sew with.
READ MORE: What is Faux Fur? (Material, Textures, & Projects)
Let's assume we've convinced you to try sewing with faux fur — what's next? As with all types of fabrics, there's a bit of a learning curve when sewing with faux fur. But as mentioned, keeping a few faux fur sewing tips and techniques in mind can make working with this fabric easy and headache-free.
Shannon Fabrics is a leader in all things faux fur, and through feedback from our brand ambassadors across the country, our National Educator Teresa Coates and our loyal customers, we're always learning and sharing our knowledge on how to use the fabric we love so much.
From marking the nap direction to using a heavier needle and a walking foot, here are our top seven faux fur sewing tips to keep in mind when sewing with faux fur.
Did we miss something? Do you have any faux fur tips you'd like to share? We'd love to hear from you — leave us a comment in the comment section below!
Top 7 Faux Fur Fabric Sewing Tips
Mark the nap direction
Cut from the back
Use a hinge seam
Stay seamlines before cutting fur
Avoid hand sewing
Use a heavier needle and a walking foot
Increase stitch length
Faux Fur Sewing Tip #1: Mark the nap direction
Faux fur is a knitted fabric, so it's important to mark the nap direction of all the pieces you're working with. This will make sure your cuts are all in the same direction, and will help you orient them correctly when sewing (you won't have some fur sticking up while others stick down).
Because the fur is so long on the front, it's easier to flip it over and mark the knit backing. A simple ballpoint pen or permanent marker will do the trick.
Faux Fur Sewing Tip #2: Cut faux fur from the back
This might sound obvious, but once you've marked the back of the fabric, make sure you cut from the back of the fabric, too. Not all cutting tools work well with faux fur — avoid rotary cutters and stick with new sharp blades. This includes single-edge blades, craft knives, box knives, but the key is to make sure they're sharp.
READ MORE: 8 Best Sewing Projects and Uses for Faux Fur Fabric
If you don't have any of those tools within arms reach, using sharp blade scissors will also do the trick. Make small snips, and try to only cut the backing without catching the long fur on the other side (this will make less of a mess, and won't leave some areas with short fur).
Faux Fur Sewing Tip #3: Use a hinge seam when sewing with faux fur
Since faux fur is knit, cut edges don't fray. Because of this, the knit fur backings can be sewn with a hinge seam.
This means the faux fur fabric can be cut with no seam allowances and sewn edge to edge with a zigzag stitch. If you do opt for a seam allowance, stay in the ¼- to ½-inch range.
Faux Fur Sewing Tip #4: Stay seamlines before cutting faux fur
To "stay seamlines" simply means to stitch inside the seamlines to help prevent fraying and to stabilize the fabric if it's stretchy. Although fraying isn't an issue, this is especially important for knit fabric like faux fur since it stretches a bit.
We suggest using cold tape, but you can also use ¼"-wide twill tape and apply it with glue. Be patient and allow the glue to dry before cutting — you don't want to gum up a nice pair of (Famore) scissors or your sewing machine!
Faux Fur Sewing Tip #5: Avoid hand sewing faux fur
Using a machine when sewing faux fur fabric is not only more efficient, but it creates a stronger, more uniform stitch.
When securing hems and facings, sew a bias strip of lining fabric to the fur's cut edge, then sew through that bias strip to the back of the fur.
READ MORE: The 5 Best Faux Fur Wholesalers (Reviews/Ratings)
Faux Fur Sewing Tip #6: Use a heavier needle and a walking foot with faux fur
As you would with Cuddle® minky fabric and terry cloth, always use a heavier needle and a walking foot when sewing with faux fur. We recommend using a 110/18 or 100/16 universal needle, and polyester or poly-cotton blend thread.
Note that when using a walking foot attachment, be sure to use a ½" seam allowance.
Faux Fur Sewing Tip #7: Increase the stitch length when sewing with faux fur
This last tip is simple, always increase the stitch length when sewing with faux fur fabric. We recommend sewing with a straight stitch or a zigzag stitch with the stitch length set to 3.5.
READ MORE: How Much Does Faux Fur Cost? A Guide to Faux Fur Prices
This stitch length is just a starting point, you may move up or down a bit depending on what works best for your machine, or how thick the pile is.
Next Steps
While we're all for diving headfirst into a sewing project with new fabric, these seven faux fur-specific sewing tips will lessen the learning curve and prevent potential hiccups. Even if you've used faux fur before, feel free to revisit this page or download and print our tip sheet to leave next to your sewing machine for a friendly reminder.
Not only will these tips save you from spending some quality time with your seam ripper, but they'll help maximize the enjoyment (and limit the frustration) of sewing with faux fur.
DOWNLOAD: Faux Fur Tips & Tricks
Shannon Fabrics offers over 130 faux fur fabrics in a wide range of colors, textures and weights. Not all manufacturers produce faux furs the same way, but our faux furs have knit backings which create a cut edge that have a bit of stretch and won't fray, which also makes them more forgiving and requires less finish work.
The biggest takeaway here is to not be intimidated! The long hairs and nap can seem difficult, but the right techniques will make it easy to create the garments, home decor and accessories you want to sew. Sewing fur can make a beginner look like an expert, because the nap (especially on longhaired furs) hides a lot of imperfections.
To learn more about faux fur fabric, check out our free tips and tricks and free patterns, and follow us on Facebook, Instagram and Pinterest for new releases and daily tips.
If you'd like to purchase faux fur fabric, or just chat about faux fur in general, feel free to contact our team of friendly customer service associates at (866) 624-5252, and use our store locator to find faux fur fabric near you!