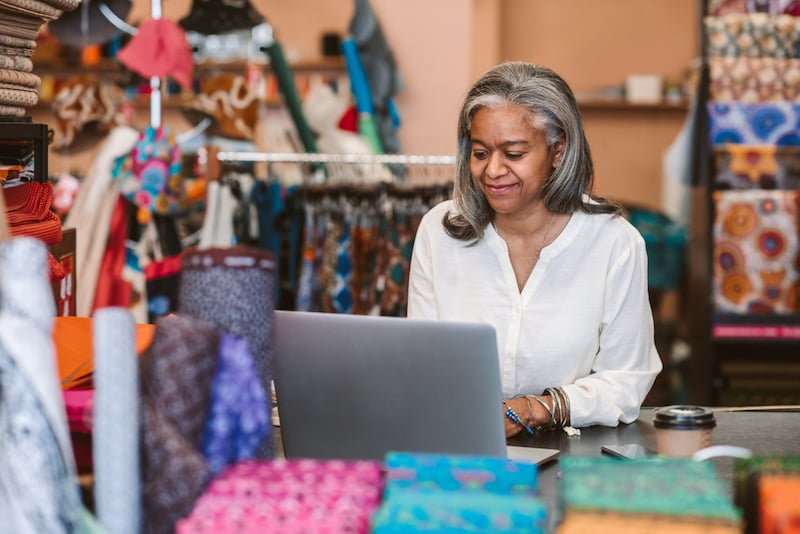 9 Tips for Retail Businesses Affected by the Coronavirus
It's almost inescapable — no matter which way you turn, images of the worldwide COVID-19 (coronavirus) pandemic proliferate social media and the news. It's sad and unnerving, and here at Shannon Fabrics, our hearts go out to those affected by this pandemic. It has touched each of us in different ways – health-wise, financially, socially, etc. — but one thing's certain, we're in this together.
Despite the gloomy images and projections of late, we've also seen sparks of creativity and resourcefulness (as well as plenty of compassion and understanding) from around the world, especially from retail shop owners. With doors being closed and customers afraid to not just shop in public, but be in public, these small business owners and entrepreneurs have come up with some pretty clever ways to keep sales rolling in and their customers safe and happy.
Even if your doors are temporarily shut, now is the time to define your business as a resource — a place that fosters a strong sense of community and a place that your customers can rely on. Despite being quarantined, your customers are still keeping busy at home (perhaps now more than ever!) with projects and hobbies, and it's up to business owners and retailers to leverage this.
We'll be using fabric shops and quilt shops as examples throughout this article (since the fabric industry is our forte), but these same tips apply for retail business of all types as we collectively navigate the global COVID-19 pandemic.
Please refer to the Centers for Disease Control and Prevention guidelines for keeping work, schools and communities safe, here.
9 Tips for Retail Businesses Affected by the Coronavirus (COVID-19)
Leverage social media (especially Facebook Live)
As more and more people are saying home or working from home under self-quarantine, many of us will be spending more time than usual online and on social media. Parcel out time to create, edit and share regular social media posts on Facebook, Instagram, Twitter and Pinterest. Include a mix of promotional updates on new releases or products you have in stock, discounts and incentives and more engaging, fun educational or immersive posts.
Facebook Live is an easy way to directly reach your customer base on a face-to-face basis without having to interact with them at the store. Create videos for Facebook, and try to make them into a daily or weekly series, where customers engage on a regular basis to work towards the end goal. Be authentic, be heartfelt and stay on brand.
Create interactive programs
This goes hand-in-hand with leveraging social media, but it's important to engage with your customer base further than just a "like" or "share" on a Facebook or Instagram post. Create an actionable do-at-home project or event that encourages participation in your industry. For fabric and quilt retailers, this might include creating a "sew-cation", where quilters and sewists can download a pattern and use your supplies as they stay busy at home while observing proper social distancing etiquette. Give them options, and make it an obtainable challenge where customers stay motivated and excited to take part.
To make even more of an impact, consider collaborating with other complementary businesses in your industry/area and create a project or program together. For example, create a project that packages one item from a handful of business to leverage new customer bases and uplift the entire industry.
Check in with regular customers
Unfortunately, we're in a time where many customers are simply assuming small businesses have temporarily closed shop in the midst of the pandemic. Reaching out to regular customers on a one-on-one basis really personalizes the experience and showcases your customer service. Let them know if you're running any specials, or that you're offering curbside pickup or delivery on all orders.
Take this "check in" one step further by video chatting or Facetiming customers, and let them shop "virtually" for products in your store.
Curbside pickup
Many brick and mortar businesses and shops are still selling goods even if their doors are technically closed to the public for quarantine and social distancing reasons. Let your customers know (either online, over the phone or signage outside your store) that you offer curbside pickup for any remote orders. Package up their items, write a thank you note and include free product sheets and other promotional information to spark creativity and demand for certain products in your store.
Delivery
This one requires a bit more planning and manpower, but many shops and small businesses (especially restaurants) are delivering orders to customers within a certain radius. Figure out what works for you distance-wise, and try to schedule multiple stops for each trip to save on both time and fuel expenses. Delivery, to a certain extent, is cheaper, easier and faster than shipping through USPS, FedEx or UPS.
Additionally, consider keeping items to "upsell" each delivery in the car – this might include related accessories, notions or coordinating fabrics. Your customers will thank you, and you will move more product.
Shipping
If delivery isn't feasible, or your customers are outside a certain mile radius, consider looking into shipping goods direct to their door. As we mentioned, USPS, FedEx and UPS can be more expensive, but many customers are willing to pay for shipping costs to get what they need.
Create content and free downloadables
With potentially slower foot traffic coming through the door, now may be the time to freshen up an existing blog or create a blog from scratch. Become the creative outlet your customers will turn to for advice, tips and inspiration. Don't forget, be sure to share this content and free downloadables on all your social media channels, with your email list and with any private Facebook groups or forums you're in. We suggest including a clear call to action (CTA) to capture new leads for potential customers (like the one we've created, below).
Be rational
Don't go making any business-altering decisions during this time of stress as a retail or business owner. Step back, take a deep breath, and list out your concerns on a piece of paper, or bounce them off a trusted colleague or mentor. Don't let your decisions become knee-jerk reactions that can create lasting negative impacts that can extend far greater than the pandemic itself.
Protect employees
Everyone is experiencing different levels of fear and anxiety when it comes to this pandemic. Often, employees feel obligated to work to support themselves during this time, but as a shop or business owner, it's important to remember that it's up to each employee whether or not they're comfortable coming in to work. Let your employees decide what's best for them — health factors, family responsibilities, financial need should all be taken into account. At the end of the day, open and transparent communication is imperative in finding the right solution for you and your team.
Additionally, if you host events or classes at your shop, be sure to follow recommended guidelines for group size and social distancing to keep your employees (and customers) safe. If needed, move these classes online or outside.
If you have any questions about Cuddle® minky plush fabrics or any of our Cuddle® Kits, feel free to contact our friendly, no-pressure customer service team at 866-624-5252.
Ready to start sewing? Use our store locator to find a selection of Cuddle® minky fabric near you.