We're excited to share our year-long Q&A series featuring exemplary quilt and fabric shops all around the country that sell Shannon Fabrics products. To nominate a shop in your area, please let us know in the comment section below. #shoplocal
What started as a humble at-home t-shirt quilt making business, owner Michelle Bailey jumped at the opportunity to purchase the local quilt and fabric store in Georgetown, Texas. While Poppy Quilt 'N Sew was already a pillar in the community, Michelle and her team (including her daughter) put their spin on things, creating a new website and offering more quilting services, educational classes and even sewing machines! It's become a must-visit destination shop, and they love helping sewists and quilters see their vision come to life.
This summer, our National Educator Teresa Coates (and Hawke, of course) will be stopping by on her Sew Together Tuesday tour to broadcast LIVE from the Poppy Quilt 'N Sew shop floor (she'll be teaching a few workshops, too)! Click here for all the details.
To learn more about and see the latest from Poppy Quilt 'N Sew, visit their website, stop by their shop in Georgetown, Texas, give them a call at 512-863-6108 or email owner Michelle Bailey at poppyquiltnsew@gmail.com.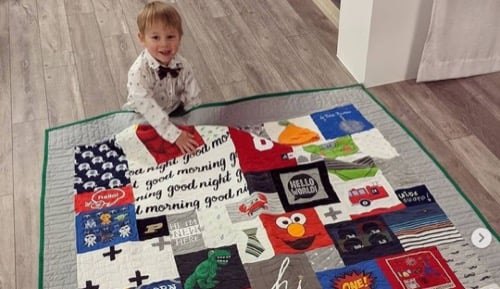 SF: What is the history of your shop?
PQNS: I bought the shop from a previous owner almost four years ago. I originally worked in the corporate world, but took a package deal when they were making cuts and decided to venture into the T-Shirt quilt making business with Too Cool T-Shirt Quilts Franchise, working out of my house. When the original Poppy owner was ready to retire, I was beyond excited to take over! We began with fulfilling local sewers/creators that wanted a close place to get their fabric/supplies.
SF: How has your shop evolved over the years?
PQNS: The shop has grown with more customers from around town and the country. Among other things, we added Shannon Fabrics Cuddle® to Poppy's line-up when we first took over. We also are an Innova Long-Arm dealer, we quilt for the public, and the T-shirt quilt business has grown with more states in the country now sending to our location. Most recently we added Pfaff sewing machines to our line-up of products offerings! With the help of the amazing staff and customers at Poppy, we have been able to continue to grow with offering more online, more fabric choices, more classes, etc. My daughter, after college, came to work full time for me and has continued in aiding with the growth of the shop as well.
SF: Tell us one thing people might not know about your shop.
PQNS: We are very family-oriented. Multiple employees (or helpers, including our 13 year old son!) are actually blood-related but everyone else that is employed has become family. We work together as a unit, always have each others' backs in the store and out, and would do anything for each other.
SF: What's your shop's motto or tagline?
PQNS: Happy Sewing & Quilting Y'all!
SF: Describe your shop's aesthetic in five words or less.
PQNS: Bright, cheerful, happy place!

SF: What's unique about your shop?
PQNS: We make over 300 T-shirt quilts a year in-house! Our T-shirt quilts are unique because we do not use stabilizer or create straight rows/columns. We love to use Shannon Fabrics Cuddle® 3 on the back of these quilts to make them that much more snuggly. The custom quilting done on them makes them unique!
SF: What is your best-selling Shannon Fabrics product?
PQNS: Cuddle® solid. Cuddle® kits are a close second, but we use Cuddle® solid on the backs of our T-shirt quilts to make the entire quilt that much softer!
SF: Do you sell online? If so, how long have you been selling online and what have you learned?
PQNS: Yes. We've had an online store since we took over the shop. We have really begun to grow it with my daughter's help and the pandemic! We have learned that sometimes our inventory was a little off on yardage — sometimes we don't have that last yard that someone orders online (mainly because we cut generously)! We learned to account for our generous cuts, on the front end, and that has helped a lot!
SF: What top projects are on the must-make list right now in your shop?
PQNS: The Shannon Fabrics ottoman, of course! We can't wait to learn from Teresa!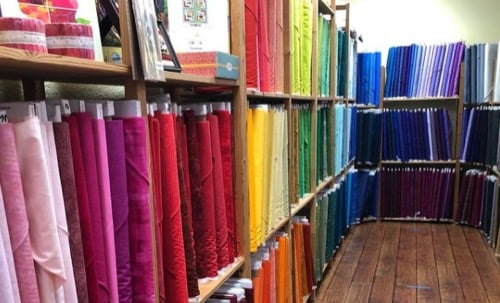 SF: What do you love most about creating (or seeing customers create) DIY projects with the fabrics you sell?
PQNS: We love the way in which multiple people can take the same pattern and create completely different quilts out of it by choosing different fabrics/layouts. It is always so fun and amazing to see what sewists create from start to finish. We love seeing the beginning of the process and the finished project.
SF: What current quilting, sewing or crafting trends inspires you? Where do you get your inspiration?
PQNS: We find inspiration mainly online right now. I can watch a YouTube video while tackling a project.
SF: What's next for your shop?
PQNS: More bag classes, revamping Embroidery Club, more Block of the Month offerings, online Shop Hops, a brand new in-person Shop Hop next summer, etc.
SF: Is there anything else you would like us to know or share about you or your shop?
PQNS: I'm looking forward to going to Market, seeing new/different things in person to bring back to share with my friends.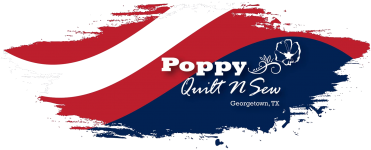 If you have any questions about Cuddle® minky plush fabrics or any of our Cuddle® Kits, feel free to contact our friendly, no-pressure customer service team at 866-624-5252.
Ready to start creating with Cuddle® minky fabric? Use our store locator to find a selection of Cuddle® minky fabric online or near you.