We're excited to share our year-long Q&A series featuring exemplary quilt and fabric shops all around the country that sell Shannon Fabrics products. To nominate a shop in your area, please let us know in the comment section below. #shoplocal
In a world where brick and mortar shops are closing left and right and businesses are selling mostly online, KC Maker Studio and Fabrics has impressively done the exact opposite! They started as an online only longarming business that also sold fabric, and after a year in business, opened their first retail shop. Now, they've become a staple in the Mission, Kansas community and offer locals (and out-of-towners) the opportunity to "sew-cialize" through one of their retreats or educational classes — all while getting to touch and feel the fabrics in their shop.
This summer, our National Educator Teresa Coates (and Hawke, of course) will be stopping by on her Sew Together Tuesday tour to broadcast LIVE from the KC Maker Studio and Fabrics shop floor (she'll be teaching a couple workshops, too)! Click here for all the details.
To learn more about and see the latest from KC Maker Studio and Fabrics, visit their website, stop by their shop in Mission, KS, give them a call at 816-686-3570 or email owners Patti and Dana Meier at patti.meier@outlook.com.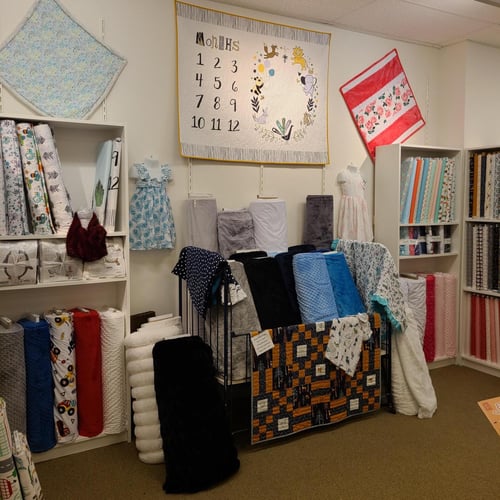 SF: What is the history of your shop?
KCMS&F: I studied Textiles and Pattern Design in college, but ventured away to work in Human Resources for many years. During those years I always had a side job sewing home decor, wedding gowns and dance costumes, so I never could completely get textiles out of my blood. Fast forward to 2005 and I began quilting and fell in love with fabric all over again.
SF: How has your shop evolved over the years?
KCMS&F: I bought a longarm and started a longarming business, then added quilting classes and a quilting retreat center. All of that led me to eventually start carrying fabric, and after selling online for a year I decided to take the leap to open my own quilt shop.
SF: Tell us one thing people might not know about your shop.
KCMS&F: It's our first brick and mortar location and just opened up July 1st!
SF: Describe your shop's aesthetic in five words or less.
KCMS&F: Vintage Modern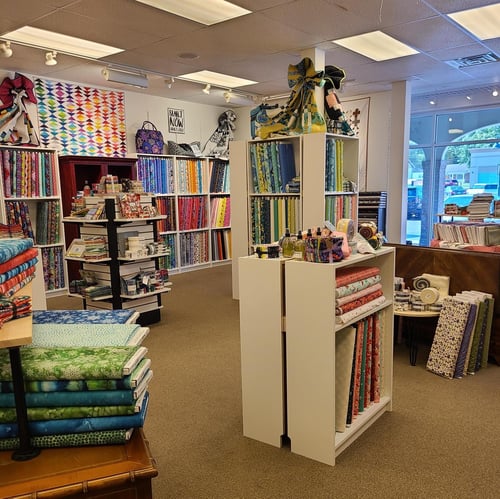 SF: What's unique about your shop?
KCMS&F: We're located in the heart of the city with no other fabric stores for 15 to 20 miles in any direction. We try to carry a wide variety of fabrics for all types of sewing to meet the needs of our customers.
SF: What is your best-selling Shannon Fabrics product?
KCMS&F: Cuddle® is by far the best seller. Our customers love to use it as the backing on their quilts. It makes those quilts so much warmer for our cold Midwest winters.
SF: Do you sell online? If so, how long have you been selling online and what have you learned?
KCMS&F: Yes, we sell through our website and an Etsy store. We've been selling online for just over a year and love being able to help customers that aren't able to make it into our store or who live in other parts of the country. We've learned that as convenient as it can be, you can never replace the tactile experience of shopping in person!
SF: What do you love most about creating (or seeing customers create) DIY projects with the fabrics you sell?
KCMS&F: I love helping beginners with their fabric selections and seeing the pride on their face when they complete their projects. There's nothing better!
SF: What current quilting, sewing or crafting trends inspires you? Where do you get your inspiration?
KCMS&F: I'd have to say that most of my inspiration comes from the Instagram quilting community. There are so many creative folks out their sharing their projects and I'm inspired every day by the textiles they choose to bring their project to life.

If you have any questions about Cuddle® minky plush fabrics or any of our Cuddle® Kits, feel free to contact our friendly, no-pressure customer service team at 866-624-5252.
Ready to start creating with Cuddle® minky fabric? Use our store locator to find a selection of Cuddle® minky fabric online or near you.