Announcing our pick for COLOR OF THE YEAR 2023: Cedarwood! 🎨 🤩 Cedarwood is a gorgeous, warm-toned, deep pink with a brownish tint that gives it the versatility of a neutral tone. From fashion to design and home décor, from social media and branding to film and beyond, this trending color is having a major moment that we predict will continue on into 2023! 🥂 Available in Luxe Cuddle® and Digital Cuddle®.
Click to View Cedarwood Fabrics
So why did we select Cedarwood? With so many colors to choose from in our collections, this is quite the task! We take a few factors into account — new trends in the industry, popular colors in our collections, and the overall feeling the color gives us as a team.
Cedarwood is a trending color we've seen taking over the moment and we just love how beautiful it translates into our fabrics. It's a soft pink with just enough brown in it to feel like a staple neutral. It's versatile neutrality makes it a perfect color to mix and match with so many other beautiful shades and prints.
We've incorporated our Cedarwood into all of our most popular collections, including our popular Luxe Cuddle® collections like Sydney, Seal, Frosted Baby Seal and more! We've also included cedarwood fabrics in our Digital Cuddle® Be sure to check our "Coming Soon" and "New Arrivals" pages for the latest and greatest!
Our cedarwood-colored fabrics are available now at independent fabric stores and quilt shops, and are also available for designers and manufacturers to incorporate into their products.
Inspiration: The 2022 Shannon Fabrics Color of the Year — Cedarwood
Patterns: Vienna Pillow- Kwik Sew; Shannon Throw Pillow- Shannon pattern; Milan Blanket - Shannon Pattern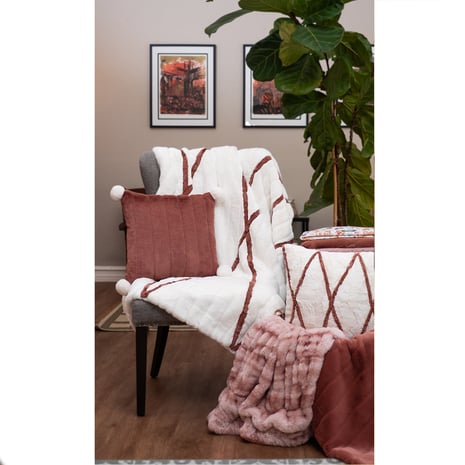 If you have any questions about Cuddle® minky plush fabrics or any of our Cuddle® Kits, feel free to contact our friendly, no-pressure customer service team at 866-624-5252.
Ready to start creating with Cuddle® minky fabric? Use our store locator to find a selection of Cuddle® minky fabric online or near you.